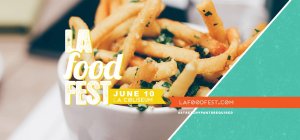 Angelenos, it's time to dust off your stretchy pants! The annual LA Food Fest celebrates 8 years with everyone's favorite unlimited tasting event format at a new location with over 100 vendors, LA based craft beer & wine gardens, iced coffee lounge, ice cream social, live entertainment and stellar giveaways!  
LA's favorite Instagram worthy tasting event is here and it's all going down at the Coliseum this Saturday, June 10, 2017. We're back downtown with more world class chefs, award-winning restaurants, out of town headliners, your favorite trucks, street stands, carts and more. This year's 8th Annual Summer Tasting continues its reign as one of the city's staple events with guests being treated to a curated selection of signature eats from over a hundred (yes, one hundred!) food vendors, not to mention multiple craft beer gardens and craft cocktail bars, a brand new Nuevo Gastropub featuring some of Mexico's top talent and brewers, and the return of fan favorites including premium tequila tasting, iced coffee lounge and ice cream social – all for one ticket price.
This year's fest runs from 2pm-7pm (VIP doors at 2pm, GA doors at 3:30pm) with a return to the classic tasting format that started it all. To ensure all guests enjoy the event to its fullest, LA Food Fest attendance is capped at just 5,000 all-inclusive (pre-sale only) tickets.
First timers to LA Food Fest, with some launching for the first time ever anywhere, are: Ninja Rice Burger, Skinny Bitch Pizza, Strada Eateria, Casa De Brisa, Pasta Sisters, Soup Bazaar, Rays BBQ, and Breakfast by Salt's Cure. With Ensaymada Project, Pot, Love Swirls and Fatamorgana Gelato (making their US debut) bringing on the sweets in The Ice Cream Social. Rad Coffee and Copper Cow Coffee among others will be available for caffeine fixes once the well deserved food coma kicks in. Plus, not to mention that the must try chefs in the Nuevo Gastropub will be doing all of their prep and cooking of a whole cow, two goats and two pigs on site!
The Lineup can be found here.
All you can eat, all you can drink $65 GA tickets include sampling from 100+ vendors, access to signature brews and cocktails, entry to our legendary ice cream social, all day iced coffee lounge, live entertainment and sweet beats from local DJs, collectible swag, and photos from the All Star Photo Booth for all attendees. The event is open to all ages with 21+ wristbands available to those looking to enjoy beer, wine, and cocktails. Children under 7 years of age free with an adult. VIP tickets are available for $95 and include an additional hour plus early admission to enjoy the event, VIP entrance, exclusive access to an expansive VIP lounge and other perks that include exclusive bites, a private VIP bar, and more.
Find the LA Food Fest Online
Web: LAfoodfest.com
Instagram: @LAfoodfest
Facebook: /LAfoodfest
Snapchat: @LAfoodfest
Twitter: @LAfoodfest
#LAfoodfest    #stretchypants
Official Facebook Event Page
https://www.facebook.com/events/282914115465871/
Eventbrite Ticket Page
https://www.eventbrite.com/e/la-food-fest-july-8910-tickets-25073388179