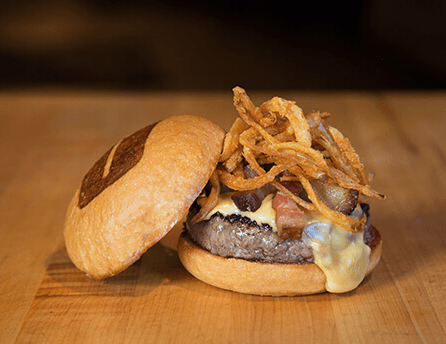 With the Fall season right around the corner, what better way to bid farewell to summer than with a Classic American staple? It's nearly time to celebrate what is arguably the best food holiday in the entire year: National Cheeseburger Day! Monday, September 18th, is your chance to excuse gluttonous behavior and scarf down a burger or two, because this holiday only comes around once a year, and there is no better place to take advantage of National Cheeseburger Day than Umami Burger!
What is "Umami"?
If you don't know, "Umami" means "deliciousness". There are five key flavor distinctions, but Umami was commonly overlooked until a few years ago when the taste became a newly understood craze in the United States. Beyond sweet, sour, salty and bitter- the fifth flavor, Umami, is rich and savory. A word coined by the Japanese, Umami is a powerful force behind many food cravings and they are serving up some of the most crave-able creations in the industry. Some examples of Umami flavor include soups, noodles, salads, (Umami Burgers!) or other dishes containing high levels of mushrooms, chicken, beef, celery, fish, potatoes, and more.
Where is Umami Burger?
Umami Burger found its humble beginnings in Los Angeles, California nearly a decade ago, and has 26 blooming locations today: 14 in Southern California, 4 in Northern California, 4 in New York City, 2 in Chicago, 1 in Las Vegas, and 1 in Japan, which welcomed over 5,000 guests in just 8 days!
Amazingly, in an effort to get more people to experience the euphoria of Umami, the chain is undergoing an international expansion planned through 2020, reaching Dubai, London, Bahrain, and Asia to name a few.

How Can I Participate in the Festivities?
Here at home, Umami Burger will help ring in National Cheeseburger Day with a special $2 discount, which will only be accessible by following their social media account on Instagram, @umamiburger, and liking a special "holiday" post. That's all you have to do!
Cruise on over to Umami's Santa Monica location, or their restaurant at The Grove on September 18th, 2017 to show that you've liked the post, and receive your discount — applicable to any burger.
You'll find epic menu items with unique cheese offerings, like The Manly Burger — voted best burger of 2016 by GQ, and the Sunny Side Burger. Where else can you get a burger slathered in beer-cheddar cheese, bacon, smoked-salt onion string and Umami ketchup- all in one place? Probably nowhere.
(And the Sunny Side burger with Parmesan crisp, fried egg, truffle thyme compound butter, truffled arugula and truffle aioli… absolutely unreal!)

What if I don't Eat Meat?
The best part about Umami is that it isn't exclusive to meat heavy dishes. So, if you're vegetarian or vegan, feel right at home! Umami Burger has delicious "burger" options like The Impossible Burger, the Ahi Tuna Burger, and the Falafel Burger for alternative or non-meat eaters. Isn't it nice to know that Umami Burger caters to non-conventional burger lovers so everyone can celebrate National Cheeseburger Day?!



Need More Reasons to Celebrate with Umami?
It should be noted that Umami Burger has ongoing collaborations with numerous influencers and celebrities where $1 of every burger sold goes to a charity of their choice. Umami Burger gives back, and to show just how impactful their collaborations have been, The Montecristo Burger created by Michael Voltaggio has raised over $150k. Umami Burger continues to work with Cindy Crawford, Slash, Alton Brown, and Andy Samburg among many others. You can also expect to soon see collaborations with Jaden Smith and Connor McGregor, which are sure to expand their contributions and touch the lives of millions all over the world.
National Cheeseburger Day is the perfect celebration to welcome "bulking season," otherwise known as Fall and Winter. Bid an official farewell to your 2017 summer with this special offer on September 18th, at Umami Burger in Santa Monica or The Grove, and look forward to next year's celebration!