The Annual Downtown Burbank Arts Festival  – April 16-17 2016. Downtown Burbank (an award-winning urban neighborhood) presented the largest and most diverse outdoor fine art event, that attracted over 25,000 people and was packed with street painters, art demonstrations, free workshops, special effects artists, photographers, and sculptors.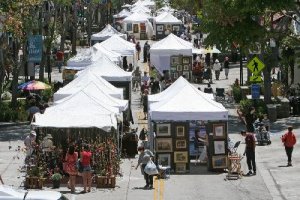 In association with the Downtown Burbank Arts Festival, the Creative Talent Network hosted this fun outdoor weekend event that featured artists in the community. CTN artists had one entire block to showcase their talent and products to the general public – dubbed the CTN Road Trip, their block was devoted to animation and visual EFX artists from feature films, video games and television, offering patrons a rare opportunity to purchase artwork and interact with the artists, whose contributions are found among the highest grossing animation films of all time. Held each year in Downtown Burbank, this was a casual event to meet the artists, buy books and artwork and have fun!!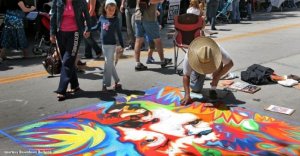 And you could take part in the "Doodle Run". Free to all participants, you had to pick up a map and Doodle art page, then go find the artists and get a special "Doodle" from them.
LOCATION –  Downtown Burbank