Dark Horse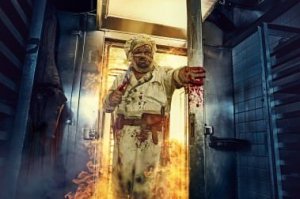 WHAT:  Dark Harbor, Southern California's most authentically terrifying haunt, returns to the Queen Mary on select nights Sept. 28 – Nov. 1 with MORE monsters, MORE nights, and MORE mazes than ever before. All-new maze, FEAST, and Dark Harbor's newest resident spirit, Chef, will make their horrific debuts along with the return of the infamous spirits of Iron Master, Captain, Samuel the Savage, Graceful Gale, Half-Hatch Henry, Scary Mary, Voodoo Priestess, Ringmaster, and hundreds of their bloodcurdling henchmen.
WHEN:
Public Opening: Thursday, Sept. 28, 8 p.m. – 12 a.m.
Dates: Select nights, Sept. 28 through Nov. 1
WHERE:
The Queen Mary, 1126 Queens Hwy, Long Beach, CA 90802
NEW EXPERIENCES:
Swelter with fear in FEAST Maze, 4th maze onboard the ship, for a terrifying journey into the legend of Chef
Venture into the frozen depths of Chef's Meat Locker for a unique 7-degree ice bar experience
Stumble upon the secret hidden sidebar inside one of Dark Harbor's mazes for a one-of-a-kind experience
NEWLY-INTENSIFIED RETURNING MAZES:
INTREPID: Meet the mastermind, the creator and now the protector of the Queen Mary, Iron Master.
CIRCUS: Step right up as the Ringmaster startles with disorienting illusions, maniacal magic acts, and a cadre of sideshow freaks.
DEADRISE: Captain and the dark vessel's crew have risen from the deep for a battle against the living.
SOULMATE: Escape the gloves of Graceful Gale as she feverishly searches for her eternal mate.
B340: Descend into the insidious mind of Samuel the Savage to face his worst nightmares.
LULLABY: Hush Hush don't cry; Scary Mary is just looking for her next playmate
ADDITIONAL ATTRACTIONS:
SIDESHOW: Step 'backstage", rub elbows with resident freaks, take in a show or a drink at the secret bar
CREEPY CABANAS: Host a private soiree, order a freak show, enjoy instant access to Sideshow & Swings
R.I.P. LOUNGE: Hover above Dark Harbor at the exclusive ghost-eye-view VIP bar with all-you-can-eat tacos
SINISTER SWINGS: Take a spin on the infamous Neverland Ranch Ride
MAINSTAGE: DJ spins between a variety of nightly entertainment shows, plus special guest performances.
TICKETS: General admission tickets start at just $24 online. Fast Fright, VIP and the Ultimate Scream Experience are available. Purchase tickets: http://queenmary.com
PARKING:
$40 for Premium Parking located in the Queen Mary parking lot
$15 for all-new Dark Harbor Express, 

6pm – 1:30am

Board the Dark Harbor Express boat service (operated by Aqua Link) at Shoreline Village at the Aquarium of the Pacific for your short boat ride over to the Queen Mary. Round-trip fees on the Dark Harbor Express are $8 per person and the parking structure is located at 248 W. Shoreline Drive in Long Beach.  Cash only.

$15 for parking at Long Beach Courthouse, 

6pm – 1:30am

Board a shuttle bus for your complimentary ride over to the Queen Mary located at 101 Magnolia Avenue in Downtown Long Beach. Cash only.
 Mr Bones Pumpkin Patch

A Boo-tique Pumpkin Patch by Mr. Bones is located at Platform LA – 8850 Washington
Blvd, Culver City, CA 90232
A Boo-tique by Mr. Bones opens from October 7 – October 31, Wednesdays – Sundays
(except October 30 & 31)
The hours are:
Saturday – Sunday, 10am-6pm
Wednesday – Friday, 11am–6pm
October 31, 11am-4pm
Additional hours available for special events and by reservation
This location offers a bountiful selection of fresh and unique pumpkins, exciting
activities for the six and under set, and a posh boo-tique featuring unique and curated
Halloween items for the most discerning witches and ghouls.
A Boo-tique Pumpkin Patch by Mr. Bones sells pumpkins in an incredible array of sizes
and varieties, and at all price points, ranging from just $1 for baby pumpkins to $80 for
jumbos.
 Daily activities at A Boo-tique by Mr. Bones include:
Kid's Tipi Village
Pumpkin Cottages
Jumping Spider Bounce House
Maze-oleum
 Additional weekend activities include:
Face painting
Glitter tattoos
Pumpkin decorating
ADMISSION PRICES:
Weekday admission at A Boo-qitue Pumpkin Patch by Mr. Bones is $5 per person over 2.
Children and Adults receive a $5pumpkin coupon with admission.
Activities are always additional Weekday and Weekend.
Special Events have unique pricing.
 Weekend entrance fee is $10 per person, under 2 are free. Children receive 3 free
activity tickets with admission. Adults receive $5 pumpkin coupon with admission.
 Opening Day Special: October 7th, $5 admission to the patch all day, activities are
additional, under 2 are free. Adults and children receive $5 pumpkin coupon with
admission.
 Parking is available at the Platform parking structure at 8850 Washington Boulevard and
is not validated.
 Up to 1 hour/ $1
 Up to 2 hours/ $2
 Up to 3 hours/ $5
 4 hours/$10
 5 hours/ $15
 Valet parking is available on Landmark St. and is $12.
Haunted Little Tokyo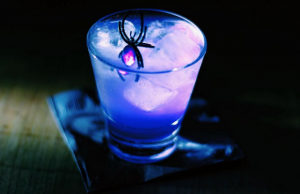 WHAT:  Go Little Tokyo proudly presents the inaugural Haunted Little Tokyo for "spook"-tacular events in the heart of LA on select nights October 1 – 31, 2017. Ghosts and Goblins of all ages are invited to experience Little Tokyo this October as the neighborhood transforms with pumpkin patches, ghoulish games, trick-or-treating, free Halloween movie screenings, Little Tokyo 'haunted' walking tours, themed drink specials, scrumptious food, and more culminating to the hair-raising fun block party and costume parade on Saturday, October 28.
DETAILS: 
Experience Little Tokyo like never-before as the heart of Downtown LA transforms for the month of October with spooky themed-activities and frightening fun. Pick your perfect pumpkin at the weekend pumpkin patches by Tanaka Farms at the Japanese Village Plaza and the Japanese American Cultural & Community Center. Dress up your little monsters for ghoulish games, trick-or-treating, and FREE family-friendly movie screenings including Studio Ghibli's "Kiki's Delivery Service" and "My Neighbor Totoro."  Learn of the legendary Little Tokyo ghost tales and the city's history in the Little Tokyo haunted walking tours, or test your fears watching classic Japanese horror flicks including the 2002 supernatural film "Ju-on: The Grudge." Dress your best on October 28 as the month-long celebration culminates to a Little Tokyo block party with a costume parade, bar crawl, live entertainment, special food and drink discounts, and more.
WHEN:
Select nights October 1 – 31, 2017
Block Party is on October 28, 2017
For a full calendar of events visit: www.hauntedlittletokyo.com
WHERE:
Little Tokyo – Downtown Los Angeles
TICKETS AND REGISTRATION:
Free, depending on the activity. For more information please visit www.hauntedlittletokyo.com
PARTICIPATING STORES AND RESTAURNATS:
Proudly presented in partnership by Little Tokyo Community Council, Go Little Tokyo, Anime for Humanity, Cafe Dulce, Wolf & Crane, East West Players, Japanese American Cultural & Community Center, Kizuna, Little Tokyo Vibes, Monkey Pants, Seoul Sausage, Tanaka Farms, Japanese Village Plaza, Little Tokyo Business Association, The Koban,Baldoria, and Japangeles.