As devastating fires burn throughout the region, several charities have boots on the ground and special programs supporting relief efforts.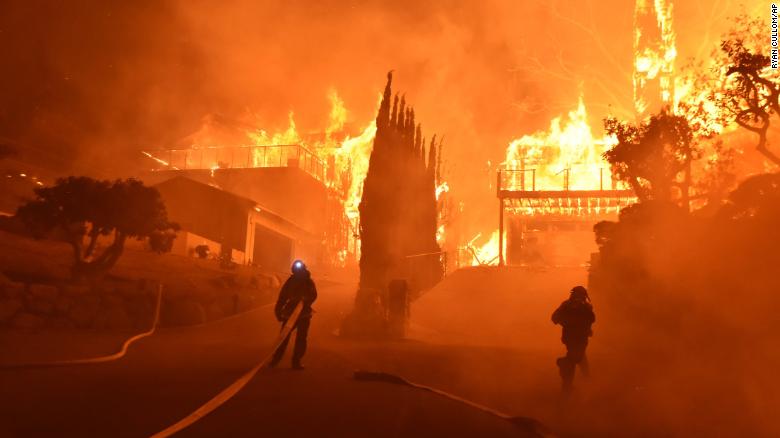 Photo Credit: AP News
Here's how you can make a difference:
Text UWVC to 41444 to make a cash donation to the Thomas Fire Fund
The United Way of Ventura County, American Red Cross of Ventura County and the Ventura County Sheriff's Office of Emergency Services have teamed up to create the Thomas Fire Fund. All proceeds will go directly to support the hundreds of residents displaced by the fires.
Donations can be made via text message, on United Way of Ventura County's website or over the phone at 805-485-6288. Checks with "Thomas Fire Fund" in the memo line can be mailed to 702 County Square Drive, Suite 100 Ventura, CA 93003.
Donate to the Ventura County Community Disaster Relief Fund
The Ventura County Community Foundation supports organizations providing shelter and long-term housing, legal services, education, healthcare and other immediate and long-term needs of those affected by the Thomas Fire.
To support immediate needs, contributions should be directed to the "Sudden and Urgent Needs" Fund. To support mid-term to long-term needs, contributions should be directed to the "Disaster Relief" Fund.
Donate water, snacks to help displaced residents
The Salvation Army Ventura Corps has set up shop at the Ventura County Fairgrounds and is asking for donations of food and water as it works to help evacuees.
As the charity's other chapters assist in various evacuation centers, Salvation Army is asking for monetary donations to support its work. Those wishing to donate can do so by calling 1-800-SAL-ARMY or visiting the organization's website.
Donate, volunteer with the Red Cross
The Red Cross is accepting applications for volunteers on its website. The Red Cross of Los Angeles will disseminate information about volunteer opportunities on its social media accounts as it determines additional needs for communities impacted by the fires.
Volunteer work ranges from phone calls, data entry and client registration, to shelter support and supply replenishment. With seven shelters open, the following shelters, in order of priority, need the most help: Oxnard College, UC Santa Barbara, and Ventura County Fairgrounds.
Those who wish to make cash donations can do so on redcrossla.org or over the phone by calling 1-800-RED-CROSS.
Donate gently used clothing, Christmas gifts for families displaced
Catholic Charities is accepting donations of gently used clothing as well as new toys and clothing to be given as Christmas gifts to families displaced by the fires. Donations can be dropped off at Catholic Charities' Ventura Community Services Center at 303 N. Ventura Ave. Ventura, CA 93001.
The charity has also established a special fund to help offset the cost of home repairs. Donations can be made to the Catholic Charities website.
Donate, volunteer with the Santa Barbara Polo & Racquet Club
The Santa Barbara Polo & Racquet Club is providing shelter to all horses needing evacuation from the Thomas Fire in Ventura County. Volunteers are needed to help feed, water and muck out the stables of the evacuated horses.
The club is also requesting feed and barn supply donations. Those able to help can contact the Polo Club's Volunteer Coordinator Shannon McGraw at (805) 455-2400.
Donate cash or supplies to the Humane Society of Ventura County
As HSVC works to care for the more than 300 animals that it has taken in since the fires began, the organization says it is in need of donations. Alfalfa hay, Timothy hay, cat chow, rabbit food, flashlights, headlamps, lanterns, water troughs, bottled water, fruit, snacks, hoses and power generators can be dropped off at the shelter at 402 Bryant St. in Ojai.
HSVC is also asking for food and water donations to feed volunteers working around the clock.
The organization has set up an Amazon registry wishlist with items needed to care for the diverse group of animals currently in its care.
Those who cannot bring supplies to the shelter can make cash donations on HSVC's website.
Support Los Angeles County Animal Care Foundation's disaster relief
LACACF is accepting donations to supplement its disaster relief efforts through its Noah's Legacy Fund, which provides supplies, training and equipment to first responders charged with rescuing animals from areas stricken by natural disasters. Donations can be mailed to P.O. Box 100515, Pasadena, CA 91189-0515 or submitted on the organization's website.

Other free supplies for victims
American Mattress Man (Ventura & Newbury Park locations) 805-653-2323
-Offering free or low cost mattresses to victims. They are collecting clothing donations.
Meathead Movers (Oxnard location)
-Offering free storage units for fire victims until Feb. 1.
FOOD Share of Ventura County
-Taking food donations for fire victims, but they must be non-perishable, pre-packaged store-bought food. No home-cooked meals.
More about the Thomas Fire:
Since breaking out on Dec. 4, The Thomas fire has burned an area larger than New York City, Washington D.C. and San Francisco combined — and larger than any city in California except Los Angeles. The fire claimed the life of Firefighter, Cory David Iverson, in Santa Barbara.
While thousands of residents threatened by the fire remain under evacuation, others have been allowed back in their homes — or, at least, what was left of them.
The fire is so massive that more than 8,400 firefighters are working around the clock to save lives and contain it. It has turned neighborhoods to piles of soot and concrete as it churns through the area.
From our SoCal Magazine family to yours, we hope all will be safe from the fires soon.
Ely Anne Vedar
Fashion & Lifestyle Editor
While California feels like it's always been her home, Hawaii, San Francisco, Las Vegas and the Philippines are just a few places Ely Anne has lived thus cultivating her lifelong appetite for finding, trying and sharing new adventures, especially through food and wellness activities. She loves how food can always bring people together – anywhere, any time – and that's what fuels her passion for public relations and marketing. Ely finds it invigorating to have a hand in seeing brands thrive in their community by using her PR, marketing and event production skills.