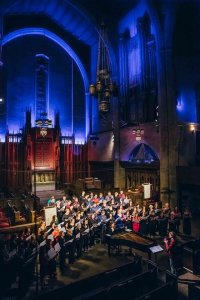 The LA Choral Lab performs twice a year, and when they do, it is rather glorious. For their latest performance, entitled SACRED SONGS, 350+ concertgoers showed up to the First Congregational Church of Los Angeles in DTLA, to hear choral pieces that ranged from Gregorian chants and 1000-year-old music, to brand new works by local composers being heard for the first time. Intricate, layered harmonies resonated throughout the resplendent setting as the choir sang hymns together, and in quartets stationed around different areas of the church. There were also several songs performed by the 60+ member volunteer choir. Some of the musical pieces sounded almost like a vocalizer had been added, (like Imogen Heap) which speaks volumes to the spot on harmonics of the singers. When a full choir sings melodic, multi-part harmonies in the sanctuary of a beautifully lit church, you cannot help but want to weep. The Artistic Director of the LA Choral Lab, Michael Alfera, answered a few question for SoCal magazine about the Sacred Songs performance.
1. How often does the choir rehearse for a performance?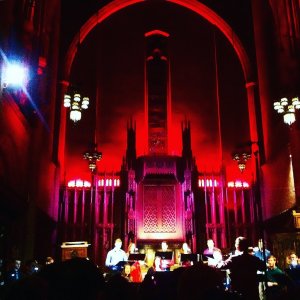 The L.A. Choral Lab holds six to eight rehearsals leading up to a performance, depending on how involved the repertoire is. We rehearse once or twice a week in the several weeks leading up to a performance. At this point, we're doing two performances per year. As we grow, we look forward to being able to perform more often than that, and in new and unexpected venues around Los Angeles.
2. Does the L.A. Choral Lab perform contemporary music?
We almost always perform contemporary music and almost every piece on our Sacred Songs program was written in the past ten to fifteen years.  We focus on recently-written pieces that have an emotional/spiritual dimension in addition to an intellectual dimension.
3. The third movement of Vidi Aquam by Greg Brown had such discordant notes. Was that a hard one for the singers to learn?              
The third movement of Vidi Aquam by Greg Brown, is a beautiful soundscape-type piece that I learned about when Mr. Brown sent me the piece as part of a call for scores that we did. To me, the piece is reminiscent of the sounds of the far East — crotales, meditation bells, ancient stringed instruments. To achieve this, each part had to be intricately crafted. The singers worked hard to nail that one down. Each piece has its own challenges. I try not to think of one piece as more difficult than another because we ultimately want to have the same sort of easy mastery over every piece by the time the performance comes. If a piece is difficult, that simply means that we have to spend more time on it.
4. And which piece was it that sounded like Paul Simon's American Tune?
Oh! You're talking about 'O Sacred Head Now Wounded'. — the melody and chorale were originally written by Hans Leo Hassler around the year 1600. And Paul Simon's song is a direct adaptation of that chorale for solo voice and guitar. The tune is based on a melody line on the chorale from Johann Sebastian Bach's St Matthew Passion, itself a reworking of the earlier secular song,  'O Sacred Head Now Wounded'. or "Mein G'müt ist mir verwirret," composed by Hans Leo Hassler.
For upcoming shows and current info on the L.A. Choral Lab click here