The American Humane Hero Dog Awards honors ordinary dogs who do extraordinary things.
LOS ANGELES, September 17, 2017 – Following nearly a million votes by the American public and the opinions of an expert panel of celebrity animal lovers and dog experts, Abigail, a one-year-old pit mix from Lehigh Acres, Florida has been named this year's most courageous canine, besting 187 other heroic hounds and capturing the top title of "American Hero Dog" at the 2017 American Humane Hero Dog Awards®. The seventh annual Hero Dogs Awards will be broadcast nationally on Hallmark Channel October 26 at 8 pm ET/PT, 7 pm Central Time.
It wasn't your usual red carpet style. Many of the honorees were naked and most paraded on all fours, though some reclined diva-like in their partner's arms.  One was in a wheelchair—at least, her back half was.  Her front half, top-hatted, walked short and proud.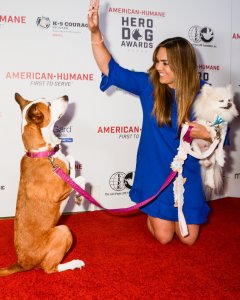 "Over here…Abi, Atlas, here…" the photographers yelled, gesturing for the honorees to face their way. Each immediately faced in the opposite direction. They weren't being rude, that's just what dogs do. It's a syndrome.
One by one they inched along the carpet: mutts, most of them, not to the manor born. And though many were dressed to the nines, they remained canines nevertheless, with none of them a natural beauty queen.  Luca limped along with a plaster around her foot.  Atlas dragged his hips. Yet each had earned their place in the spotlight by the way they'd regularly comported themselves in life: with honor and dignity, despite the personal hardships that had elevated them from the doghouse.
Abi, in tutu and ribboned headgear, was the most affectionate pit bull I've ever come across.  When I bent down to pet her, she threw her arms (technically her legs) around my neck.  Her owner later explained that the elaborate red bow tied around her head camouflaged the place where her ear used to be.  "When we found her on the side of the road, half her face was torn off," he explained. "We think she might have been used as a bait dog in dog fights."
These were the kind of heartrending tales that abounded. The chihuahua "well, 99% chihuahua…we think she must originate from the Chi-Chi breed, 'cause she's so big," was also found by the side of the road. After being adopted and trained as a hearing dog, that miniature animal hauled its hearing-impaired owner away from an oncoming train.
Then there was Mango, whose back was broken when she was run over by a car.  Despite her posterior wheeled support, she cut a star-studied picture in her turquoise sequined skirt and matching sequined hat.
"People send her clothes," whispered the
chihuahua's Dad, somewhat wistfully.  "She gets sent boxes of them from all over, you know, through Facebook and all those sites…people won't stop sending her stuff."  Mango was a runaway.  These days, she's a fancy-dressed therapy dog, spreading the joy statewide.
After the red carpet, everyone trotted in for the Dinner.  Where, though, were the liver treats?  The meat-flavored waters?  This was a night when the doggy bags should've been the main event, but it was the owners who got fed.  It was fitting, though.  Seems to me those loving, caring rescuers were just as much the Heroes of the day.
SHERAN JAMES IS A PRODUCER AND WRITER WHO HOSTS HER OWN RADIO SHOW AND PODCAST "THE SHARIN' HOUR" on
KX 93.5fm
Click
here
for this year's finalists
Photographer:  Linnea Stephan/BFA.com