The holidays are happening in
Santa Monica
! Restaurants, retailers, and businesses are offering an array of festive, physically-distanced attractions and charitable food and clothing drives to give back to the community this season. From free holiday art installations at the iconic Third Street Promenade and Santa Monica Pier, socially-distanced Santa Claus photos at Santa Monica Place and festive dining and shopping along holiday-trimmed streets like Main Street, Montana Avenue, and Pico Boulevard, Santa Monica continue
s
 to shine through the holidays while keeping the community safe and healthy.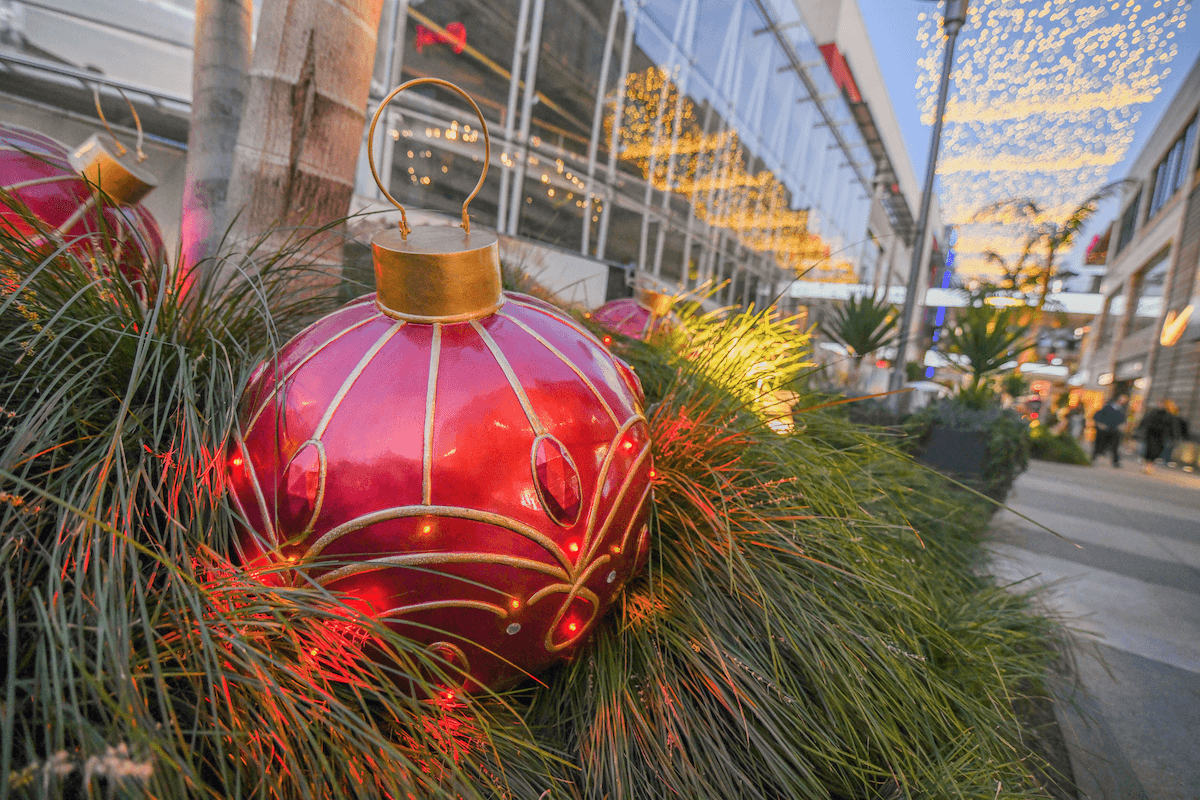 Self-guided holiday art installations will light up the Third Street Promenade and Santa Monica Pier for the season in partnership with the City of Santa Monica's Cultural Affairs Art of Recovery initiative. The program is dedicated to funding projects by local artists and highlighting the important role arts and culture play in recovery efforts as they strengthen and connect Santa Monica. Both installations are free and open to the public.
Santa Monica Pier
 will welcome another LA icon, the 
Bob Baker Marionette Theater
, and their precocious puppets for a one-of-a-kind retrospective. The "Windows of Wonderment" art installation will bring marionette magic to the historic merry go-round and celebrate the theater's most memorable moments and charismatic characters in six puppet-packed windows from Wednesday, November 25 – Thursday, January 7. Visit SantaMonicaPier.org for more details.
Winterlit holiday art installations and festivities will light up 
Downtown Santa Monica
 all season long Friday, November 27 – Sunday, January 3. Third Street Promenade will glow under tens of thousands of lights illuminating festive outdoor retail and dining, as well as eleven different holiday-inspired storefront art installations created by a variety of Los Angeles-based artists. The official City of Santa Monica 24-foot-tall tree and festive garland will deck the Promenade and a new holiday-inspired augmented reality experience will allow guests to transform physical structures, spaces, and trees along the Promenade into holiday elements and decor. For more information, visit 
DowntownSM.com
.
Miracle on Main Street returns this December with free festive tidings including two iconic holiday trees, roaming carolers and socially-distant visits from Santa with help from the Santa Monica Fire Department on select weekends in December. The world-famous 40-foot-tall Shopping Cart Tree featuring 84 shopping carts, 1,500 lightbulbs and held together with 4,000 tons of zip-ties will be lit up for the 26th-year in a row inside the Frank Gehry-designed Edgemar building and the beloved 13-foot tall Noble fir will stand tall over Main Street on the Heritage Museum lawn to welcome holiday shoppers and diners beginning December 5. For more details, visit 
MainStreetSM.com
.
Festive photo moments will be in full swing along the holiday-trimmed streets of Pico Boulevard and Montana Avenue. Shop, dine, and make a wish for the season at Pico Boulevard's nine-foot-tall festively lit Wishing Tree on the corner of Virginia Avenue Park beginning Saturday, November 21 and the Pico Pop Up decked out in festive decor and a spectacular window display. On Montana Avenue, children can drop off a letter to the North Pole at one of Santa's mailboxes along the street. For locations to submit a wishing card and more holiday experiences on Pico like free professional holiday 'paw-traits', visit 
PicoPassport.com
. For more details on Santa's mailboxes, visit 
MontanaAve.com
.
For those looking to send holiday cheer this year within the community, Santa Monica has a number of different ways to give back or get involved with volunteer opportunities including food banks, clothing and blanket drives and more. The City of Santa Monica has joined forces with Santa Monica College and its foundation on a goal to give 1,000 Santa Monica families and college students struggling with food insecurity free Thanksgiving groceries. The City is also working to bring a happy and healthy season to community members in need through its Virginia Avenue Park holiday food pantry and provide holiday meals and food boxes for families this December. For a full round up of how to donate or get involved, visit 
SantaMonica.gov/coronavirus-volunteer
 or 
SantaMonica.com/volunteer-opportunities
.
Restaurants and retailers throughout Santa Monica have implemented a number of convenient amenities including curbside, in-store pickup and takeaway dining options to make holiday meals and shopping easier than ever. Santa Monica remains committed to the health and wellness of the community and is taking extra precautions to ensure the community feels welcome and safe this holiday season and beyond. 
Face masks are required in all businesses and outdoor public places. The public is strongly encouraged to celebrate the holidays with household members and maintain six feet physical distance from non-household members.
  For a complete list of all of the holiday happenings in Santa Monica, visit 
SantaMonicaShines.com.
Santa Monica Place will also offer an array of physically-distanced, festive activities for the whole family to enjoy. Santa Monica Place is dedicated to prioritizing visitor's health and wellness and providing safe opportunities for shopping, dining and celebration.  Santa is coming to Santa Monica Place December 4 and taking residence in Center Plaza through December 24. Guests can enjoy a contactless visit with Santa, share a wish list, and take home a keepsake photo. Visit SantaMonicaPlace.com/SantaPhotos for reservations.
Sing along to holiday classics and get in the holiday spirit with a House DJ mixing hip beats with traditional favorites for the perfect holiday vibe. Next, snap the perfect photo with Santa Monica Place's iconic 50-foot tree returning to Center Plaza with thousands of sparkling lights and ornaments, along with candy cane stilt walkers, story book characters and the new 14-foot larger-than-life Snow Globe. Shop in-person and pick out meaningful gifts for loved ones this year. Take advantage of Shop Your Way amenities including curbside pickup, virtual queuing, in-store pickup and take-away dining options available from a variety of restaurants and retailers including Nordstrom, Bloomingdale's, Coach, Nike, Gourmandise, Tiffany & Co., True Food Kitchen, The Curious Palate, Sonoma Wine Garden, The Cheesecake Factory, and more. Two convenient curbside pickup locations will make holiday shopping at Santa Monica Place easier than ever. Location 1 is on 2nd Street between Colorado and Broadway and location 2 is on Broadway at 3rd Street Promenade. Santa Monica Place Concierge is available on-demand, during mall hours, to answer questions, make reservations, assist with curbside pickup and provide general holiday shopping recommendations. Simply text (310) 499-2928 to chat with our helpful Concierge.
So that guests will enjoy their visit and shop with peace of mind, Santa Monica Place is committed to promoting public health in the era of COVID-19 and has implemented intensified operating standards to ensure an optimal retail environment. Some of these measures include enhanced cleaning & sanitizing, queuing & designated paths of travel, increased Security to require mask use & promote social distancing, and placing hand sanitizer stations throughout the property.
For more information about holiday happenings, shopping and dining at Santa Monica Place, visit SantaMonicaPlace.com/Holiday.
Cover Photo credit: Mathew Tucciarone