Great news for Los Angelenos and art and music lovers at large, the Venice Art Crawl and the Mar Vista Music and Art Walk have joined forces to produce one of the Westside's most entertaining, visually impactful and sprawling one-day arts and cultural activations: THE GET AROUND.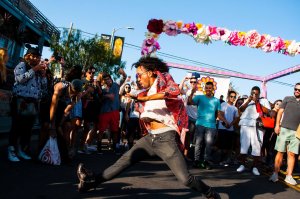 The Get Around is a one day joint event with six art activation hubs along Venice Blvd. — from Venice beach to the 405 — that will feature live music, art, food and art installations—aka all of our favorite things. 
To help the expected thousands of visitors "get around," LADOT is providing free shuttle buses along the entire event route scheduled to pick up visitors at eighteen stops along the way, allowing guests to walk, bike, skate and access cool micro-mobility alternatives like dockless scooters, smart bikes and hoverboards. Park on the streets near the 405 exit at Venice Blvd. and catch the first shuttle stop to ride and explore art in the newly formed Venice Mar Vista Arts District.
There's more going on on the day than can possibly be reprinted here, but here's an abbreviated selection of highlights! 
Five live music stages, over 150 art vendors, and even more exhibitions
Inside Venice Skate Culture exhibition, hosted by Juice Magazine
Edrok One's Mar Vista Block Party, featuring live hip-hop and mural painting
The Wasatch Live Music Stage hosting rock and blues, plus fire-spinning by local flow masters
The Mercado at SPARC, an outdoor arts market, including a special exhibition at The Durón Gallery
Readings and a book sale courtesy of Beyond Baroque, plus a farm stand and performance by Takakao Minewaka
Scenes from a new original play about a teenage Andy Warhol at Pacific Resident Theatre
A whole motorcade of food trucks featuring the tastiest grub on four wheels
King Eddy Saloon's Beer Garden with curated brews and live tunes
Art installations and dance DJs at The Bubble Lounge for those 21 and up 
The InfiniTree, a kid-friendly musical installation, photo opp and meditation space 
Live artists, karaoke, fitness games, tarot readings, face painting, and more presented by Venice Beachland
Japanese pop-rock duo Cribabi, plus local bands at the Venice Japanese-American Memorial Monument
Artist talk, book signing and photo booth with renowned muralist Emily Winters
Three-wheeled scooters, experimental bikes and skateboard demos at Micromobility Hub
Mind-boggling Burning Man Art Cars exhibited by The Dirty Beetles DJ Collective
And oh so much more! 
 Starsky and Hutch star turned AIDS activist after both his wife and son died from the disease (but bringing the Elisabeth Glaser AIDS Foundation to life), Paul Michael Glaser is a featured artist in the Art Crawl—calling his art his "third act." He'll be showing at The Paradise Project  2201 Ocean Front Walk  (at Venice Bl.) at the Luminaries of Pantheism mural (S. Venice Blvd.).
To wrap it up, this is the most ambitious art and culture project of the year for these two cities, and is a cool event for a hot day at the beach and inland!
For more information and to download the map click here