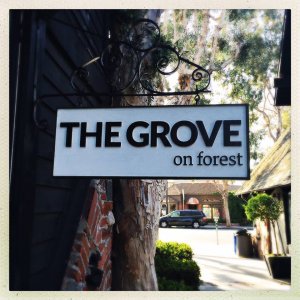 The Grove on Forest – Where Everything is Fresh
384 Forest ave, Laguna Beach
www.thegroveonforest.com
(949) 472 1999
Feel like meeting James Taylor? Then pop into the The Grove on Forest in Laguna Beach because the owner, James is there every day. No, this James Taylor isn't a famous musician but he is a former sous chef and general manager from Café Zoolu, has worked under renowned Chefs Wolfgang Puck, Mitchell Rosenthal and Carlo Middione, has been the Chef de Cuisine at Arnold Wong's EOS Restaurant & Wine Bar, and now brings a passion and determination to make "The Grove" an urban coffee shop with something extra. James really cares for and values his customers and will chat with you, remember you and bring his positive energy to boost you. Oh, and this James Taylor does actually play guitar and sing, and performs regularly in the dinning room on weekends.
Since the opening of the Grove in July 2016, business has been steadily increasing. With a lovely European style patio area nestled next to a flower shop, Tibetan store and beauty salon, plus a comfortable 30 seats inside, it's easy to see why.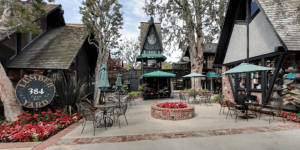 James likes to help local artists by displaying their art on his walls on a rotating basis. He's also installed an "honor" based coffee system where you can pop $2 in a jar and grab your coffee without having to wait in line. There is free wifi and several outlets for laptops/electronics. Plus, James works with the flower shop to build a symbiotic existence – he gives them coffee, they supply the coffee shop with flowers.
Hours are from 7am – 5pm with pastries and coffee drinks are served all day.
Breakfast runs from 8am – 2:30pm. Choose from an assortment of egg dishes, poached, fried, organic and salmon or try a breakfast salad: soft poached eggs, sous-vide truffle scented asparagus tips, avocado, grape tomatoes, and choice of wheat, rye of rustic Levain bread. Other items include gluten free waffles, all-natural granola and a plethora of pastries and bagels.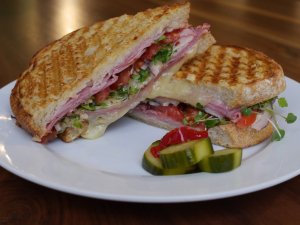 The Grove makes excellent use of their small kitchen by staggering the hours, so the Panini press comes out for hot lunch sandwiches from 11am – 2:30pm. Try the "Grove Street Ham and Cheese Panini": applewood smoked ham, prosciutto crudo, Fontina cheese, tomato, micro Dijon greens and red onion on rustic Levain bread with the option to add a soft-poached egg. Or have a cold sandwich, like "lil' Mama's Big Ass Sub – smoked ham, prociutto crudo, genoa saleme, lettuce, tomato, red onion, mustard, mayo, hot peppers on ciabatta bread. With everything served fresh every day, you should give it a try.