The Beauty of NAMM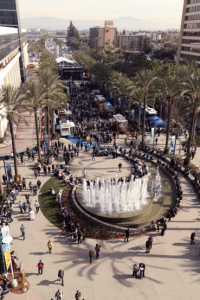 The 2017 NAMM Show is about to start, which means oodles of super-talented musicians and every musical accoutrement ever heard of, are headed to the Anaheim Convention Center. Having been a musician myself for many years and now currently the managing editor of a lifestyle/fashion magazine, I love NAMM, because it is a smorgasbord of outrageous fashion, mind-bending music of every genre possible – and of course, enormous fun.
Here are my top reasons as to why NAMM is awesome!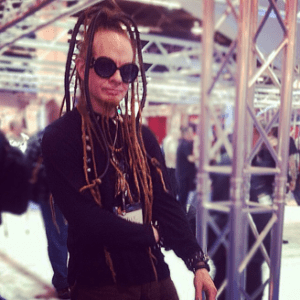 1. People Watching – the outfits are fantastic eye-popping ensembles worthy of any fashion show.
2. The instruments are incredible. As you walk the aisles you can bang, slap, pluck, bow, shake, blow, strum – basically make lovely sounds on endless options of instruments. My favorite was a hand painted glass flute– so beautiful.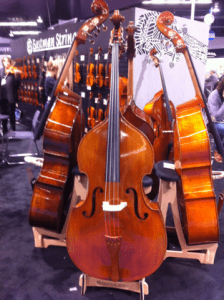 3. The Gibson Show Room – here you could sit on the "Throne of Gibsons" and grab a photo op – as just about everybody did (myself included). Or you could be filmed on a "stage" complete with Gibson guitar slung over your shoulder and crowd cheering for you. Plus, there was a VIP area, where the guitars cost up to $35,000.00 – pricey but beautiful.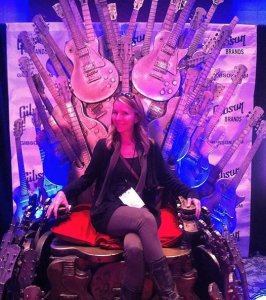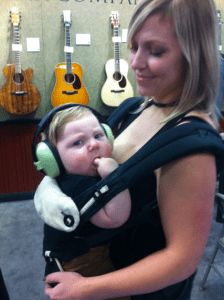 4. The sound – it's a weirdly harmonious cacophony of sound. I'm sure after a few hours, it loses its appeal but it adds to the excitement of the show. This thoughtful mom protected her baby's ears.
5. The look on peoples faces when they play on an instrument they have just discovered, or have long since mastered, either way, the facial expressions were priceless.
6. I was lucky enough to "hang" with guitarist extraordinaire, Allen Hinds – which surprisingly was like being with the king of a small country. Everybody stopped to pay their respects to Allen; to snap photos with him, to ask for his signature, and to fawn over him. I've known Allen for many years, but have never witnessed him in a sea of musicians. As a longstanding guitar teacher at MI, Allen is well loved by his students, and it was truly heartwarming to see my old friend get so much love and respect from all the young musicians and wannabes.