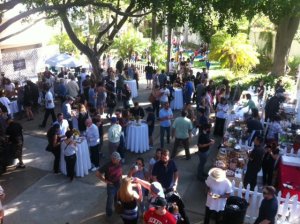 The "Taste of the Eastside" was held on May 1 at the Los Angeles River Center and
Gardens. The venue was gorgeous with magnificent trees, tiered fountains, Spanish tiled archways, ivy-covered walls, flower-filled terra cotta pots that made for a relaxing and enchanting environment. Vendors where set up in the various courtyards, and the public could sit picnic-style on the grass, hang by the fountains or stand at tables.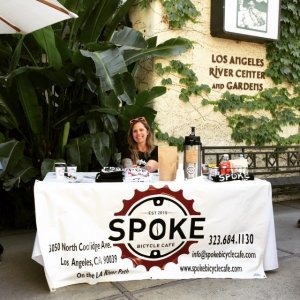 First up, Spoke Bicycle Café were set up at the entrance to valet your bicycle and to enter you into a raffle if you rode in. Spoke is a super cool hang on the bike path in the Frogtown area – open Thurs-Sun for bike repairs, rentals and coffee/snacks, please pay them a visit. www.spokebicyclecafe.com
Once inside, it was hard to choose what to try first (at least it was for me) but I managed to calm down and systematically work my way around the grounds, sampling bites of joy. Here's what I discovered:
Okipoki (507 S. Spring St)– they served up a little boat of heaven – Ahi tuna and seaweed. I love this type of food – tasty and healthy. www.okipokila.com
Madcapra (Grand Central market, DTLA) offered up their specialty, great falafel www.marcapra.com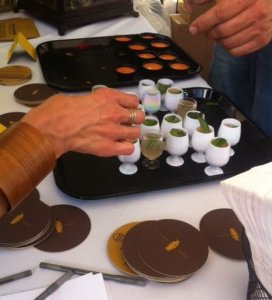 The Argentine inspired Barcito (12th & Grand, DTLA) had mouthwatering chili garlic shrimp www.barcitola.com
OZU East Kitchen (3224 Glendale Blvd, LA) served grilled tofu that was delicious – more please! www.OZUEastKitchen.com
Wax Paper (2902 Knox Ave) served up a yummy pulled pork sandwiches – you know you want one! Wax Paper is a relatively new little sandwich shop in Frogtown – www.waxpaperco.com
Kitchen Mouse Catering presented vegan and gluten free TLT sandwiches – Tempeh, lettuce and tomatoes – www.kitchemousela.com
The Juice (on Glendale Blvd) had samples of Green Milk made from brazil nuts, spinach, kale, coconut-cream, dates, vanilla and sea salt and another sample of Fuji apple, lemon and triple ginger which had a quite a tang to it – both were ridiculously good.
One of my favorite places, Momed had duck shawarma and avocado hummus available for sampling. And just so you know, Momed has a "no corkage" night every Wednesday (and they make amazing brussel sprouts) www.atmomed.com
And speaking of corkage – on the drink side there were wines by Silver lake wines (who are now in DTLA as well as in Silverlake), and beers from Eagle Rock Brewery, plus various other drink vendors, and a cocktail demonstration by Bon Vivant.
For the sweet tooth, The Donut Farm was a smash with their vegan donuts made with 100% certified organic ingredients, and Jenn's Splendid Ice Cream made from grass-grazed milk, plus Gigi's Bakery of Cuban pastries and Mexican breads.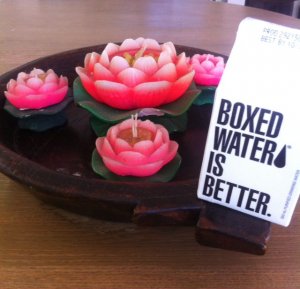 Of interest was Boxed Water, who handed out their product with the promise of planting trees if you post a photo of their boxed water with the hash tag #ReTree the aim being to help them reach their goal of planting one million trees by 2020 – boxedwaterisbetter.com/retree – come on, lets' help them!
Two of the food vendors had not even opened yet: The San Fernando – will be opening in 2-3 months – www.thesanfernando.com And RBTA – will be opening in Highland Park. RBTA are right near a recently reopened bowling alley, The Highland Park Bowl, which is beautifully refurbished using the old pinsetters as chandeliers and sawed off pins to double as bar lamps. www.highlandparkbowl.com. (SoCal plans to review all these places –please stay tuned)
Besides food, there was the Magnolia Photo Booth www.magbooth.com who caught these adorable young ladies in action.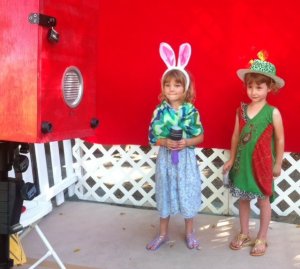 And Master Vince Cecere was there to offer a $20 private class in American Old School Jujitsu (valued at $150) Master Vince has taught members of the FBI to members of the girl's scouts – with ages ranging from 5-80. www.aosjijitsu.com
Taste of the Eastside is entirely organized and staffed by volunteers and all proceeds from the event go to support local non-profits. The community beneficiaries of this year's event were the Pablove Foundation (who fund pediatric cancer research and help children with cancer with music and arts programs) www.pablove.org The Rose Scharlin Cooperative Nursery School www.rosescharlin.com and Friends of the Los Angeles River (FoLAR) who envision a swimmable, fishable, boatable, bikeable Los Angeles River – yes, we want that, too!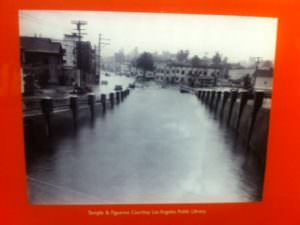 Guests were free to meander through the Los Angeles River Visitor Center that houses a wall of information on the LA River's history, its current status, and a vision for the River's future. The history section displayed fascinating photos of a great flood that happened in 1938, causing millions of dollars worth of damage and killing 85 people. Let's hope that doesn't happen again.
This was a well-planned, well-executed, and well-attended event. So let's all say – WELL done, TOTE!