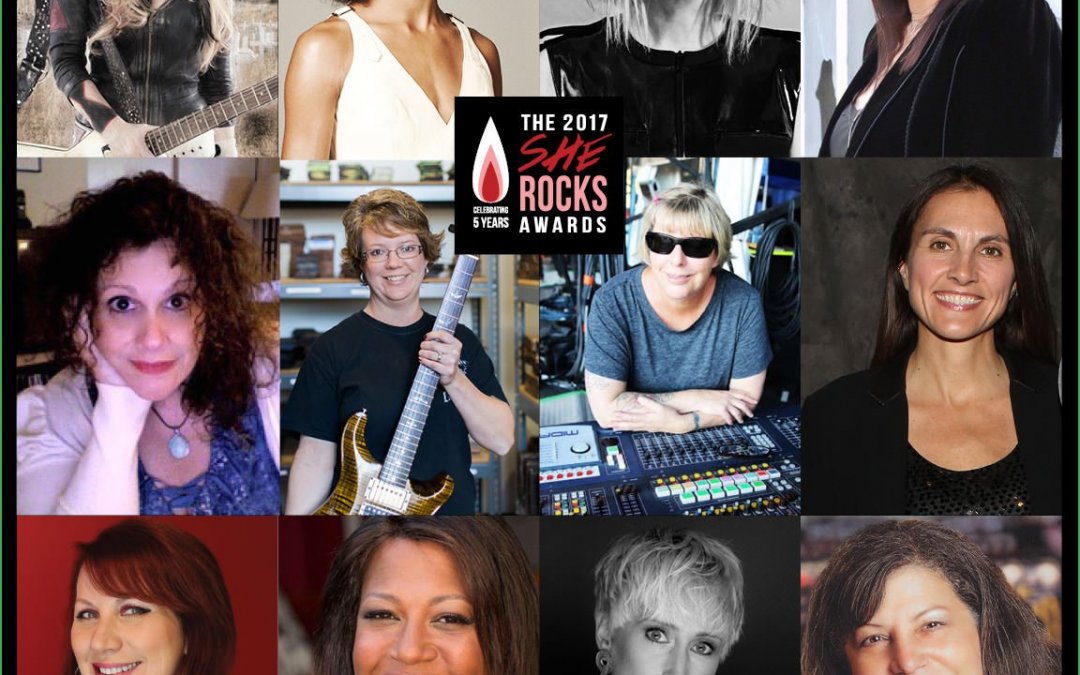 The 20
th
of January 2017, a few hours prior to the nationwide Women's March was a perfect date for the fifth year of the She Rocks Awards Show to pay homage to women in the music industry. Started by Laura Whitmore, founder of the
Women's International Music Network
, this years award show, held during the
NAMM show
weekend at the Anaheim Convention center in the Hilton Pacific Ballroom, was a sold out event.
Co-hosted by Christine Devine (Fox 11 news anchor) and Tish Ciravolo (founder of Daisy Rock Guitars), the show honored female role models in the music industry such as Ronnie Spector, Lita Ford, Shirley Manson, Karrie Keyes – founder of Soundgirls and sound engineer for Pearl Jam, Lisa Foxx – radio personality, and Esperanza Spalding, to name a few.
The opening act, Brandy Robinson won her well-deserved spot in the #SaveAGuitar Contest, and set an energetic, polished tone for the evening. Holding down the fort for the night was the kick-ass house band, Rock Sugah led by bassist Divinity Roxx, with Kat Dyson on guitar, Benita Lewis on drums and Lynette Williams on keys.
Shirley Manson (front woman for Garbage) identified that usually she avoids female-only events because she wants everyone to play together and doesn't like segregation of any kind. "But these are funny times and we've been sent some really unpleasant messages, so this year I want to stand up and say that these messages will not be tolerated."
And Karrie Keyes, being the only female on crew with Pearl Jam, related how the rest of the (male) crew immediately assumed that she'd cause drama. "I was probably one of the few that didn't cause drama" she quipped.
Amongst the presenters were Steve Vai and Lisa Loeb, while performances included a line-up of guest guitarists including Nili Brosh, Nita Strauss (guitarist for Alice Cooper), Gretchen Menn and of course the legendary, Lita Ford, who won the She Rocks Icon Award. Ford dedicated her award to her first band, The Runaways, and ended the evening with a rocking performance. Rock on ladies, rock on!
Photos by Jesse Grant/Getty Images for NAMM