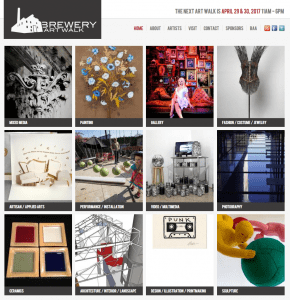 Happening 29th & 30th April 11AM -6PM
The Brewery ArtWalk is a twice annual open studio weekend at the worlds largest art complex. With over 100 participating resident artists, you will have the opportunity to see new works, discover new favorites, speak with the artists and purchase artwork directly from the artists' studios.
The ArtWalk takes place in the Spring and Fall, 11:00 am – 6:00 pm
Admission and parking are free. Come and support LA's finest artists, take home some great works and dine at the on-site restaurant.
Brewery Art Association c/o i5 Gallery
2100 North Main Street, Unit A10
Los Angeles, CA 90031
The creation of the Brewery Arts Complex began in 1982 at the site of the Pabst Blue Ribbon Brewery. With the passing of the Artist-In-Residence code, artists could rent live/work space in industrially zoned buildings. Spaces are rented only to artists and that is the policy to this day.
In July 1997, the LA Weekly called it "the world's largest artist-in-residence community" and in a March 1999 Los Angeles Times article, The Brewery was quoted as the "world's largest art complex." These are true lofts, not apartments, in industrial buildings that are a part of what has become a uniquely vibrant and creative community.