The 7th annual Taste of the Eastside (TOTE), held in the last weekend of April, was a sold out event .
This popular food & drink festival, showcases the diverse and budding food scene of the eateries in the eastside of LA. This includes the neighborhoods of Los Feliz, Silver Lake, Echo Park, Highland Park, Eagle Rock, Atwater Village and beyond. Planned and staffed entirely by volunteers, Taste of the Eastside donates all the proceeds to local non-profits. Each year, different non-profit organizations benefit from TOTE's support. This year the recipients were: The Rose Scharlin Cooperative Nursery School  www.rosescharlin.com The Pablove Foundation | www.pablove.org And FoLAR
Each restaurant/chef stages a unique, signature dish for the 1000+ visitors to sample. Truly all the food was fabulous, but the dishes that stood out at this year's event were as follows:
RBTA (Highland Park) – Bacon wrapped cherry tomatoes with wasabi, goji berries, miso burrata cheese, wasabi arare and Honey Serrano glaze. Simply delectable.
Belle's Bagels (Highland Park) – LoxSmith Bites = Bagel pieces with beet cream cheese, lox, radish and dill – plus, what gave it the extra edge was the crispy salmon skin topping.
Wood (Silver lake) – High-end, handcrafted slices of thin crust pizza – mouthwatering.
 The Los Angeles Burger Company (Frogtown) – Citrus BBQ pulled pork & tatter tots. (I actually went back two times, that's how tasty their serving was). The Los Angeles Burger Company is now open Saturdays in May in Frogtown –
Popdup+ (online) – This is a new outfit that promotes health with "The Base". They use fresh seasonal fruits to add natural sweetness and nutrition. At TOTE they served Gooseberry with Marigold flower, Hibiscus agave, Fig and Elderberry, and Strawberry Shiso – combined with either soda water or Cold Brew Oolong Tea.
Momed (Atwater Village) – featured Duck Shawarma, Avocado Hummus and Muhammara. Momed will be extending their hours for Sunday Summer Happy Hour -5pm with DJ Gant Johnson. $5 House Wine, $6 Mimosa, $5 Momo Chips, Avocado Hummus and house olives.
And a shout out to Spoke Bicycle Café – they weren't serving food but offered a bicycle valet service that ensured the safety of everyone's bicycles. Spoke is also about to open their restaurant, which I'm very excited about – stay tuned for an update on them.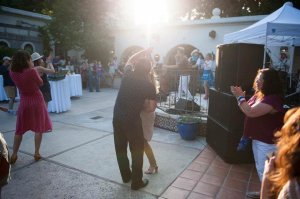 Of course there were also many drinking establishments represented with Highland Park Brewery, Silverlake Wines, Eagle Rock Brewery, El Segundo Brewery, Strand Brewery Co, Greenbar Craft Distillery and Bon Vivant provided a cocktail demonstration.
The event featured live music and KCRW DJs and all the festival took place once again at The Los Angeles River Center and Gardens – a beautiful venue that is worth going to by itself.