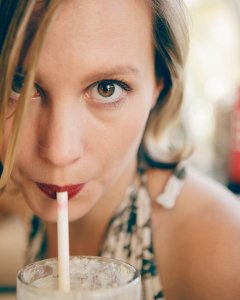 What is it like to be a foreign actress living and working in Los Angeles? We asked Jana Nawartschi, an alumni of the American Musical and Dramatic Academy, who made her first strides in the award winning AFI short film
The Haircut, and is
 also known for her portrayal of Candace Mack in the anticipated indie feature "
Clocking the T
". Jana 
1. What is the hardest thing about following your dream?
Being away from home is probably the hardest thing for me, as I have a great relationship with my family. Skype and Smartphones make the whole thing easier, but it's not the same. And this career can be very draining, emotionally and mentally, and there are days when I long for a hug from my mom to help me instantly feel better. There's also the guilt I feel sometimes, because I know my grandparents miss me very much, and are not getting any younger. But I try to keep a positive perspective and am fortunate that my entire family supports what I do, and that I get to see them at last once or twice a year.
2. What is your favorite thing about LA?
I think what I love most about this place is that it is so diverse and multifaceted. Not only the people but also the different parts of town. If you know exactly what you care about and what's important to you, you can lead any type of life here and there's no pressure to fit in. You'll always be able to find people and places that are on your wave length, sometimes you just have to look for them a little longer.
3. What TV show would be your dream show to be cast in?
I'm a huge fan of darker material and strong, ambiguous female characters. I was obsessed with The Killing and The Fall and it would be a dream come true to play a detective like that on a show with a similar feel. Maybe it's time for an all female True Detective? That would be amazing.
4. How old were you on your first modeling/acting job?
I guess technically it was the Nativity Play at church when I was 5, but I discovered my true love for film and theatre, after watching Moulin Rouge as a 12-year old. My father bought me the soundtrack and after that not a day went by without me reenacting that entire movie to the soundtrack in my room, including dramatic coughing attacks and a tragic death a la Nicole Kidman. My parents must have thought me nuts. I may not be dancing around in my pajamas anymore singing "This is your song", but better yet, I've made a childhood dream become reality.
5. Which do you prefer – modeling or acting?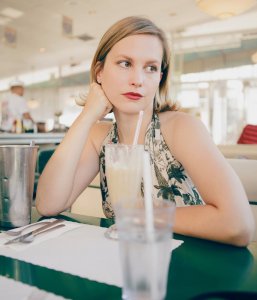 I definitely prefer acting. I have a lot of fun modeling but I sort of fell into it more than I made a conscious decision to pursue it. It's another creative outlet, but I feel a lot freer as an actress and enjoy the opportunity to play, build a character, and dig deep into a subject. As an actress I get to be in charge of my craft and collaborate with other artists, as a model the whole process is a little more passive. And screen acting is like being part of this gigantic puzzle that magically comes together in the editing room. I really love that. Every little move you make gets captured by the camera, so you have to get so specific. I guess if I had to choose, I'd choose film. It's just such a powerful medium
6. How much has having an accent counted against you?
Honestly, I don't think it really has. When I first moved here, I had a very slight accent and over the years I've gotten rid of it. People don't suspect I'm foreign, so I've been able to play a lot of different roles, not depending on where I'm from. Funny enough, I've gotten a lot auditions lately that require a German accent and even fluent German. So having that other skill has come in very handy!
7. How many auditions do you go to in a month?
That really depends. During Pilot or Episodic season it might be 15 or more, other times I might go without a single audition for a couple weeks. It's a weird business that way. You can't count on your job to keep you busy at all times. You have to find joy in the downtime.
8. Is there anything you'd do differently if you had to start from scratch?
I'd care less about the "rules", because there really are none. When I first got here, I thought that there must be a certain way to go about the whole acting business, and I listened to a lot of different people. For sure, there are some things that you should do that are helpful and necessary, but it's not rocket science. At the end of the day, I know what's best for me and what I'm capable of, so coming back to my instincts and getting very specific about what I want, has been a big lesson. If I had to start over, I'd listen to my gut more and just go for it.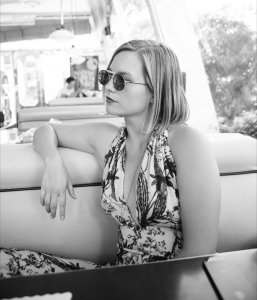 9. What are your hopes for the future?
I feel like hopes can get you into trouble, because they tend to stay in that dreamy, unspecific place. But I'm also not a robot, so I do have lots of hopes and dreams! I hope that I'll be fortunate enough to do this job for the rest of my life. A lot of that is out of my control, so I hope I'll be able to. For the rest of it, I like to set goals. It makes me go after it more. Getting my work visa renewed is probably one of the biggest ones at the moment, because it'll allow me to keep building on everything I've done thus far. I'd also love to work with directors like Reed Morano or Wes Anderson. Their style is so specific, and being part of projects that jiggle the viewers mind in any way, is the dream. And I want to work with my friends more. I have a very talented group of people around me, and getting together to create with them on any level, is always inspiring.
10.  Do you have any upcoming shows?
Definitely. I'm a guest performer for
Whoa Man
on the 
23rd of July
 at the Meta Theatre. They're a super hilarious group of female comics that have a monthly sketch comedy show, fully produced, directed, and written by women. It's so worth seeing!
I'm also in Season 2 of the web-series Liked that just got picked up by Elizabeth Bank's online platform Whohaha. That should come out in the next few weeks. And I have an episode in a new show called Counterpart opposite JK Simmons, but that's not coming out until the end of the year.