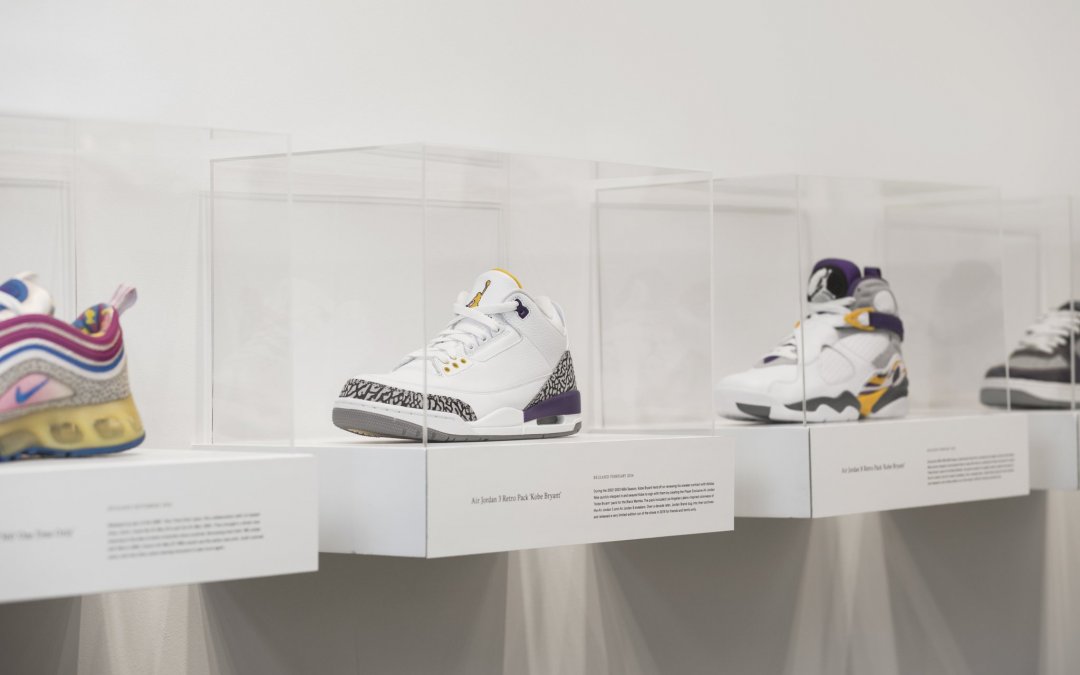 About GOAT
Founded in 2015, and based in Los Angeles, California, GOAT is the safest way to buy and sell authentic sneakers through your mobile device. Whether you're looking to buy rare sneakers, discover new sneaker releases, or earn money by listing sneakers you already own, GOAT is your destination. And with authentication service, buyer protection guarantee and great customer service, it is the safest option in the industry.
The Greatest: Los Angeles
GOAT, the leading marketplace for sneakers, announced the launch of The Greatest – a pop-up sneaker gallery debuting on October 7th at Platform in Culver City. The pop-up will roll around until December 31st, to celebrate artists, shoes, and boutiques that have been influential in shaping pop culture and sneaker enthusiasts everywhere. The month-long exhibit for October, The Greatest: Los Angeles, is paying homage to LA's profound impact on global sneaker culture since the turn of the twenty-first century.
Releases like the Air Jordan Retro 4 collaboration, and the Fear of God x Vans Vault Mountain collaboration will highlight the path that led to the creation of 25 significant L.A.-born sneakers. This includes Dunk Low Pro SB 'Diamond,' Air Force 1 'Mr. Cartoon,' and Yeezy PowerPhase 'Calabasas.'
What to Expect
GOAT will host sessions led by those who have shaped the broader culture through photography, fashion, design, and product innovation. While at the pop-up, guests can learn and interact with industry pioneers, and legendary streetwear figures, including Jimmy Gorecki, Andrea Lieberman, Jeff Staple, "The Shoe Surgeon," Cole Younger, Theo Martins, and Jason Markk, to name a few.
Jason Markk, founder and CEO of Jason Markk, Inc. says, "I think people are a product of the environment in which they were raised. L.A. is not only a melting pot of various ethnicities, but L.A. is also an intersection of diverse subcultures, such as skate, surf, and gangs." He goes on to say, "This is evident in the way we live, carry ourselves, and also what's on our feet."
The Co-founder and CPO of GOAT, Daishin Sugano, says about the event, "We've wanted to create a physical space like this for a long time, to inspire and bring people together through their love of sneakers. He adds, "We're excited for the opportunity to share some of L.A.'s contributions to the sneaker community since 2000, and explore where the industry is headed next."
The Greatest kicks off with GOAT hosting a special opening day event, on Saturday, October 7th from 11 a.m. to 7 p.m. Not only will it feature a special guest DJ, but there will also be two additional "themed" exhibits on display in November and December, with announcements to come at the end of the month.
How to Attend and Learn More
The Greatest will be open from October 7th through December 31st, at Platform: 8830 Washington Blvd., Suite 101, Culver City, California. Hours are 11. a.m. to 7 p.m. daily, with the exception of holidays and closings. Admission is free.
To learn more about GOAT, or to RSVP for the The Greatest opening event and programming, please visit www.goat.com/platform. GOAT is available to download on the App Store and Google Play for free.