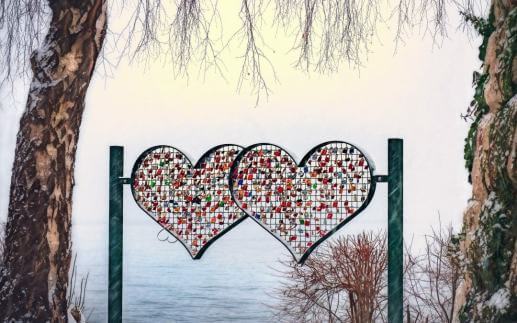 In the midst of the holiday season, we can't help but wonder what it's like to be single in Southern California and participate in the dating scene. It's probably stressful and overwhelming, but we wanted to hear some expert advice on ways to navigate finding a good date during this festive time of year. We asked matchmaking expert, Erica Arrechea, co-founder of Cinqe Matchmaking, to give us her top 5 tips on how to find a date during the holidays.
The holidays are always recognized as a time when we get together with family and friends, reminisce about the year, and wonder about what is to come. If you're single, this jolly season could also be a time for you to meet that special someone. After all, we all want what we see on the Hallmark Christmas movies, right? Check out my 5 tips on where and how to meet your mistletoe buddy this season.
1. Work-Out Activities
Don't let the weather outside fool you; participating in exercise activities such as community volleyball, soccer, soul cycle, or even CrossFit classes could lead you into accidentally bumping into that cute stranger. A few of my close friends have met their significant other at a CrossFit class, so the odds are in your favor.
2. Farmer's Market
Especially in SoCal, Farmer's Markets are a non-stop social spot that is full of people all day, every day. Instant romance may not be what you think of when you go to pick up strawberries, though the opportunity of running into an old college friend or locking eyes with that hot guy picking up some avocados does sound promising. *Tip: Don't wear sunglasses when you're out and about. It makes it easier to make eye contact with people and to show off your beautiful smile. Works EVERY time.*
3. Reach Out To Your Old Facebook Friends
Singles do not do this enough; reaching out to old Facebook friends that you haven't spoken to in years is a great way to build up relationships again. Life gets in the way, we get busy, however, there's always the chance of reconnecting. And who knows? That quick FB message to your high school acquaintance could lead to a few drinks or a nice dinner.
4. Go To The Driving Range
Ladies, this one's for you. There are ALWAYS guys at the driving range. No matter what time of day, year, anything, it is inevitable that there will be a bunch of men hanging out and enjoying themselves at a driving range. So, why not add yourself to the equation and get to know a few of them?
5. Be Your Own Event Coordinator
What do you do when you first move to a new area and haven't met anyone? You seek out what the best hot-spots are and you go out and try to mingle with new people. Finding a date is very, very similar. Organize a small event (let's say inviting a group of your friends to that delicious brunch spot), and ask everyone to bring at least one friend who the group hasn't met. Something as simple as that could lead to new connections, and an overall good time.
Finding a sweet, fun holiday date can be a lot easier than we expect. Implement some of these tips into your dating life and be open to new people and experiences. If you're really serious about finding love in the upcoming year, but don't have the extra funds to commit to a Matchmaker, know that Cinqe is always looking to add more singles to our free online network. Join our growing database of successful, attractive singles at Cinqe.com. 
ABOUT ERICA:  I grew up in a suburb outside of San Francisco, went to college in San Diego to study marketing, settled in the heart of Los Angeles in 2008. Early in my career, I began reading and following the teachings of Pat Allen, Brené Brown and John Gottman. I was inspired to start building a company with an innate desire for connecting people, whether for business partnerships, great friendships, or something more.
Connecting others enlightens me. Witnessing lasting and meaningful connections is an experience that's unmatched. It's been a humbling journey, with the special pleasure of being able to work alongside Patti Stanger, the Queen of my industry.