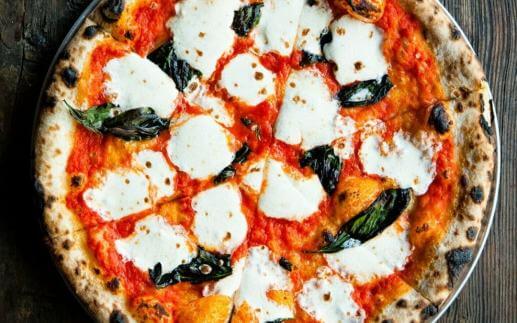 World renowned pizzeria comes to Culver City!
Roberta's, the world renowned pizzeria from Brooklyn, has opened its first extended residency on the West Coast at PLATFORM.
Following last year's inaugural residency at Platform LA, Roberta's will once again be serving their wood-fired pizzas and a selection of natural wines, courtesy of Hayden's wine shop, in Hayden Tract. In what could possibly become an annual occurrence, Roberta's is returning to Los Angeles this December, from the 6th to the 23rd. Joseph Miller, Co-Founder of Platform LA says, "We had so much fun hosting the Roberta's crew last year and can't wait to have them back again for the holidays at PLATFORM."
Roberta's Co-Owner and Chef Carlo Mirarchi says, "We're psyched about being back in LA and spending time with our friends on the West Coast. We can't wait to serve all the great people that came out to see us last year, and are excited to welcome any one who hasn't dined with us before."
Pizza lovers can find Roberta's at PLATFORM LA, (8850 Washington Blvd., Culver City) from December 6 – 23, 2017, and open Wednesday – Sunday from 12:00 p.m. – 9:00 p.m. Their menu includes signature pizzas alongside a local, seasonal special, in addition to Margherita, Bee Sting, and the Famous Original — all available in a personal pie size, and priced from $12 per pizza. All pizzas are also available for dining onsite or for takeaway.
About Roberta's
Nestled in the heart of Bushwick, Brooklyn, Roberta's is the creation of Brandon Hoy and Chef Carlo Mirarchi. Opened in January of 2008, the restaurant has become a neighborhood institution, an international culinary destination, and an incubator for progressive entrepreneurship. Described by The New York Times as "one of the more extraordinary restaurants in the country," Roberta's is built inside a former manufacturing building and features communal seating, private tables, and a sun-soaked atrium. Roberta's is far more than a restaurant – the full campus includes a multi-use outdoor terrace and bar, Heritage Radio Station, an onsite vegetable garden, and discreet access to the two-Michelin Star restaurant, Blanca. The adjacent Roberta's Bakery offers fresh pizza for takeout and delivery as well as frozen pizzas and a variety of fresh baked goods, naturally leavened breads, and retail merchandise.
PLATFORM is the convergence of fashion, culinary talent, and creative companies in the most
dynamic neighborhood in Los Angeles, Hayden Tract. A community of independent merchants,
influential chefs, and creative organizations, PLATFORM is a centerpiece for LA's newest
creative generation. Through edited experiences including popups, installations, and culinary
partnerships, PLATFORM is a destination for all of LA to discover.