Opening Night Premiere & Collector Preview:
Thursday, September 27th

: 

6pm-10pm
General Show Hours:
Friday, September 28th
: 
3pm-10pm
Saturday, September 29th
: 
11am-10pm
Sunday, September 30th
: 
11am-6pm
Barker Hangar Santa Monica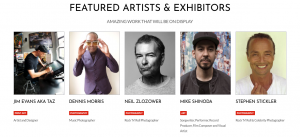 (LOS ANGELES, CA.)  May 30, 2018
— 
Limited Runs
, one of the largest independent sellers of vintage posters, photography and other pop culture art, announced today the inaugural 
Pop Art Photo Show
will take place 
September 27-30, 2018
 at the Barker Hangar in Santa Monica, California. The show, produced by Limited Runs, is a four-day celebration of 70+ years of pop culture-influenced expression. The show will feature an interactive space showcasing rare and vintage images bridging all varieties of pop culture, including movies, music, celebrity, fashion, and more. 
Pop Art Photo Show
offers everyone from car enthusiasts, classic movie lovers, and music aficionados, a space to explore and purchase their favorite rare and vintage art.
Pop Art Photo Show will showcase a wide range of rare and vintage art, photography, and posters that span eight decades of pop culture, including:
CELEBRITY, FASHION, AUTOMOTIVE
Original American concept car art will be on display by Ken Vendley, Don Butler, Bill Schmidt, and a host of other designers that worked for the major Detroit automakers during the 1940s through the 1970s.
Famed fashion photographer Len Steckler's estate will release "Mad to Mod", a collection of rare and never before seen photographs from the late 1950s to the early 1960s, which he shot for Vogue and Cosmopolitan that include top models Wilhelmina, Suzy Parker, Barbara Bach, and Lauren Hutton.
Unpublished celebrity photos from Milton H. Greene (March 14, 1922 -August 8, 1985) including John Wayne, Marilyn Monroe, Gene Kelly, and Paul Newman.
Rare Vintage and Original Movie Posters, featuring a French Casablanca poster which is one of very few that exist today, in addition to classics such as the 1950s sci-fi Creature From The Black Lagoon, groundbreaking drama On The Waterfront, 1960s James Bond, Jaws, Indiana Jones, and a collection of rare vintage and original Star Wars posters from around the world spanning from the original film to the latest release The Last Jedi.
Photographs from the vault of Ray Gun and Bikini Magazine photographer/photo editor Stephen Stickler, which feature the famous faces of Iggy Pop, Charlize Theron, Chris Cornell, Stevie Ray Vaughn, Kate Winslet, Foo Fighters, Vin Diesel, and the Red Hot Chili Peppers.
Work by famed Rock Photographer Neil Zlozower will be on display, with never before seen fine art photography featuring David Bowie, Tom Petty, Van Halen, Prince, and more.
A classic collection of fine art photography documenting the early history of pop music by photographers Bill Spilka, Fred W. McDarrah, Maurice Seymour, James Kriegsmann, Frank Kuchirchuk, Robert Alderson, Michael Montfort, Skippy Adelman, Ted Williams, Herb Snitzer, David B. Hecht who shot classic images of the great American Jazz artists Miles Davis, Louis Armstrong, and Billie Holiday, to the psychedelic rock era of Jimi Hendrix, the Rolling Stones, and The Beatles.
Contemporary rock and roll fine art photographers include Jay Blakesberg's seminal images of the Grateful Dead, U2, Led Zeppelin, Snoop Dogg and Green Day; Dennis Morris who shot British punk rockers the Sex Pistols and reggae legend Bob Marley; Eddie Malluk worked with the premier figures of 1980's metal such as Motorhead, Mötley Crüe and Guns N' Roses; and Joe Giron who shot grunge artist royalty Nirvana and Soundgarden.
A unique collection of art by famed rock and movie poster artist T.A.Z. (aka Jim Evans), including Jim's collaboration with street artist RISK, as well as unpublished rock posters, a series of super stylized pop icons art pieces in collaboration with Richard Duardo, the inventive printmaker referenced as "the Warhol of the West," commissioned in the 1980's which feature Frank Sinatra, Marilyn Monroe, Elvis, James Dean, Madonna, Sylvester Stallone, Marlon Brando, Sean Connery, and more.
"We are proud to debut the show and bring this unique experience to Los Angeles, with a thoughtfully curated environment that makes discovering and purchasing art enjoyable" said Pierre Vudrag, Founder of Limited Runs and creator of the Pop Art Photo Show.  "We scour the globe working with the top sellers, artists and photographers to find the rarest and most valuable art.  Included in the installations will be several unpublished or never before seen collections including the concept car art, the Milton Green, Stephen Stickler and Len Steckler images. There really is something for everyone."
A portion of proceeds from the event will benefit the 
T.J. Martell Foundation
, a non-profit organization founded by the music industry, that has been supporting innovative cancer research since 1975.
About Limited Runs
Launched in 2014, Limited Runs is one of the largest independent sellers of original vintage posters, photography and other pop culture art.  Through partnerships with the most reputable and trusted art dealers, artists and photographers in the world, Limited Runs provides the best selection of high quality and original vintage posters, as well as limited edition print art and photography.  For more information, visit 
Limited Runs
.
SPONSORED BY:
T.J. MARTELL FOUNDATION
The T.J. Martell Foundation is the music industry's leading foundation that funds innovative medical research focused on finding treatments and cures for cancer. The Foundation sources and supports early-stage translational research projects which otherwise might not be funded.  A potion of proceeds from the event will benefit the T.J. Martell Foundation, a non-profit organization founded by the music industry, that has been supporting innovative cancer research since 1975.
KCRW
KCRW creates and curates a unique mix of content centered around music discovery, NPR news, cultural exploration and informed public affairs. KCRW is driven by the spirit of Los Angeles and delivers in innovative ways — on the radio, digitally and in person — to diverse, curious communities around the corner and around the world. A community service of Santa Monica College, KCRW can be found on the air in Los Angeles, Santa Barbara, Ventura, Mojave, Palm Springs, and via five KCRW-developed smartphone apps and online at 
KCRW
.
ANGELENO
Angeleno excels in capturing the metropolitan lifestyle. Whether it's a special feature on the chicest trends in design, cutting-edge fashion spreads, an in-depth review of the city's hot spots or a revealing celebrity profile, our magazines and websites consistently engage the affluent reader. Our cutting-edge photography and award-winning editorial covers the finest in fashion, dining, night-life, design and travel.
LA CANVAS
Celebrating art, fashion, music, food, and the very best of LA's underbelly.
LA WEEKLY
Founded in 1978 by an investment group that included actor Michael Douglas, 
L.A. Weekly
 offers hard-hitting investigative stories, spirited criticism and provocative cultural coverage in America's second-largest city. That combination has made us the nation's mostly widely read alt-weekly, with well over 3 million active users visiting 
laweekly.com
 each month.
# # #
 Social Media: @LimitedRuns #PopArtPhotoShow