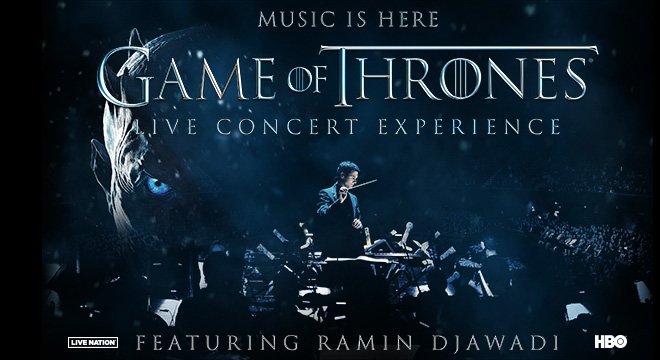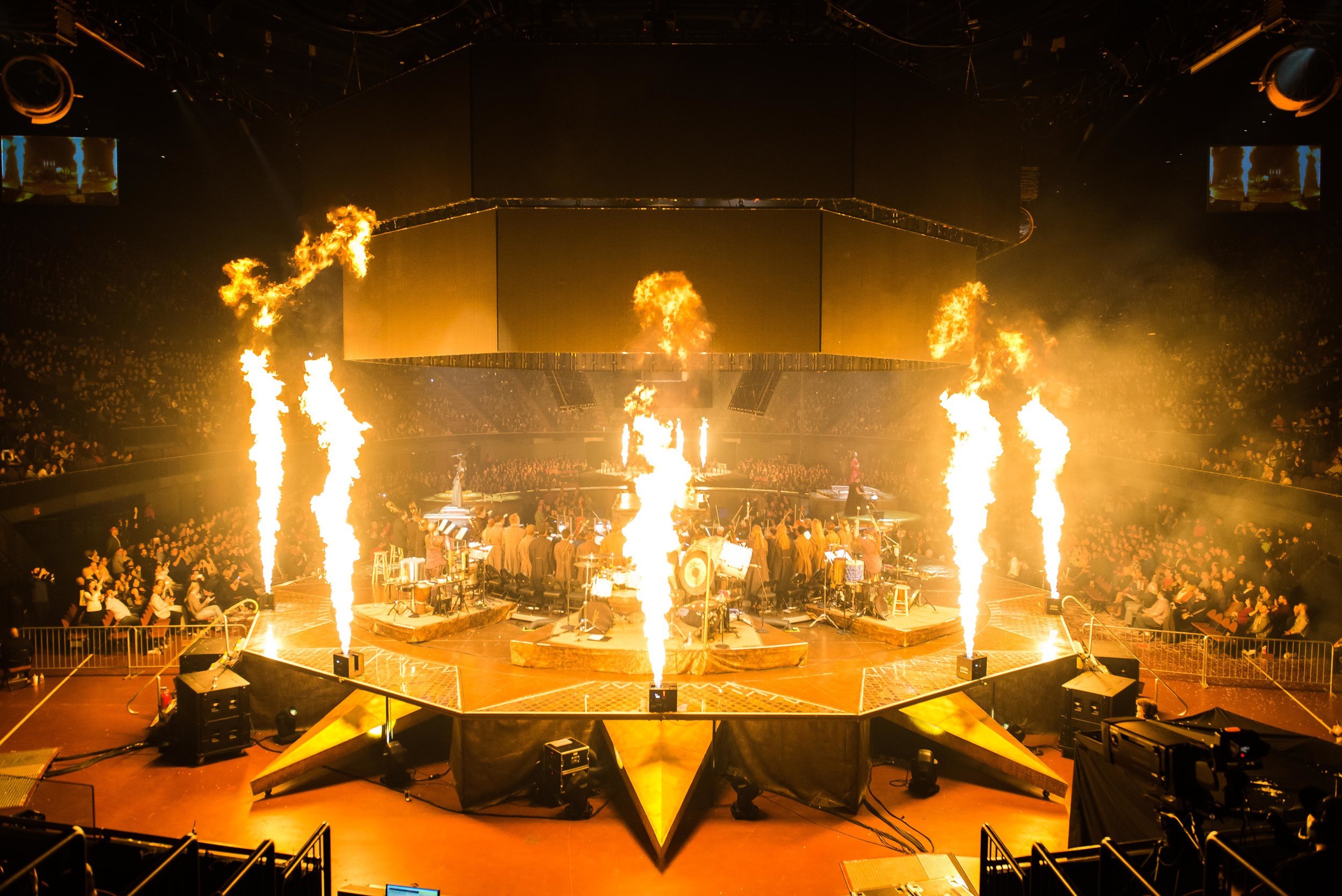 GAME OF THRONES at the Forum – Sept 9th
You may not have heard of Ramin Djawadi, but I'll guarantee you've heard his music, because this 44-year-old, German/Iranian composer has produced over a hundred soundtracks and scores for major films and TV shows, including HBO's "Game of Thrones" for which he recently won an Emmy.
Following the smash success of their TV series, HBO launched the 'Game of Thrones Live Concert Experience' with Djawadi performing his masterpieces in massive arenas throughout Europe and America. The show features a live orchestra & a 20-piece choir (all dressed for the part), giant screens with stunning visuals, pyrotechnics, changing stage design, and a plethora of unusual instruments, all serving to give the audience an immersive musical experience of all seven seasons of Game of Thrones.
On the screen, horses charge and dragons shoot out fire, while above the stage, real fire blasts out, and on the stage, musicians build to a heart-pumping climax. You can't help but get Goosebumps all over your body. It's a thrill, and judging by the roar of the audience, they all feel it.
The music breathes life into the characters –  as Djawadi says: "The White Walkers have a mysterious, icy sound from a glass harmonica. The cello and violin for the Starks and the Lannisters. The Dothraki have the duduk – an Armenian ethnic wood wind instrument. Arya has a hammered dulcimer." And Djawadi not only conducts his talented orchestra, but also, at various points, plays piano, the hammered dulcimer and electric guitar, each with impressive prowess. It's as if the music has become a character of the series – I mean, what GoT fan can't hum the theme tune?
It's more than a performance, it really is an experience. A thrilling ride to Westeros, King's landing, or the Wall. It's a visit with your favorites – Jon Snow and Egret, the Starks, the Lannisters, and Daenerys, plus, half the fun is hearing the audience scream every time Jon Snow appears. Even if you are not a huge GoT fan, this show might make you one. It made me want to go home and re-watch all 7 seasons of Game of Thrones. "Music is Coming" and you should absolutely go hear it.
End note: There was a downside that had nothing to do with the show, only the venue, which was the Forum. I arrived 10 minutes early in my car, but the utter chaos that the parking created, meant it took almost 45 minutes to get into an actual parking spot. I was made to weave around several blocks, in a snail-paced, endless line that was excruciating, and was then directed to park in a dirt lot, far away from the entrance. This resulted in hiking through thick dust, missing the beginning of the show and paying $25 on top of it. I can't find enough swear words in my vocabulary to express the annoyance I feel at the Forum's lack of parking organization and unholy price. Shame on you Forum – Shame! Shame! Shame!
(photo credit – Ralph Larmann)