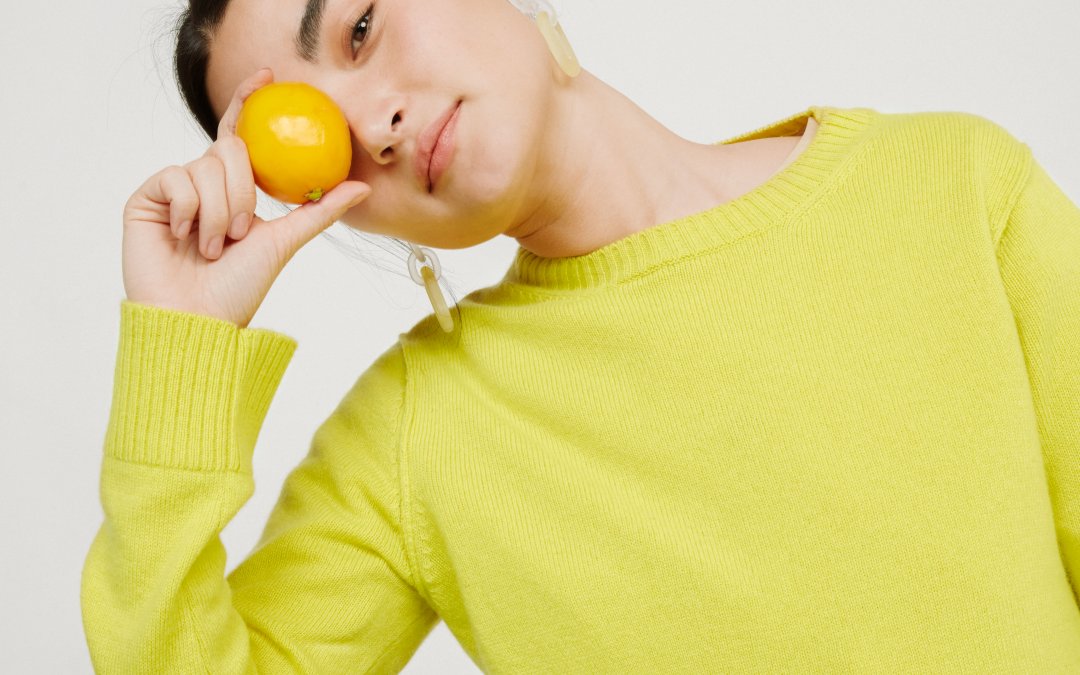 Contributions by Anthony Stafford
Sustainability Has Never Looked This Good!
As if there weren't a better time for an ecologically sound launch, San Francisco-based Frances Austen (an heirloom collection of 100% biodegradable, and conscious cashmere staples) launched its Spring 2019 Collection just days ago. After weeks of storms, Los Angeles is now blooming with luscious green mountainsides, dreamy flower fields, and now, vibrant, environmentally conscious and responsibly crafted sweaters. With three different styles, there's truly a look for everyone.
Three Styles for Endless Looks
The collection features "The Raw Edge Crew," "The Reversible V," (which is exactly what it sounds like!) and "The Lantern Sleeve" — all of which come in a spectrum of colors to fit your mood. From bouncy spring time hues, to the dull rainy day blues, Frances Austen makes an illustrious statement in a way that only this California based brand can.
The Raw Edge Crew is nearly your average sweater, but made incredibly stylish, with its side slits and raw edge details along the sides and shoulders of the sweater. It's sure to elevate your everyday look and boost your look to anything but ordinary. The Reversible V kicks things up several notches, as this sweater is suitable for work or a night on the town. The highlight of this sweater is the ability to wear it with a plunging collar down the chest, or down the back. This is undoubtedly versatility at its finest. The final style, The Lantern Sleeve, hugs you in all. the right places, and let's go in some of the others. Imagine bell bottoms, but in a sweater style — yet modernized, simplified, and fun.
About Frances Austen and Their Heirloom Quality
Frances Austen's collection, described by the founder Margaret Coblentz as "buttery soft, timeless staples to last," are created with only the most premium expectations and highly acclaimed partners. With their cashmere yarn spun by one of the biggest producers of sustainability, quality, and transparency, Cariaggi (based in Italy), Frances Austen's "threaded gold" is then knitted into beautiful and comfortable sweaters by Johnston of Elgin – A 200 year old factory known for luxury textiles! Simply put, don't be afraid to wear these luxury sweaters everyday if desired. They're made to last.
The family owned Johnston's of Elgin carries great pride and honor in its practices of traditional and responsible craftsmanship. As the largest employer in their community and town of Hawick, it's no wonder they're not only held to such a high standard, but are also partnered with Frances Austen. With its yarn being Oeko-Tex Standard 100 Certified (chemical-free cashmere meeting international safety standards), and 15-micron fibers, Frances Austen's pieces only get softer with time. In addition, their high quality yarn means less fabric pilling.
One Mission, One Goal
With over 15 years in the retail industry, Margaret has one unwavering goal: to minimize the overproduction of fast fashion, by producing more consciously consumed fashion. Exactly how can this goal be achieved? By using higher quality sustainable textiles and practices. By implementing cashmere yarn spun in Italy and woven in Scotland, Frances Austen's collection of conscious cashmere sweaters are everlasting and designed to be re-worn every day.
Where to Buy
Frances Austen's new collection can be purchased online, or at select retail boutiques, from $85 to $495. Sustainability may not have always been pretty, but if Frances Austen is any indication of the direction we're heading in, it can only get better from here.