Contributing Editor: Anthony Stafford
Lights, cameras, action… Food, music, fashion! These are the staples that make up almost all of Southern California's events, and it would be a disservice to attendees if even one of those necessities were forgotten. It's a perfect formula, and emerging denim brand, Majority Denim, is looking to take advantage of what much of SoCal's population thrives on — while also directly connecting to striving artists and influencers for amazing opportunities.
On Thursday, July 25, 2019, from 7 pm to 10 pm, Majority Denim will hold their first major event, titled "Meet the Majority – How Style Sounds". This free special event is a celebration of a new beginning in Los Angeles for Majority Denim. This innovative, high-quality fashion brand, is designed to style all genders, and proceeds from every item purchased from the brand will be donated to charity. While designated to be an evening where fashion meets music, Majority Denim plans on introducing their new influencer program, "Meet The Majority". The Majority influencers will unveil their creative craft by showcasing their custom denim pieces in collaboration with Majority Denim's Creative Director/Co-Founder, Christian K.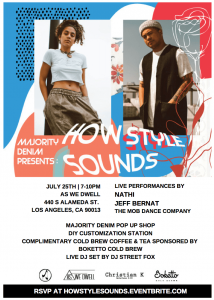 Even more exciting, the event will feature live music performances from Jeff Bernat (@jeffbernat) & Nathi (@nathiofficial) with their original music. Fortunately, the fun doesn't stop there, as the evening will also include a Majority Denim pop up shop with a DIY Custom Station, complimentary bites and drinks, a live DJ (DJ Street Fox) & live music, a performance by The Mob Dance Company (@themobdanceco), and a night of mingling with the trendsetters and tastemakers of LA. This special event will be held at As We Dwell, located in the Arts District of Los Angeles, at 440 S. Alameda St. More information about this new and beautiful location can be found on their website, while more details about the event can be found on Eventbrite.
Features and benefits of the "Meet The Majority – How Style Sounds" event include:
An estimated 1K+ attendees throughout the event.
An expansive network of fashionable artists, musicians, actors, dancers, and business entrepreneurs.
An innovative denim company fresh to the fashion scene introducing high quality styles fit for all genders.
A showcase of the "Meet The Majority" Brand Influencers custom denim styles created with the Creative Director/Co-Founder Christian K. The influencers collective network spans over half a million followers across digital media platforms.
Guests can RSVP for this free event here.
More About Majority Denim
"Sharing a sense of style through community, innovation, and unity. We don't need to fit in, we stand out" – Majority Denim
"An innovative, high quality fashion brand, designed to style all genders. Made in Los Angeles. A team of veteran denim makers with over 30 years of experience using high quality Italian, Japanese, Brazilian and American denim. We are on the path of discovering the 'nu' generation movement and merging it with consistent high quality and tradition."
Majority Denim also has a recently launched YouTube Channel where they give exclusive access to their business, their partners, lifestyle, and design process. Click the play button below for a deeper glimpse into what the fresh LA. brand is about.