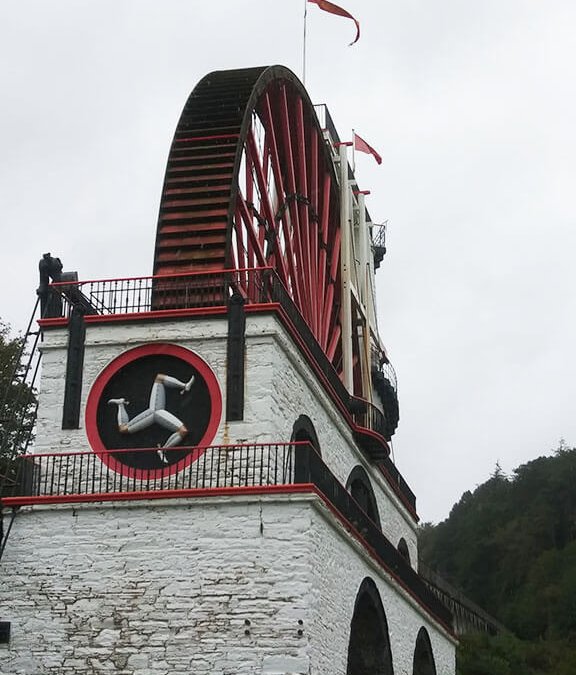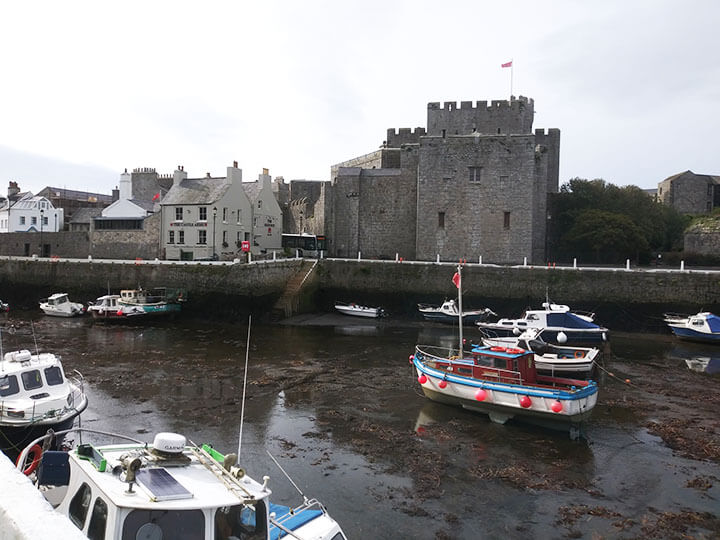 We here at SoCal, love our home—we love the endless summers, the traffic congestion, the ubiquitous out-door-dining and of course the ability to get to the desert, the sea, the vineyards and Mexico quickly, if the electric car would only go that far…so we take to flight, travel, spend time in other cultures and countries. This time, we have sent our best writer, Niki Smart, to visit that small land between England and Ireland, the Isle of Man, for a summer travel report:
As kids, my sister and I spent a year living with our father in the Isle of Man, and to be frank, we both loathed it. We complained endlessly, or at least I did, and gave it unflattering names like the Isle of Bile, the Isle of Vile, the Isle of Just Shoot Me Please…and so on. You'd think then, that some 40 years later when my sister suggested we go back and reevaluate the Isle of Man, that I'd be reluctant, but I was curious and agreed. Maybe it was time to reassess the place.
Fist off, a 3-hour ferry ride from Liverpool to the Isle of Man's capital, Douglas—and a quick side note; 40 years later, Liverpool has an amazing waterfront area laden with restaurants, cafés, history, art, culture and much visit-worthy coolness.
As a child, the ferry ride had always seemed pretty rough, but I thought maybe that was because I was a little. Surely it couldn't be that bad? Oh. So. Wrong! The voyage was as grueling as I remembered, meaning, I came very close to losing my lunch. Arriving in pouring rain, three motion-sickly hours later, my sister and I struggled to figure out how to get to our seafront hotel because the entire promenade was seemingly being dug up, traffic was being rerouted without any clear signage, and parking was a messy bitch. To top it off, since it was a rainy, Monday night, not many restaurants were open, and as we trudged about in the grim cold searching for a place to eat, I thought, "Well, we just made a big bloody mistake."
The Little Fish Café helped cheer us up with the British classic of fish and chips, plus a window seat looking onto the quayside of colorful sailboats. Strangely enough, there was also a brightly painted wallaby in our view. Intrigued, I looked up the significance because—hello—a wallaby in the Isle of Man? I discovered that in roughly 1985 several wallabies escaped Curraghs Wildlife Park (the Isle of Man's only zoo,) and had since started breeding in the wild. Apparently, there are now nearly one hundred wallabies roaming the Isle of Man and I instantly felt a kinship to them. They'd been sent to the island against their will (just like us as kids), and I was certain those poor creatures longed for their Australian home the way I'd longed for mine during my year of no escape.
On day two, the sun came out, and after a warming, cheerful breakfast at Noa Bake House (a bicycle café in an old market warehouse), my sister and I drove to the opposite side of the island— a whole 10 miles away—to visit Peel. For part of this drive we were actually on the racecourse that the motorbikes use during the infamous TT races, complete with padded corners at the sharper turns.
Peel is a quaint seaside/fishing village nestled under the eye of the ruins of Peel Castle. Built in the 11th century by the Vikings, Peel Castle has a long history, and is rumored to be haunted by a ghostly black dog. We walked the circumference of the castle grounds along rugged coastline and landed up on the tiny, but charming, Fenella beach. My brave sister bought a "kipper bap" (a bun with a fried kipper wedged in it) from a food truck parked right by the beach/castle—salty, but delicious. Look at this menu! It's not one you see everyday.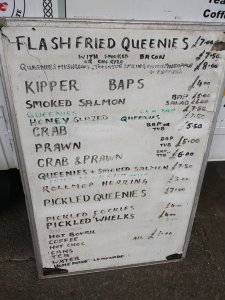 ​
Driving 3 miles south of Peel, we stumbled upon Glen Maye, a fairytale place of fern-filled woodlands, 20 foot hanging ivy, a bridged gorge and waterfalls. It blew my mind a little bit because it was so ridiculously gorgeous. Why aren't they filming movies here, I wondered? It would make a magical backdrop for Harry Potter, Lord of the Rings or GOT. I was what the British would call "gobsmacked" by nature. After some staring about in disbelief, a friendly passerby suggested our next stop: the Niarbyl Bay Café.
The Niarbyl Café is down a little country road that leads only to the café plus a few historical cottages. The view was impressive, the tea and scones were perfect, and the walk down to the historical cottages was well worth it. I can't quite explain what was so incredible about this café, but it made me high on life just to be there. Heading back to Douglas, our chosen restaurant for the night was the Tandoor South Indian Restaurant, where both the service and food were first-rate. My perspective of the Isle of Man was improving.
Day three, the wind hit 45 mph and I started worrying a) about our rough ride back to Liverpool and b) that we might be stuck on the island as the ferry was cancelled for the day. Our day of hiking, however, was not cancelled because my sister insisted on going to see Cashtal yn ard—and yes, I spelled that correctly. The well-preserved Cashtal yn ard is one of three Neolithic tombs, dating from about 2000 BC, and I have to say, it's pretty stirring to stand before such history. We drove along ever-narrowing lanes, splashed through a ford, and hiked in sideways-rain to see the place, and still it was worth it.
This was followed by a quick stop at the iconic Great Laxey Wheel; the largest working waterwheel in the world. We'd planned to visit the wheel by hopping on the vintage electric tram but the heavy rain made the ride sound less appealing. Having had enough weather for one day, we sought refuge in the Manx Museum where the Island's 10,000-year history is presented through film, galleries and interactive displays. It's free and quite delightful.
On our last day, the weather turned kinder, helping us have another "off the charts" day exploring. We visited Castle Town's medieval, 25-foot high Castle Rushen—a stronghold that served as a home to kings in the late 12th century and later as a prison during the 18th century. If you've ever wanted a truly medieval experience, this may be the place to go visit. We skipped from castle life to rural life at Cregneash—a folk village that depicts the typical way of life that a small Manx village in the 19th century would have had. Here we got to see a Manx cat (a cat with no tail) as well as several brown haired, four-horned Manx Loaghtan sheep. Other than the biting wind, I imagine the folks living in the village must have been a happy bunch as Cregneash lies on a rolling hillside with stunning panoramas to all sides.
From Cregneash we drove to the very southwest tip of the island to see the Calf of Man— a tiny island that is a Nature Reserve and Bird Observatory. This was our last and favorite stop because the views were simply spectacular.
Our final meal was at Barbary Coast Grill and Bar, a fun place with tasty burgers that let's you "spin the wheel" —and if your table number hits, your food is free (not your drinks though, but a very generous offer none-the-less).
Dreading our ferry trip home, we bought "Travel Calm", and thankfully at least our stomachs traveled calmly over yet another seriously rough Irish Sea voyage. To sum up our trip, other than the jarring ferry ride, the Isle of Man was outstanding. I wish I could go back in time and show my young-self all the magical amazingness the island has to offer. And please allow me finish by saying I believe the wallabies have found themselves a rather wonderful place to call home.