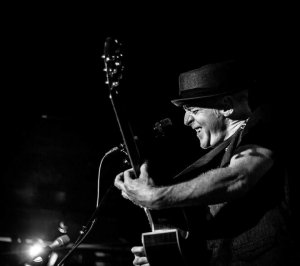 I'm a big fan of Willy Porter and was thrilled to get to watch him perform at the renowned McCabe's Guitar Shop in Santa Monica. From the first note, Willy Porter, a contemporary American rock musician and singer-songwriter from Mequon, Wisconsin, had his audience mesmerized. Porter has a unique finger-picking, guitar thumping-slapping-hammer-on style, uses tunings of all manners, and sometimes even places two capos on his fret board at once. The magical tone of his guitar and his soulful lyrics mixed in with his heartwarming humor make his show something pretty damn special. At one point, on strumming his guitar, Porter pointed out that all the other stringed instruments hanging on the walls of McCabe's were resonating. It's called Synchronized Resonance or Sympathetic Vibrations. I love that, as I think "sympathetic vibrations" describes Porter's music and his being quite succinctly.
As Porter performs you feel like you're hanging with a good friend. A warm, sincere, decent fellow that you cherish as a rare find. His music wraps you in a loving blanket that invites you to relax and join in.
After talking about the importance of good stewardship of mother earth, he invited the audience to sing along to "Akasha Winds", a song penned by L.J. Booth. The song is included on Mnemonic, Porter's latest CD. Not that Porter usually does cover songs, he's a prolific songwriter, with 12 CD's released. He makes songwriting appear easy, so easy in fact, that he co-write a song on the spot with the audience. "Call out some ideas", he encouraged. We ended up with a song that included the words: hitchhiking, Ramen noodles, cheese curds, kittens, hypocrisy and folk alliance. Tricky words to slip into a song, but Porter did it artfully while making us all laugh.
Porter was described to me as: not only a consummate musician, but one of the most genuine, truly wonderful people on the planet, who performs molecule-rearranging shows. Now, doesn't that sound like someone you'd like to hangout with? Well, you can because Willy will be leading a tour to Ireland in August 2020 (bring your instruments) – you can find more info on that at www.willyporter.com  You can also find Porter's most requested guitar tunings at his site. How cool is that!
I got to ask Willy some questions and below are his answers – enjoy!
1) Your guitar sounds so full and rich. What guitar are you using and how many different tunings are you dealing with?
I'm currently playing a Jason Kostal 6-String.  It is a remarkable instrument for its overall tonal balance, intonation and playability.  I tune down a whole step, D to D, then open-tune from there. So a very familiar open-tuning fro many guitarists, "DADGAD" for me is CGCFGC. From there I'll use a lot of different variations on Bb, F, and combine open-tunings with partial capos, etc.  I use medium gauge strings (.013-.56), so the really low tunings are still fairly stable to work with. I'll go through about 6 or 7 different tunings in the course of a night, but it all depends on where the night goes musically.
2) How old were you when you first picked up a guitar?
I started playing when I was 12.
3) What's your craziest on stage experience?
Sound-checking in Texas while Paul Simon was on-stage watching and asking me questions about what I was doing was probably the craziest moment for me.
4) What song of yours is your favorite?
The one I just finished, whatever that might be. I do like to play "Bears Ears &The Great Law" a lot these days though.
5) Which musician would you go to see perform if you could (dead or alive)?
David Gilmour
6) Has your songwriting style changed over the years, and how many CD's do you have available to date?
I think I'm more patient with the process of writing than I was when I started. Some music takes a long time to write, other songs happen very, very quickly. Through time and effort I've learned to let that process be what it is in the moment.
7) If you were interviewing you, what question would you ask?
I'd ask "When was the moment that music really spoke to you for the first time?" And it was hearing my dad play the piano.
8) What's next for you?
I'm looking forward to working and writing with drummer Dave Schoepke and bassist Eric Madunic.  We've had fun as a trio and I think we have some nice musical terrain ahead of us. I'm excited to see where the music might take us.
Photo Credits: Cover photo by Leeann Flynn
Insert B&W photo by Mark Waite