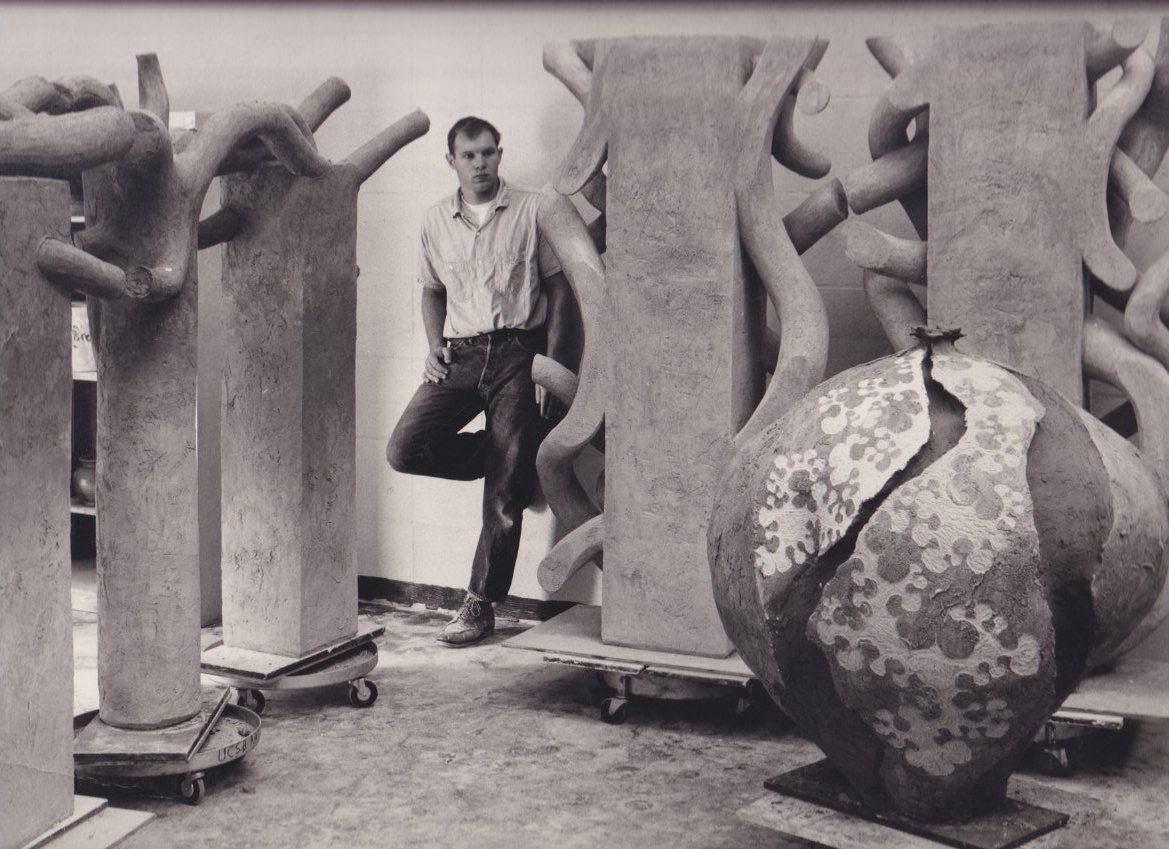 "I wanted to make a statement in clay" – M. Arntz
Southern California is rich with historically important artists and makers. In the mid 20th Century, trail-blazing craftspeople and designers of all kinds were working up-and-down the California coast, creating work of distinctive character and enduring beauty. These pioneers, many who are still with us today, are considered the backbone of the celebrated California Design movement.
Michael Arntz is a Santa Barbara based ceramic artist, and former educator, whose long career has produced an influential body of both monumental sculpture and smaller scale works that continue to be collected and shown nationally. His work has been sold at fine auction and is included in many noted national collections. Eudorah Moore, the celebrated curator of the famed "California Design" Exhibitions (1962-1976) included Arntz's work along with the most famous West Coast designers and makers of his generation.
Various examples and detail, of Michael Arntz's ceramic sculpture
In 1967, in a review of his show of large ceramic sculptures the Los Angeles Times wrote of twenty-eight-year-old Michael Arntz:
"Arntz's statements are as eloquent as a commanding totem pole, as fertile of symbol as fruit about to burst with ripeness. They might have grown out of the earth—overnight, as a mushroom appears. Discovering them, one is tempted to associate them with magic powers, or make use of them in invocations to the pagan deity for rich harvest." In a full-page profile of Arntz in 1970, the Christian Science Monitor described his "monolithic forms, convoluting shapes, slab-constructions dripping with appendages create a feeling of strength, of growing things." Michael Arntz told the Monitor at the time, "I try to bring together the organic and the inorganic."
In 2018, The Landing Gallery in Los Angeles held the show "Ken Nack/Michael Arntz: Santa Barbara 1960's – 1980's." Gerard O'Brien, Director of The Landing notes that "some of his (Arntz's) sculptures feel geological—at times featuring a split reminiscent of earthquake fissures, allowing the viewer to see their insides, and are sometimes painted with stripes reminiscent of the earth's striations—while others feel biological. Still others —especially those in plexiglass or metal—include sharp edges, perfect globes, or snaking tubes. All reflect a freedom of form and zest for experimentation that feels exceptionally Californian."
Ken Nack/Michael Arntz show at The Landing Gallery, Los Angeles in 2018 – photo courtesy of The Landing
Michael Arntz was born in Los Angeles in 1939. Michael's parents were divorced soon after Michael was born and he was left, for most of his early years, with his maternal grandmother who lived in the San Fernando Valley just outside of LA.  His memories from that time are of walking to school through rich farmland where he would pick carrots, turnips and oranges to eat on the way.  He also had fond memories of getting money from his grandmother to buy eclairs from the Helman's Bakery wagon. That, according to his wife Penny, began his life-long passion for sweets.
Michael's father lived in Santa Monica and his mother in Oklahoma City.  In the summers, Michael would spend his time as a 'latch-key kid' at his father's home near the Santa Monica beach.  He cooked himself fried-rice and fish that he and his buddies caught off the Ocean Park Pier.  Michael notes that the eroded cliffs across from the beach along the Pacific Coastal Highway (PCH) were an important influence on Michael's work. Indeed, his later "Mountain Pots" series all depict the eroded, gouged earth and cliffs he saw so often in his youth.
Michael Arntz, "Mountain Pot" series
Returning to California after graduating from Northwest Classen High School in Oklahoma City, Michael headed to Santa Monica City College. His father had by then moved to Zuma Beach, where he and Michael built a small home together by hand.
Michael earned his Bachelor of Arts degree from California State, Long Beach in 1962 and went on to earn a Master of Fine Arts from the same institution.
A football scholarship started his college career at Santa Barbara City College and then followed with him to Long Beach State University – a total of eight years of college football. He recalls that during his first year he played the freshmen at UCLA, Stanford and USC were ineligible so they all came to SBCC to play. That incredible team won the National Junior College Championship in the Rose Bowl and Michael still wears his championship hat proudly to this day.
To keep his scholarship, as his grades needed a boost, he signed up for a ceramics class which ultimately led him to change from an architecture major to an art major. At Long Beach State he was awarded the job of technical assistant in the ceramic studio – with a key, and unlimited hours.  The kilns were big, he was strong and talented and his first monumental clay sculptures ensued.
In the seminal 1976 survey of Californian makers "Craftsman Lifestyle: The Gentle Revolution" by Olivia H. Emery, Michael notes his natural gravitation toward sculptural work. "While I was in school, we went to visit the Heinos (famed Ojai ceramicists Otto and Vivika) to see how a limited production studio worked. I was very impressed when Otto 'kicked' (on the kick potter's wheel) a large pot to show how strong and functionally satisfactory his product was, but I realized at the same time that I was not interested in how well my pot worked as a functional object…I wanted to make a statement in clay"
David Cressy at the famed manufacturer Architectural Pottery ("AP") company hired Arntz while he was still a student. For his first job out of school, he continued as the lead designer-craftsman at Architectural Pottery from 1963 to 1965. Wife Penny remembers "Michael would come home from working there and have to soak his hands in hot water to make them function again." She continues that while he did not sign those Cressy pieces – "so many that we see coming up for sale today at design auctions now are his – we are sure."
In 1965, Arntz was hired as a Professor of Studio Art at the University of California, Santa Barbara. Alfred Moir, the Department Chair at UCSB came to Cal State Long Beach to ask Michael to come to Santa Barbara to visit.  According the Penny, "Michael saw the campus by the ocean, the lagoon right out from the Art Department and just grabbed the job.  He loved his students, the studio there, the lagoon and the ocean for 38 years."  
Student Joanne awards Michael Arntz with "Best Professor" award, 1969
Years of summer camping trips canoeing, hiking and fishing (making his own split bamboo rods and tying flies) furthered his passion for the outdoors and all of nature.  The forms and patterns of nature inspired his work and his preference for an outdoor placement for his sculpture. "Placement in the outside environment is also what interests me. Nature is inspiration, and I'm equally interested in the way my piece relates to the environment and the environment to my piece."
Michel built two homes for his family by hand and cabin designs for three fiberglass boats.  One was a 26′ Coquille he used for commercial lobster fishing – swimming into faculty meetings at UCSB when he was department chair – having anchored in Goleta Bay.  He held his clothes up out of the water as he swam ashore.
Penny Arntz notes that Michael and a few of his colleagues at UCSB (biology and geology) worked together to establish 'the Ranch', given by Duke Sedgwick to UCSB, as a nature reserve as Duke intended.  Others at the university had tried to break the trust and subdivide a big portion of the property.  Michael went to the local press and revealed the plot and was censured by the Academic Senate, of which he was a member. He was terrified at the time that he has lost his job, but happily, there were no negative repercussions.
Arntz retired as Professor Emeritus from UCSB in 2003 with a party in the ceramic studio courtyard.  The University's Chancellor and Vice Chancellor attended with many of the faculty and Michael's former students. He received numerous awards, fellowships and commissions during his almost forty-year tenure at the University.
Over his long career, there were numerous solo exhibitions including at the famed Esther Bear Gallery in Santa Barbara, the Fairtree Gallery in New York and The Long Beach Museum of Art.
His work has appeared in group exhibitions at the Los Angeles County Museum of Art, the Oakland Museum, the Long Beach Museum of Art, and the Pasadena Museum of Art. He is represented in the permanent collections of the National Museum of Modern Art, Kyoto, Japan and the Philadelphia Museum of Art.
He has received numerous awards, fellowships and commissions from the National Endowment for the Arts, The Louis Comfort Tiffany Foundation, The American Craft Council and the National Endowment for the Arts.
The recent Ventura County Museum's current show "California Cool: Mid-Century on the Central Coast" included a fine example of Arntz's work alongside other master designer craftsmen of the central coast. The show was curated by curator/design specialists Steve Aldana, Jordan Downs and Eric Huff.
Michael's great love is his family – his wife Penny, his daughters Rebecca and Michele, son Chris and his beloved grandchildren. While his life has slowed, his work has left a lasting legacy, and has cemented his reputation as one of the most important living makers on the West Coast.
Michael's retrospective at the Landing Gallery Sept 22, 2019.  He and wife Penny is pictured with a former graduate student John Doloszycki and John's wife.