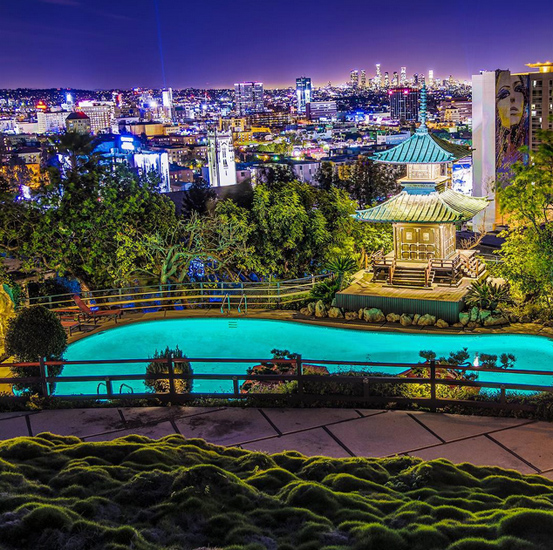 Living in Southern California, it's easy to lose sight of the thing called Hollywood—for those in the know, it's not a place, its a street, not a pretty street either. Film studios are in fact, spread out across the area, only one in actual Hollywood—"and yet, the notion remains—"the idea of Hollywood, the history of a town, like any town, that became larger than its reality through shear imagination and luck. Welcome to Hollywood! The landmarks are many: the Sign, the Chinese Theater, The Walk of Fame, The Griffith Observatory, The shapely Hollywood Bowl. There are even some iconic restaurants, Musso & Frank Grill, Pinks, The Frolic Room and of course, Yamashiro. Perched on a hilltop in Hollywood, Yamashiro is a remnant of another time, yet vital to the survival of that idea we call Hollywood. Built in 1911, it has been featured in many Hollywood films and Huell Howser paid a visit in 2001. It has its stories, most notably, the ghost of a weeping woman, who haunts the bridal room and whose silhouette has reportedly been seen in the upstairs windows. In 1955, director and producer Fayette Thomas Moore committed suicide in his car outside the restaurant, and if that's not enough, the ashes of previous owner Thomas O. Glover and his wife are buried in the inner courtyard. It should also be noted that Bonanza actor Pernell Roberts actually owned the property turning it into apartments in the 50s. It is a large area, and derives its names from a Japanese word that in this case means "mountain castle". There are layers: a large golden Buddha (600 years old), a pool, a terrace, rounding walks with a stunning vistas are to be found and enjoyed here. This is quite unlike any place in Hollywood. It is a restaurant, a restaurant in the time of social distancing, a restaurant lucky enough to have always had outdoor dining, and is currently thriving. It has changed hands more often than a manicurist at rush hour, but its essence has remained. In August 2012, the Yamashiro Historic District was added to the National Register of Historic Places. According to the National Park Service, the Yamashiro Historic District includes "nine contributing buildings, sites, and structures on the estate property." All good news.
So it was on a warm, late August night, the trip up the hill, past the the Magic Castle, the other side of the famed Art Deco complex, High Tower, we find ourselves at Yamashiro. It is near sundown, dusk, and the lights of the city emerge like lights on water, shimmering in the twilight. You can walk though the gardens of the restaurant, visit the very large, golden Lucky Buddha. We are admonished to not sit on Buddha, but he may receive our coin and wishes. People dining create an arc southern arc of the restaurant; it is a romantic hotspot for couples. We are seated in the garden area which has been used in many a Hollywood film, notably Memoirs of a Geisha. When asked about celebrities, we were told that Jennifer Lopez frequents as do a host of other celebrities who enjoy a rare, private dining experience in a romantic setting.
The drinks at Yamashiro are unique. One can experience Double Happiness, which is a drink composed of Tequila, Mezcal, pineapple, Rhubarb syrup, Lime, absinthe bitters. Exotic? Yes, Appetizers served run an interesting gamut of Sushi pizza and mango pureed Crab Cakes. Yamashiro recently welcomed a new executive chef, Valerri.  She welcomes us with a custom platter featuring ALL of the appetizers with SoCal spelled out—the menu is a curious fusion of foods and one senses it is Wagyu cheeseburger that is luring in the young. Coupled with a seating in the immaculately social distanced Zen Garden, we are served essentially everything from the kitchen. You know you're in Hollywood as the occasional helicopter flies over. Everything is a complement to the previous serving. The sun has dipped into the West, the dark skies above Hollywood reveal a few stars—we are thankful for places like Yamashiro remaining to remind us of the legacy of a place, a place called Hollywood.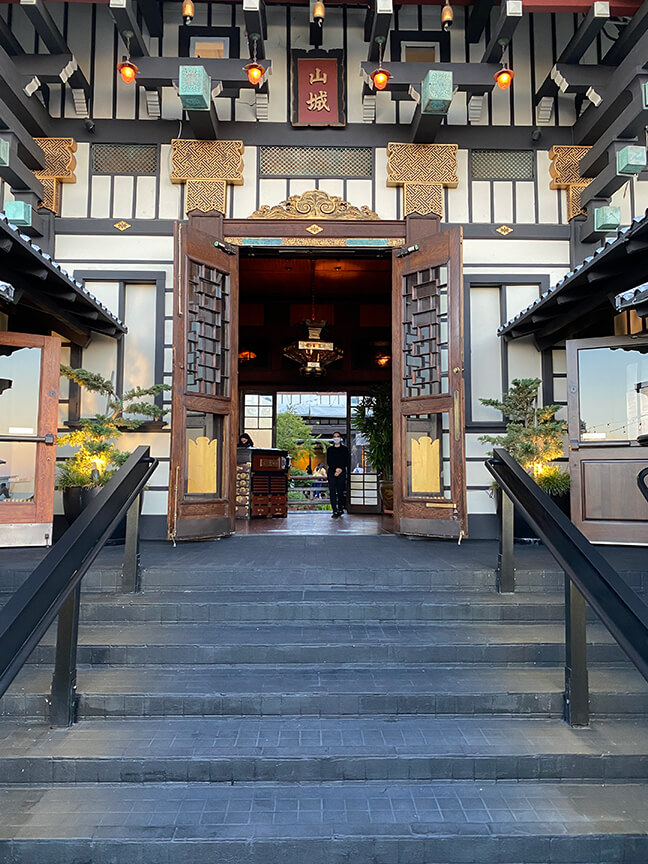 Welcome to Yamashiro
The entrance to Yamashiro is a grand—the gardens await you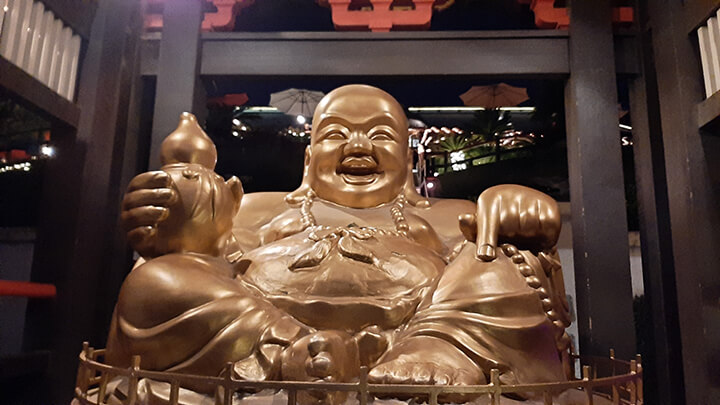 Good Luck Buddha
The ceremonial Summer House was placed just below the top of the hill as a resting place for guests who were climbing the stairs. The antique Buddha seated there became so popular with guests, a sign hangs from a post to warn visitors, "Do Not Climb On Buddha." Buddha now faces west as a sign of good luck and prosperity.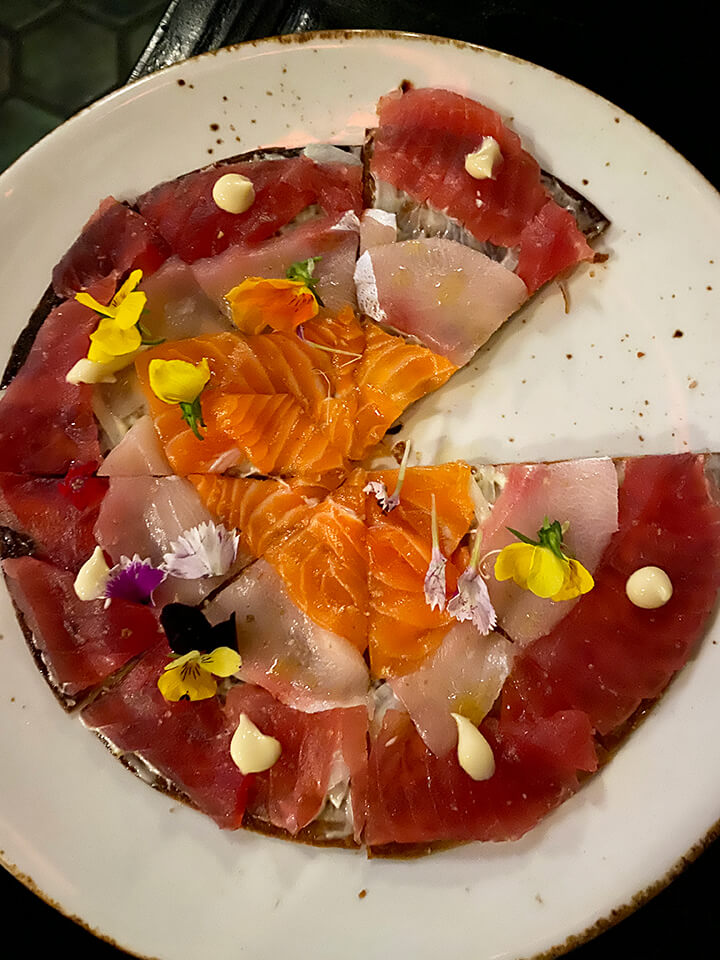 Sushi Pizza
Sushi Pizza Yellow Tail, Salmon and Tuna Sashimi on a floured tortilla with truffled cream.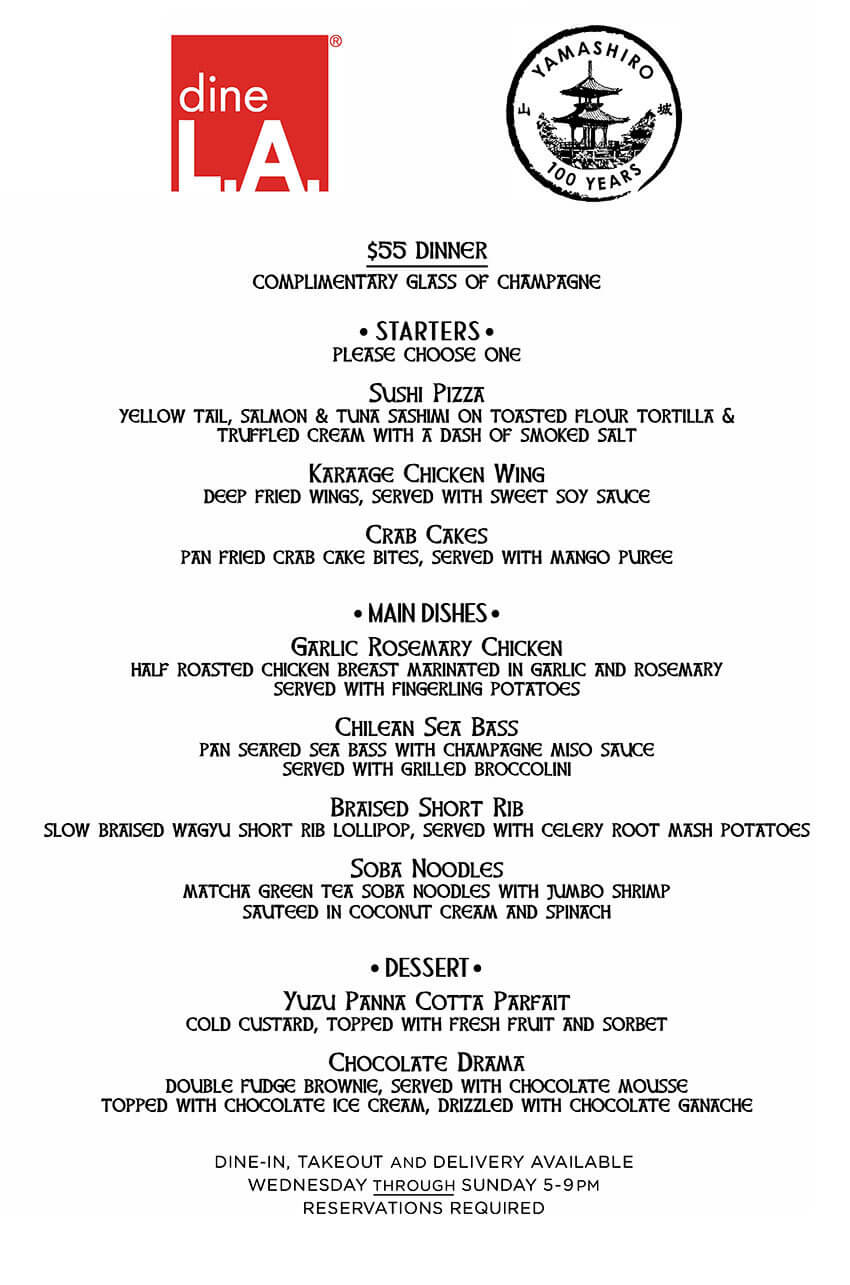 Our Special Platter
When the platter that had a handwritten SoCal on it arrived—we were happily surprised at how quickly Chef Vallerie turned it around.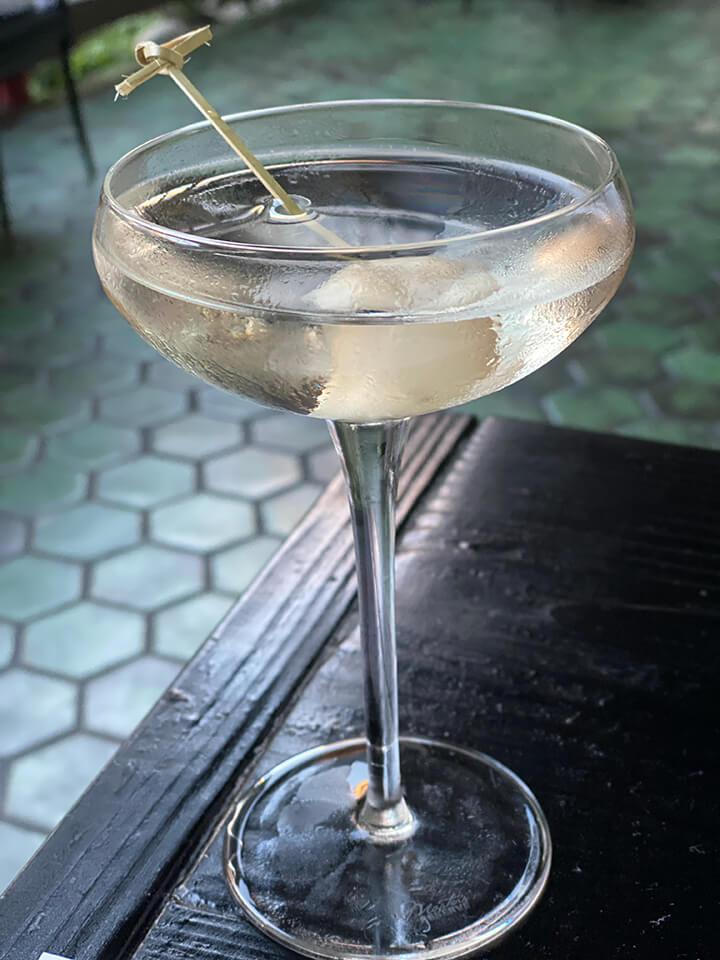 Drinks Anyone?
With a wide variety of cocktails, wines and spirits, it's easy to want to try them all—NOT recommended, but you take your pick of  from The Koan Collection which is Pisco, home-made grape chai cordial, chardonnay, lemon, pimiento bitters (for those who like drinks with information a koan is a paradoxical anecdote or riddle, used in Zen Buddhism to demonstrate the inadequacy of logical reasoning and to provoke enlightenment.) The drink featured here is Kobayashi  featuring El Tesoro Reposado Tequila, home-made Hibiscus cordial, lemon, ginger beer ("Kobayashi" is the secondary antagonist of the 1995 film The Usual Suspects. He is the enigmatic lawyer and right-hand man of the mysterious crime lord Keyser Söze). Someone is having fun naming these drinks.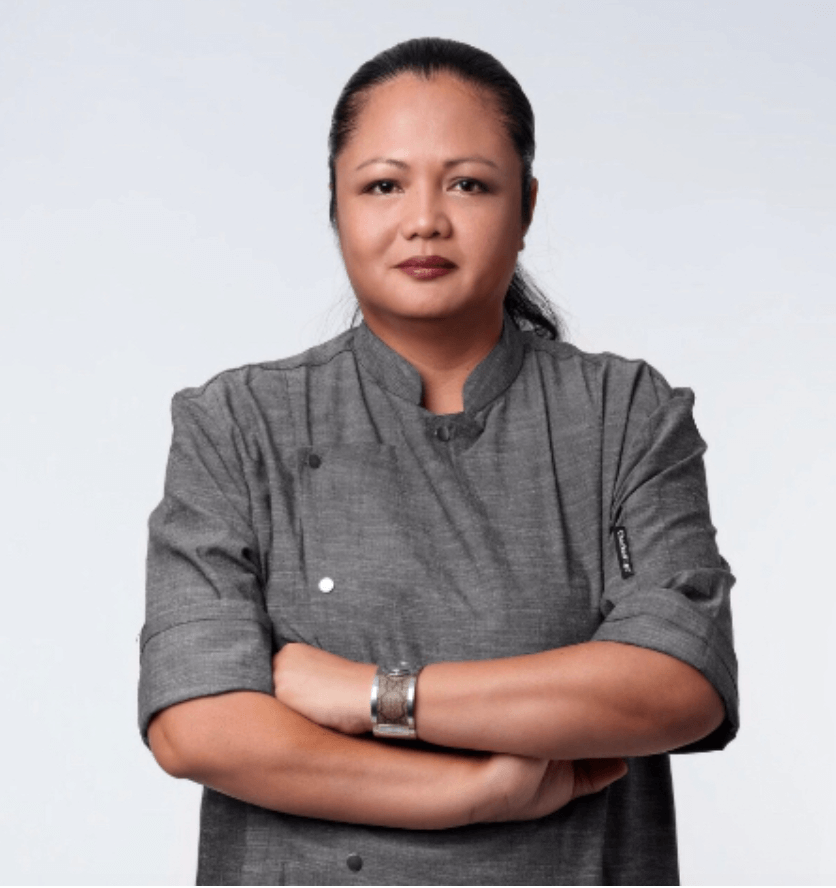 Meet  Chef Vallerie
Born in her grandfather Ramiro Bayangos' bakery in San Nicholas Philippines, Chef Vallerie learned the craft of baking the best breads and pastries in town. Raised by both her grandparents, she spent most of her childhood in the kitchen.No matter what profession Chef Vall took up, she was always drawn to the kitchen—from cooking to baking. They were always a great source of healing and therapy for both herself and her loved ones. Even when her daughter experienced the harshest forms of bullying growing up, Chef Vall's macarons always brought a smile to her face.Seeing the joy a simple treat could bring to her daughter's life, Chef Vall decided to enroll in professional training for baking and culinary, hoping to share her love and joy with others.What started as a way to bring joy to her family and loved ones, including volunteering at school and charities, Chef Vall's love for the culinary arts has expanded to managing five restaurants, including leading as Executive Chef at Yamashiro Hollywood.As a mom and experienced chef, Chef Vallerie loves sharing her grandfather's love through her cooking baking at home and professional. Especially her desserts Love Bites Pastries by Val, which was inspired by her grandfather's treats he affectionately referred to as "my little love bites for you".
"It may sound cheesy," states Chef Vallerie, "but I really love my job! I feel like a kid in a candy store just staring in awe at everything this place has to offer." The new menu features the traditional offerings and some delicious updated delights. "I have always drawn to the kitchen—from cooking to baking. This has always been a great source of healing and therapy for both myself and my loved ones," further states Vallerie.Chef Vallerie is leading an expert kitchen staff along with a dedicated group of servers and mixologists that are taking extra precautions to make the dining experience memorable and safe, while the city continues to navigate the pandemic. As the facility has reopened, Chef Vallerie is proud to be a leading female executive chef at this iconic restaurant. Along with the new offering, Yamashiro boasts an outdoor dining experience with sweeping vistas of Hollywood and beyond that few restaurants can offer. "We are excited to enter this new chapter in the restaurant's history," states the Yamashiro ownership. "The Hollywood Hills and our existing patronage is in for a culinary treat." Yamashiro has an extremely long history in the Los Angeles area as a leader in the high-end dining experience. "This announcement is the delicious delight that Los Angeles has been waiting for."
The View from Here
Hollywood does not have the great views that cities like New York or San Francisco possess—it takes an extraordinary clean day to actually see the ocean, but we have our views. Yamashiro looks Southwest which gives you a view of downtown, central Hollywood and yes, on a clear day, the ocean.
ADDRESS
1999 N Sycamore Ave
,
Los Angeles
,
CA
90068
,
USA
​
Yamashiro is open for dine-in service. Open for dinner every week from Tuesday to Sunday for dinner and also Brunch on Sunday. 
DINELA – SEPTEMBER 1 to 18
OUTDOOR SEATING AVAILABLE!