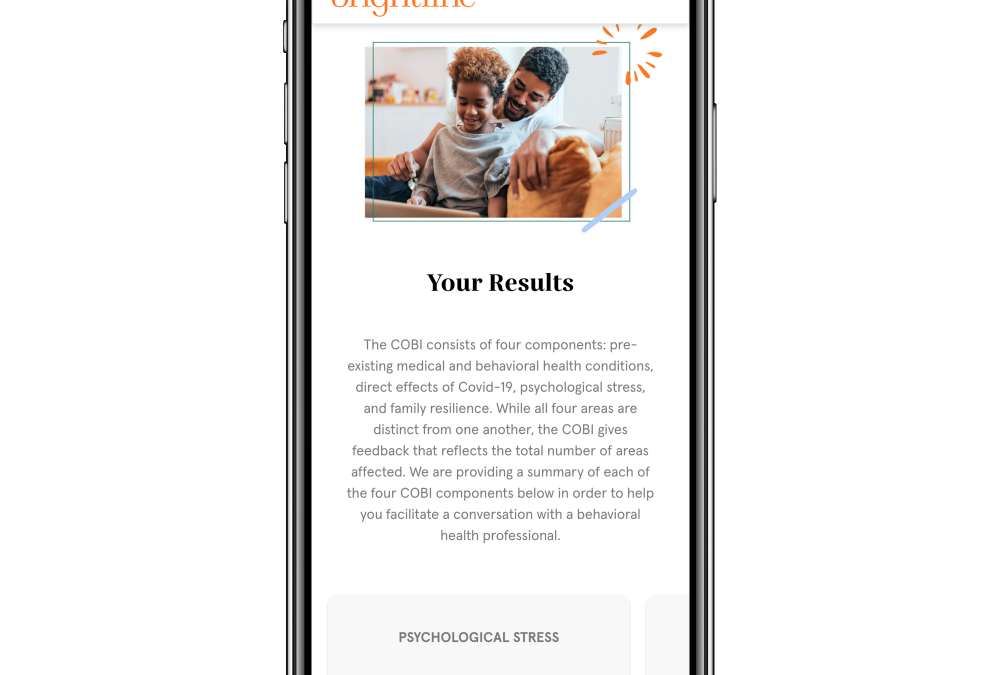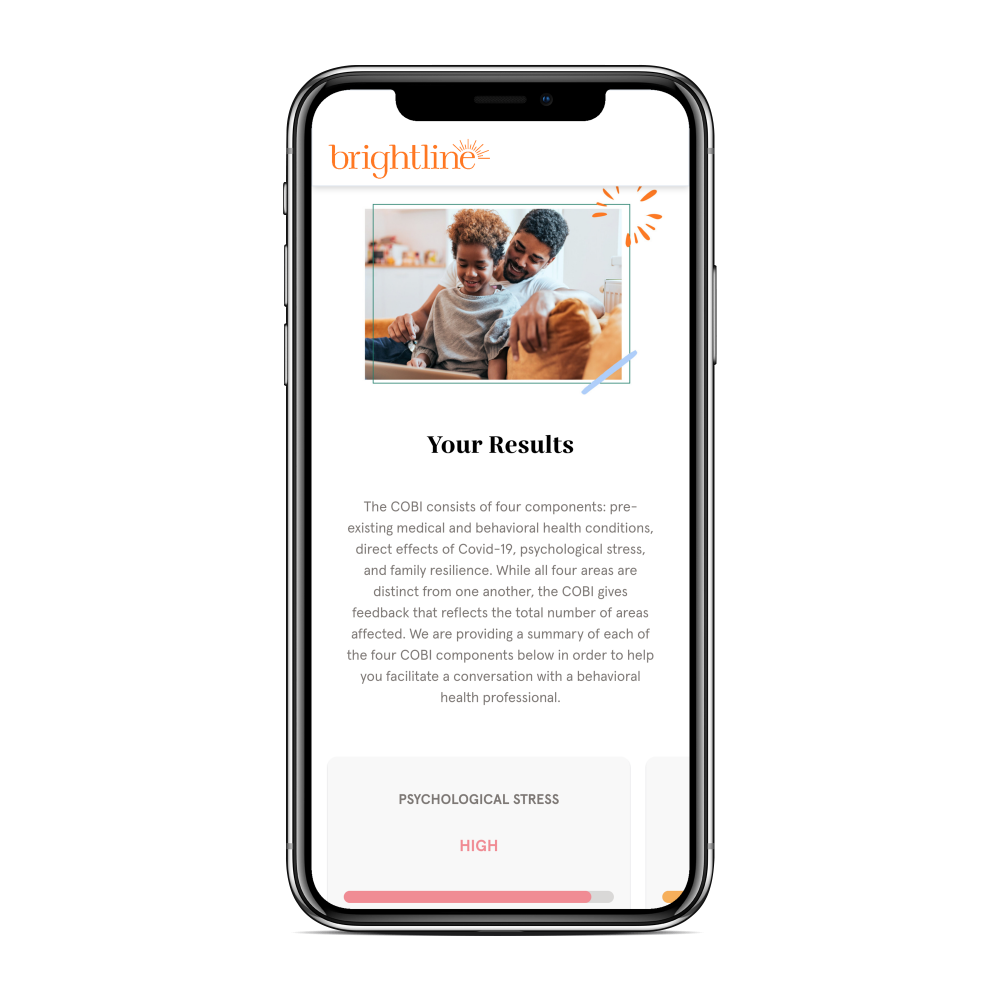 Life may be rough, but to be fair, 2020 feels like it's been an entire lifetime of rough! We're all going through something, especially with the pandemic caused by the outbreak of COVID-19. Where is your sanity level at these days — including your family, and kids? Even more importantly, how can parents know what effects these troubling times are having on their kids?


We're happy to introduce you to COVID-19 Behavioral Health Indicator (COBI) from Brightline Health, a free online tool that just launched to help indicate the pandemic's impact on kids' mental health. The best part: This tool can help the whole family!

The initiative comes at a time when one in three children living under Covid-19 lockdowns are dealing with feelings of loneliness, nervousness, and irritability (
United Nations
). A recent study by
Save The Children
found that fifty percent of children say they were worried, and more than sixty five percent struggled with boredom or feelings of isolation. Brightline Health CEO and Co-founder, 
Naomi Allen, says, "

As a mom of three young kids, these past months there have been so many times I have wondered if my kids are weathering this pandemic okay. We wanted families everywhere to have a way to learn about their children's well-being and have practical tools to help if their kids are being impacted by all the stressors surrounding Covid-19." COBI is not only just a tool for the moment, either. In the below Q&A with Allen, the CEO breaks down how 
future-proof the free tool is, the ways that it can help strengthen the family bond, and what their coming goals are.
A Q&A With Brightline Health CEO & Co-founder Naomi Allen
Q: What sparked the idea for Brightline Health, and how does it operate?
A: I'm the mom of three young kids, five-year-old twins and an eight year-old. A few years ago, we noticed things my oldest son was experiencing that concerned us—for example, he wasn't tracking against a number of dimensions, like handwriting or ability to hold utensils, and he was developing strong sensitivities to things he perceived as scary. My husband and I kept asking ourselves, "Is this normal?" As a mom, I felt terrified and lost. Consequently, I then started a time-consuming and expensive journey to get him support, full of dead-ends, disorganization, lack of resources, and a whole lot of frustration.
These are just a few of the immense barriers that parents across the country face when they're worried about their child's emotional and behavioral health or their developmental progress. It simply isn't acceptable, not for parents, and not for our society as a whole. We started Brightline to change all of this, to build the first technology-enabled behavioral health home where children, teens, and their families have the support of collaborative care teams, virtual care that supports the kids and their parents, and a radically great experience of care for the whole family.  
Q: This year's pandemic is undoubtedly stressful for everyone, and the contributing factors to that stress in this new way of life will likely last beyond just this year. What does Brightline intend to do, and is this goal time-proof — effectively helping families for a long-term benefit? 
A: Even before the pandemic, we were in the middle of a behavioral health crisis in this country. One in five kids have a diagnosed behavioral health condition, yet 80% don't get the care they need (CDC). Now, with Covid-19, we're seeing a tsunami of need—76% of parents are worried about their kids' mental health (The New York Times), and half of kids say they feel worried (Save the Children). 
The way we've always done things—private practice, wait lists, parents running around to multiple appointments—it doesn't support how much and how fast families need support. And it certainly doesn't give them all the support they need when they're still dealing with distance learning, staying home, not seeing friends, and everything else that's weird and difficult about this year. 
What we're doing is sustainable because we're building both the technology and the family systems approach that is needed to support the already overwhelming (and now growing) need. We're using evidence-based programs, we're giving parents coaching and additional support like group classes, we're tracking progress together—it's all so that we can move kids forward and help the whole family thrive. We're also launching timely initiatives to tackle what's actually affecting families in real-time—for example, we built the first-ever tool, called the Covid-19 Behavioral Health Indicator or "COBI," to help parents learn about the potential impact of the pandemic on kids' mental health.
Q: What about being situation-proof? In other words, COVID-19 has been devastating for so many, but this will eventually pass. Can Brightline provide the same help and support tool for families impacted by gun violence, natural disasters, poverty, and other hardships or tragic events we face in more normal times?
A: Yes, absolutely! This is one of the great and important reasons we're using evidence-based programs, like Cognitive Behavior Therapy (CBT), that have been proven to move kids forward across many different concerns—be that anxiety, depression, and trauma, including around the events you mention like natural disasters. 
We're working with kids to build skills and coping tools that they can use well beyond initial treatment, even into their adult life (seriously, many of us adults are using CBT techniques to get through all that this year has thrown our way, it works!). It's all about forward motion, giving kids and their parents tools to continue this at home and in their lives beyond Brightline.
Q: How can Brightline help strengthen the family bond? 
A: We're the only company with a full family support system in how we deliver care. So while the child or teen is in care with us, we're also supporting the parents or caregivers along the way. That includes pairing them with a designated coach to help them navigate care, parent training tools, group classes, app-based treatment exercises they can use with their kids between appointments, and progress tracking so they know how their child is actually doing over time.
By engaging parents in their child's care, we're able to bridge the divide that can often come up when families are dealing with this tough stuff. Our supportive system is really aimed at providing a positive experience for the child and the parents, so we can foster communication and growth at home.   
Q: While mental health has long carried a stigma with nearly any supportive tool or help-seeking person, in the U.S., there is a shift happening. How does Brightline's tool differ from going to see a therapist or counselor, and does it work in conjunction with other ways that families may receive mental help?
A: These are really common challenges that families face—and we provide uncommon solutions, if you will, to support them in getting to a better place. In addition to the evidence-based programs, technology, and family-focused approach, one of the differences is our collaborative care teams. We bring together care for a range of needs that typically happens in a really disconnected way—behavior therapy, evaluation and medication support when needed, speech and occupational therapy to support overall developmental health and well-being. 
Until now, parents would have to run all over town, juggling many different providers and appointments and trying to make sense of it all. I've been there, and it's a mess. With us, families have the support they need all in one place, with one team, working together towards shared goals for their child. And by providing a really warm and inclusive experience for families—including opening up conversations about these challenges, bringing together the community in group classes, celebrating progress and wins together—we really aim to to eliminate the scary factor and celebrate therapy instead. 
Q: In terms of Brightline's goals, where do you hope to see the company in 5 to 10 years?
A: There is a need for this kind of care everywhere—parents in every corner of this country are facing limited options, wait lists, and the many other barriers we've discussed. We aim to reach and support as many kids, teens and adolescents, and their families as we can—and we're building in a way that will allow us to do so in creative and effective ways. For example, we'll explore different levels of care for different conditions or symptom acuity. We'll continue to build partnerships with health plans and national employers so we can increase both access and affordability. We'll continue to build on our technology product to extend care across the country and reach families where they are. We're building fast, but in the right and sustainable ways, so that we can bring exceptional support to families across the country.