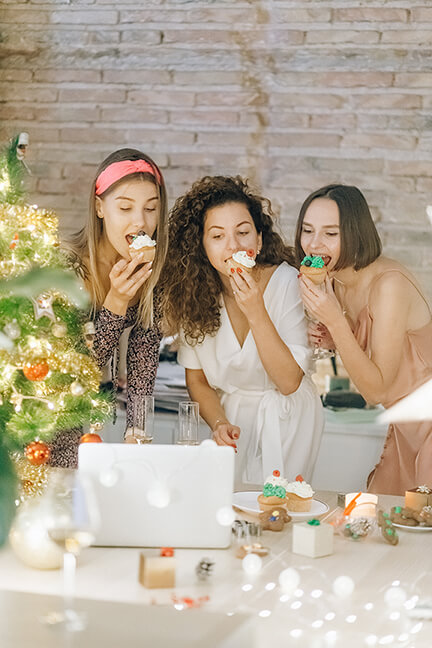 7 Ways to Throw the Best Virtual Party This Winter
It might seem a bit strange to host a party over video chat, but COVID-19 has forced everyone to try new things. If you long for the days when you could throw an event with your loved ones, you should try your hand at a virtual gathering. This digital soirée will be one for the books.
Take a look at how to put on a get-together everyone remembers.
1. Pick the Right Platform
First, you need to choose a video chat platform. Certain options have different capabilities and features, so you should find one to suit your specific needs. For example, you might want to invite people who aren't technically-savvy, which calls for a more straightforward website.
Do a little research to figure out what service will work best. If you know that your guests already use Zoom for work, you might want to pick that platform for accessibility's sake. It may not seem like a huge deal — but you don't want to close out anyone accidentally.
2. Send Detailed Invitations
If you want your party to be successful, you need to give people advanced notice. This event won't be one where people can just show up and have fun. There might be a few technical difficulties you have to address, which requires a little extra preparation.
As you write your email or Facebook invitations, you should emphasize a few points. Be sure to include a link to your virtual space, as well as how to access said platform. It's smart to highlight features like the mute button, too. Don't forget to add details about your specific event.
This information will help everyone connect without a hitch.
3. Consider Food and Drink
It might be a digital extravaganza, but you can still "serve" refreshments. If you want to enjoy appetizers with cocktails, you have a few options at your disposal. This component will require preparation to ensure everyone can participate.
Consider what you want to serve. If you're going to throw a dinner party, you should create a menu with simple recipes each guest can cook. Feel free to add a note such as, "Make your favorite beverage to enjoy while we celebrate," to the invitations. It's even fun to mail out desserts.
4. Pick a Fun Location
What's a party without a fun location? Try not to limit yourself to your dining room table. Instead, you can create a celebratory backdrop in your living room. If you expect good weather, you should head outside. Encourage your guests to put up their best decorations, too.
5. Think About Entertainment Options
There's not much worse than a gathering that doesn't have entertainment. If your guests have to make small talk while they sip their drinks, you haven't offered enough ways to occupy guests. It's still good to let people talk. However, you need to fill in the awkward gaps that can pop up in a digital space.
Why not have a party where you play an online board game together? There are even plugins that let you stream movies with friends. If you like music, you should grab a playlist to put on throughout the event. As the host, you need to think about entertainment.
6. Leave Enough Time Before and After
If you're a regular party host, you know that some guests will arrive early — and others will linger after hours. That's going to happen during digital events, too. As a result, you might need to make adjustments to your original timeframe.
Let's say you want your party to start at 7 p.m. Be sure to open the meeting space at around 6:30 p.m. so that anyone who wants to come early can. It's also smart to set aside an extra 15 minutes toward the end.
Try to remember time zones, too. If you have guests on the East Coast, you might need to start your party at 4 p.m. your time. Determine your timeframe before you send out invitations.
7. Be Ready to Be a Host
Never forget that you're the host. It's up to you to run the show. Therefore, you should get as much planning done as possible before your party. This preparation doesn't have to be stressful, but you don't want to be super lax.
If your guest can't figure out how to log into the room, you have to play tech support. What happens when the conversation dies down? It's your job to start up whatever game or movie you have queued. It's key to make everyone feel welcome despite the virtual environment.
Remember These Points to Make Your Digital Event Awesome
Do you want a fun way to connect with your loved ones? Despite COVID-19, you can still find a way to throw a fantastic event for someone's birthday or anniversary — or just because! Try these tricks to make your gathering as memorable as possible.