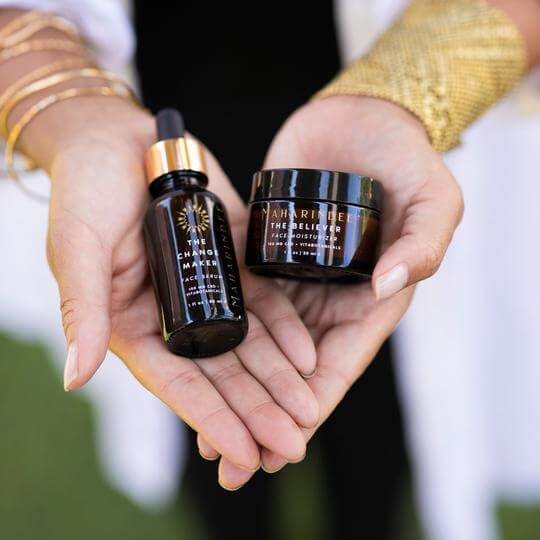 Pure and Potent Skincare.
In the summer of 2019, while in Madison, Wisconsin, Shona Gupta went swimming in a lake. Right after her swim, Shona developed an angry red rash on her face and quickly went in search of something to put on her skin to help calm it down. There weren't many store options to choose from, and Shona landed up with some topical CBD oil. Although she says the oil smelled bad, the efficacy of the CBD oil blew her away. Of Indian heritage, and with a lineage of fabulous skin, Shona started thinking."Since my grandmother and my mother had great skin, I wanted to include their skincare regime into Western culture. I wanted to put Indian Beauty on the map and make a unique combination of Indian wisdom and CBD science."
And thus, by the summer of 2020, Shona had launched a new beauty brand—Maharindee. In Hindi, "Maha" means great and Indira (which Shona abbreviated to Indee) means beauty. Indee also represents an independent spirit.
When I came across The Change Maker, I was skeptical as I have sensitive skin with a tendency to Rosacea flare ups. I was worried this product might aggravate my skin. The very opposite happened. The Change Maker, which is an oil (and oil is recommended for Rosacea, so I only use oil to moisturize) made my skin feel silky soft and calmed down the red. I love it! Both products are non-comedogenic, and good for all skin types, probably because they're made with centuries-old Indian skincare ingredients including amla fruit, argan kernel, bergamot, lemon, ylang ylang, fennel, and lavender, as well as natural plant-based super stars such as vitamins B5, B3, E and C. And to top it off, Maharindee products contain 100mg of broad-spectrum CBD which brings its extraordinary antioxidant properties and anti-inflammatory response. FREE of toxins, sulfates, parabens, mineral oils, phthalates, soy, gluten, SLS/SLES, Formaldehyde, aluminum, fragrance, and artificial dyes, the CBD is non GMO, grown without pesticides, and farmed with organic practices in Minnesota.
Sounds good to me.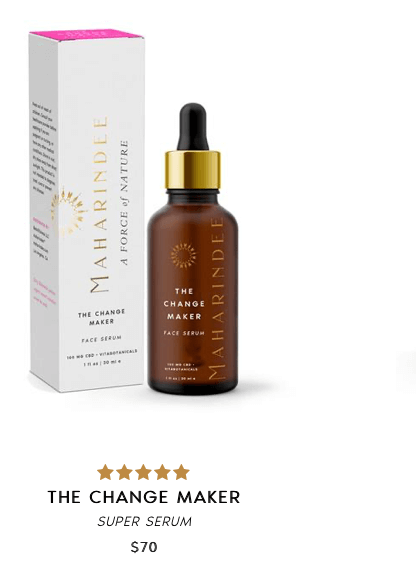 THE CHANGE MAKER
Super Serum $70
Each transformative drop nourishes skin with a powerful blend of pure CBD oil and vitabotanicals to calm, correct, brighten, and balance.
For a limited time you can get all 3 products for $165 and SoCal Magazine readers can get a further 20% off. Use the code SoCal20 when ordering.
Maharindee also gives back and believes that beauty, business, and doing good, are not mutually exclusive. That's why they donate a percentage of every purchase to organizations that advocate for girls and women. Maharindee currently supports Room to Read's "Girl's Education Program," an organization that helps adolescent girls around the world stay in school by promoting girl-friendly learning environments.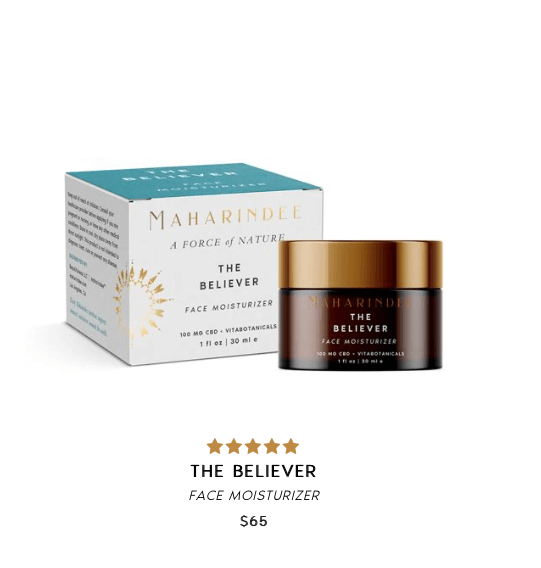 THE BELIEVER
Face Moisturizer $65
A super absorbant, anti-oxidant, rich blend of vitamins C, E, B5, B3 and pure CBD oil – magically plumps and hydrates, restoring a radiat youthful glow to the skin