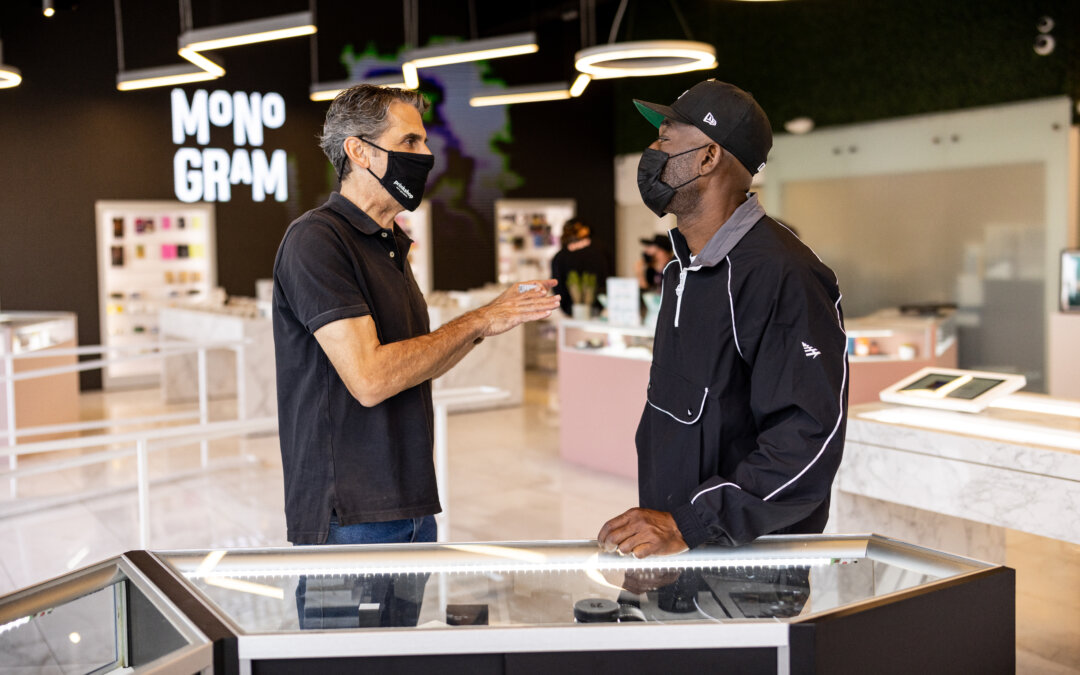 If you're keeping up with the latest cannabis news, you'd be delighted to know that MONOGRAM Shop at Calma Dispensary in West Hollywood is now open! The display is MONOGRAM's largest brick & mortar retail footprint to-date and will feature three MONOGRAM strains: the No.01, the No.03, and the just-released No.08 (the brand's first-ever light strain). These options are available in a variety of formats, including loosies, hand-rolls and 2g & 4g flowers.
MONOGRAM is the first cannabis line introduced by Shawn 'JAY-Z' Carter, seeking to redefine what cannabis means to consumers today. To celebrate the opening, visitors sat with DeAndre 'De' Watson for a special desk-side rolling session. Through its individualized approach and dedicated to quality, Monogram creates products with the consumer in mind. Calma is open from 10 am – 10 pm and located at 1155 N La Brea Ave, West Hollywood, CA 90038.
About MONOGRAM Products
MONOGRAM flower is grown in small batches to maintain control and quality. Each flower is hand-selected and hand-finished by MONOGRAM experts to ensure a premium experience from grow to smoke. The bold packaging for MONOGRAM 2g and 4g Flower provides a showcase piece, while keeping the cannabis fresh and protected from UV light. Each LOOSIES PREROLL PACK contains four 0.4g prerolls that have been individually wrapped to make a statement and reflect the magic held within: bold, convenient, top-shelf quality – wherever, whenever.
About DeAndre 'De' Watson
DeAndre 'De' Watson serves as Culture & Cultivation Ambassador for Shawn 'JAY-Z' Carter's maiden cannabis brand, MONOGRAM. Leveraging over 25 years of experience working in the cannabis space, Mr. Watson guides MONOGRAM's expert growers in ensuring each plant receives personalized attention through a program of extended humidity control, post-harvest care, trimming, and flushing. Operating out of San Jose, California, he and the cultivation team work daily to guarantee that MONOGRAM's finished flower reaches its fullest potential.
About Calma Dispensary
Calma's immersive atmosphere allows you to experience cannabis in a new way. Our West Hollywood dispensary is dedicated to bringing the elevated calmness of a pleasurable high into the spatial dimension. Explore our amazing products in a rejuvenating space, learn more about particular strains and their effects, and find your perfect high. At Calma, we're about more than just great cannabis products. We aim to build community and enable change.