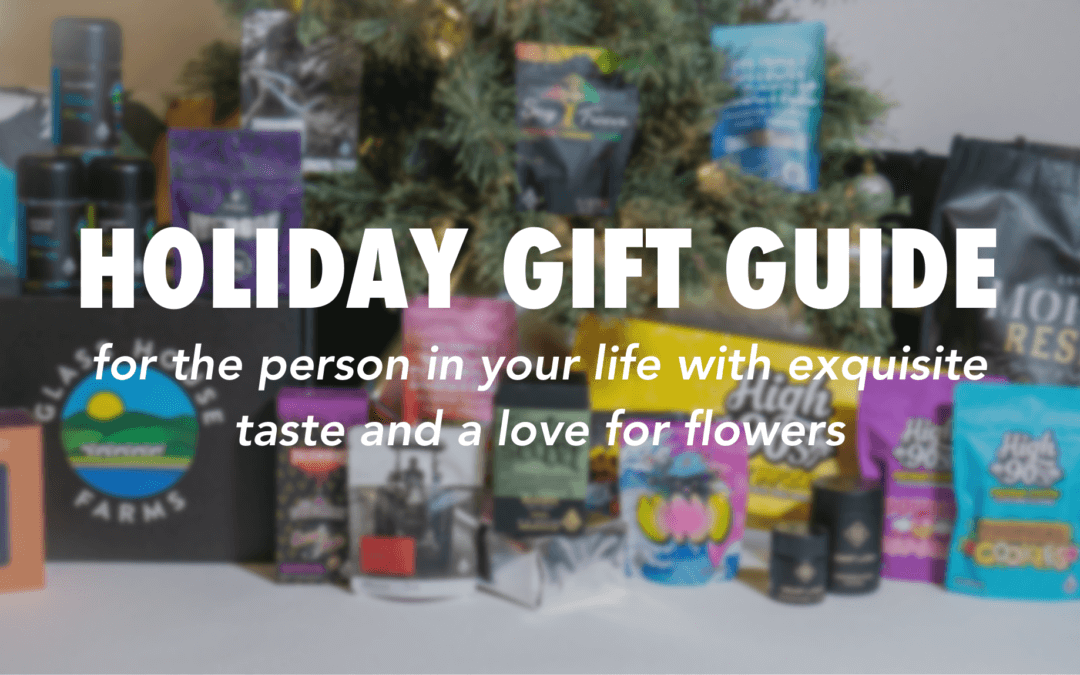 Sure, this year is almost over, but an I-O-U never hurt anybody! You have just less than 24 hours to grab a gift before the ball drops, but you're in luck. Some of these deals may be over, and some may continue into the New Year, but all of the products below are worth a purchase, with or without a deal! Peep the list below and trust, the people in your life will be filled with joy this holiday season.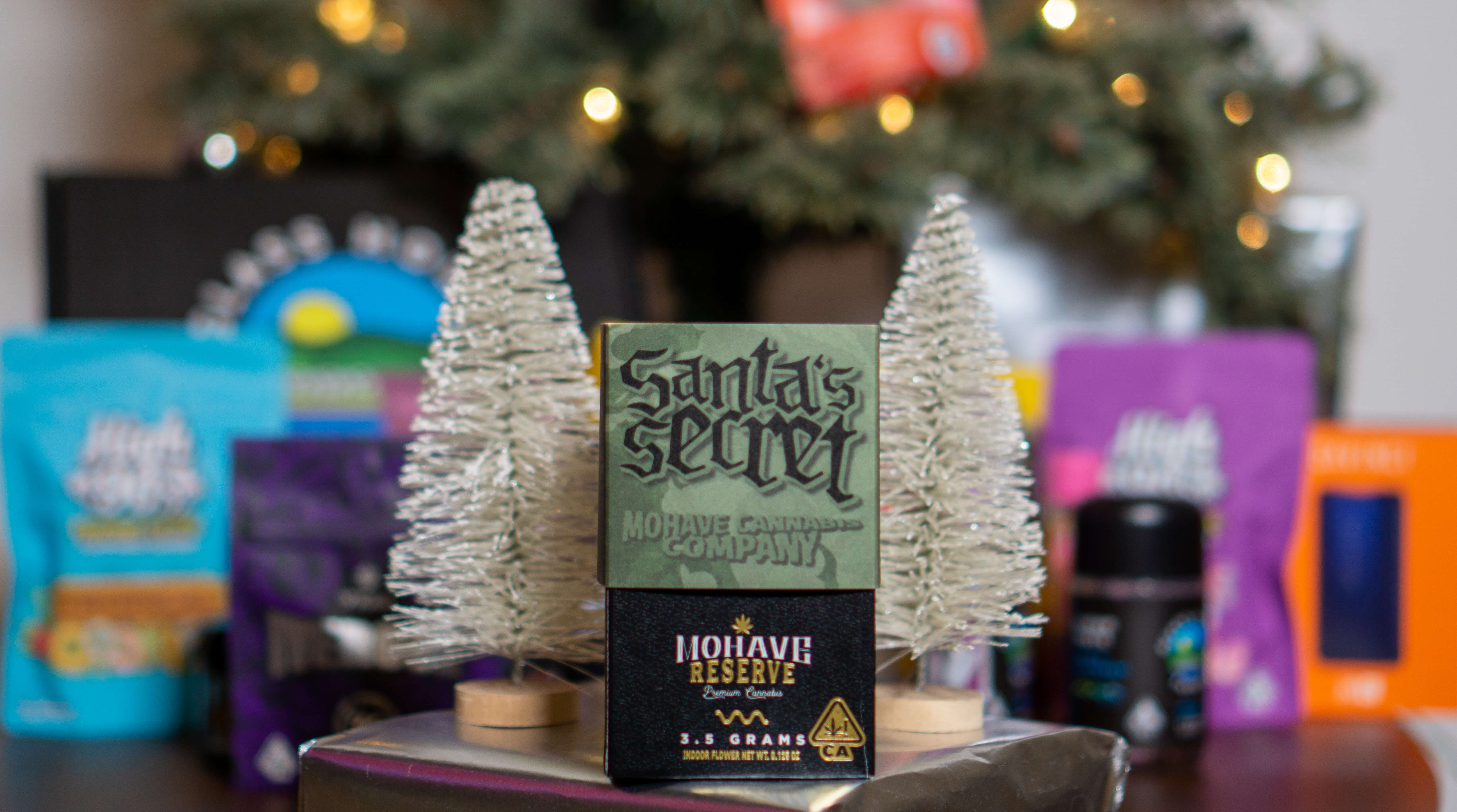 Mohave Cannabis Co.
THE WHY: 
The flower inside these jars seriously live up to the beautiful packaging and design featured on the outside. Mohave dropped a special strain for this holiday season called "Santa's Secret".  Who knew Santa had a secret!? Well, in 2021 we are breaking down stigmas and welcoming ole Saint Nick into the Cannabis community. Read more about the strains below, and my thoughts on them.
About the Brand, From the Brand:
We are a family of gritty, hard-working, never-give-up, ready to have a good time kind of people. For over a decade we've worked tirelessly to perfect our craft of cultivating premium indoor cannabis. Quality genetics, optimal growing environments, and precise nutrient regiments combined with a little blood, sweat, and tears have consistently produced an award-winning flower. Our cultivation is a craft. One that meets a consistent standard, which was established before it was legal. From density to trichome coverage, appearance, nug structure, and a guaranteed 25% or higher THC test, Mohave Reserve sets the bar for top-shelf cannabis.
Strains: Santa's Secret, Durban Poison x Gushers #2
Santa's Secret : This strain is smoooth, to say the least. It has hints of vanilla and ginger, and is an absolute must try, so make sure you cop one to gift and one to try. You don't want to miss out on this one. When it's gone, it's gone, so move quickly.
Durban Poison x Gushers #2: One of the standout strains I have tried this year is the Mohave Reserve Durban Poison x Gushers #2. I don't want to turn this into an in-depth strain review, but I have to say you cannot go wrong with this strain.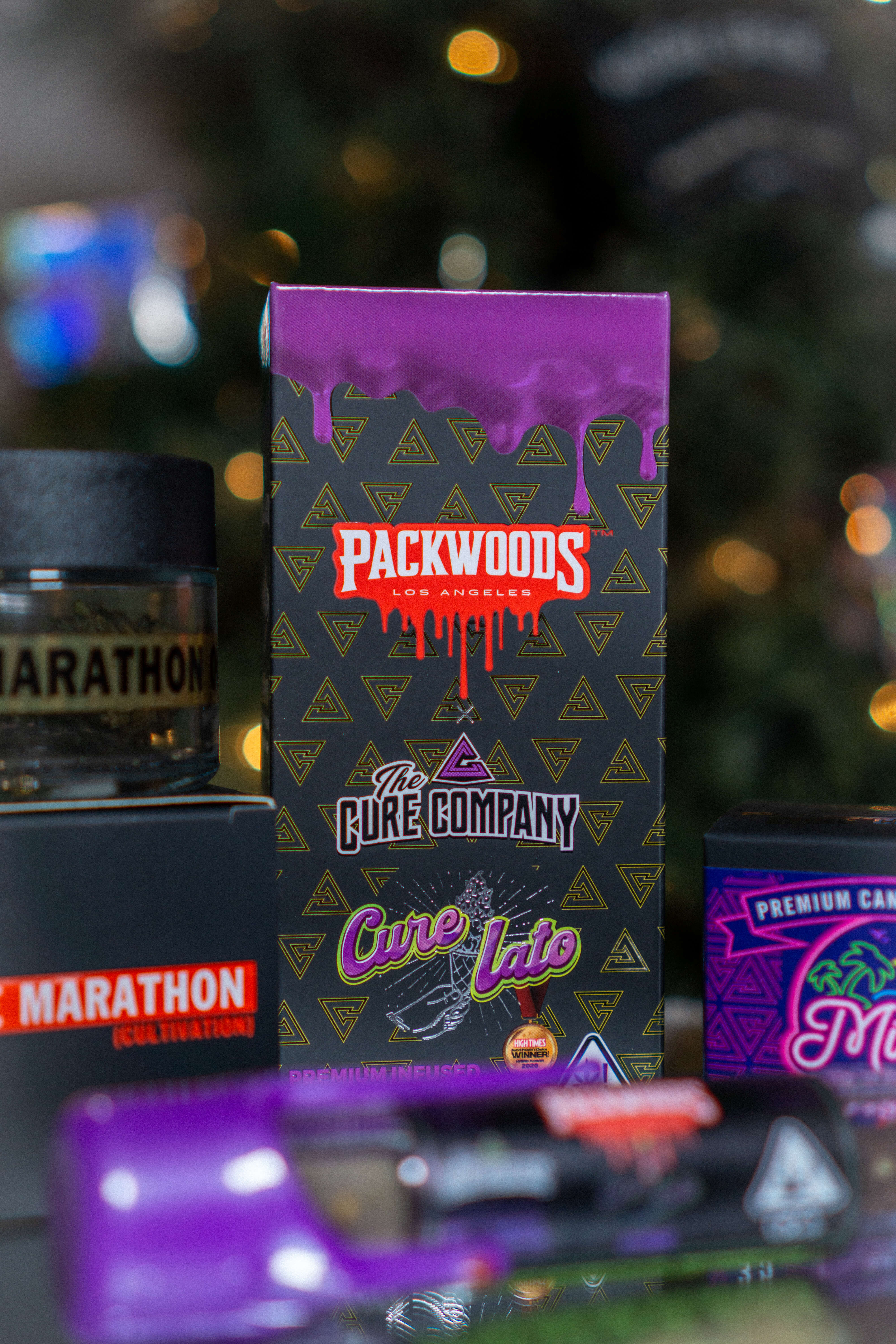 The Cure Company
THE WHY:
The Cure Company does things differently. Their product is next level and the people behind the brand make it even better. If the person you are shopping for has never tried the Cure Company before, put them on! If they are a seasoned vet, check out some fan favorites from TCC below.
About the Brand, From the Brand:
The Cure Company has been a leading producer of premium cannabis in California for 20+ years. We operate out of multiple state-of-the-art cannabis facilities throughout Southern California and are the favorite brand of cannabis culture's elites like Snoop Dogg, Nipsey Hussle, and more. With our headquarters in the heart of Downtown Los Angeles' Arts District, we grow and sell California's most sought-after and exclusive cannabis products.
BONUS: Curelatto x Packwoods pre-roll: One of the best prerolls in the game. I'd honestly put these in the canna cigar category. Curelatto won The High Times Cup for a reason and I can co-sign that one.
Holiday Promotions: TCC will be having an event all day on December 23rd, so stay tuned to their social media for the announcement.
Strains: Marathon OG, Miami Fritz
MARATHON OG: In collaboration with the Marathon Cultivation, TCC continues to bring the heat with Nipsey's flagship strain. The marathon continues. 🏁
Miami Fritz: A bunch of new Mintz crosses dropped this year but Cure's Miami Fritz was the one that stood out to me. The taste of Mintz is distinct in this one and it is a great "pregame" strain. Before you hit your holiday parties this year, be sure to roll up some Miami Fritz.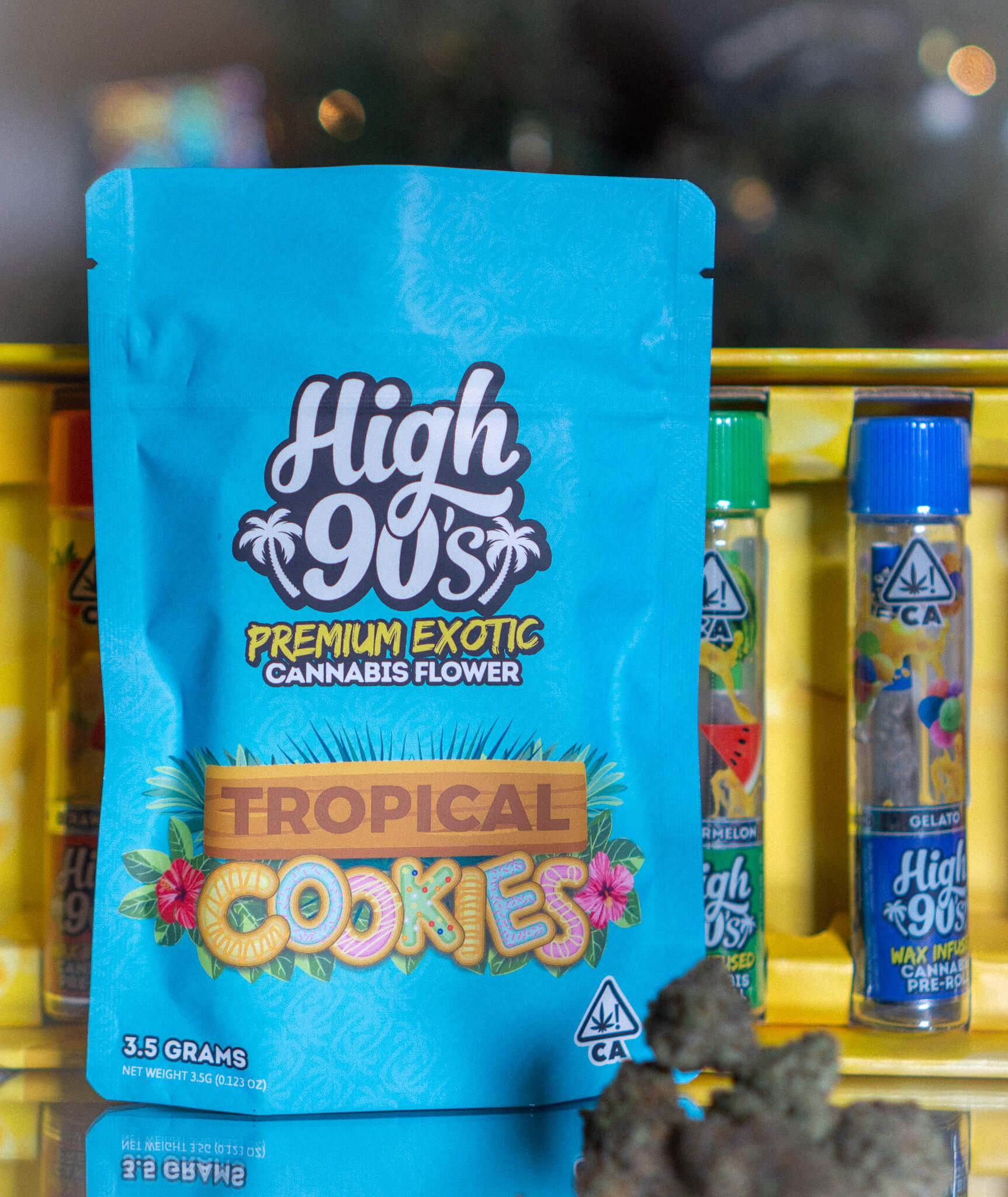 High90's
THE WHY:
High90s has to be one of the coolest brands introduced this year. Their exotics are probably the most colorful flowers out there, and users rave about their wax pre-rolls. With all that feedback, we had to include them in the Holiday Gift Guide this year!
Strains: Tropical Cookies, Double Cup
Tropical Cookies: This is a mix between Girl Scout Cookies and Biscotti! It is an Indica dominant Hybrid that's sure to get you to Paradise.
Double Cup: "Your favorite rappers drink."
Bonus: Wax Infused Pre-rolls: The absolute perfect holiday party joint. Pick up a few and share with all your friends (:
Holiday Promotions: "Friday, 12/17, at Greenwolf LA, buy an eighth get a preroll for $1."
About the Brand, From the Brand:
High 90's wax-infused prerolls and premium exotic flower eighths are currently found in various stores in California. To find our most current store lists and to track down a store near you that carries our High 90's products, check out the store locator that can be found on our website or search for us on Weedmaps. Check out our Instagram stories to hear updates on deals for the holiday at stores. We do Buy One, Get One Preroll for 50% off and also Buy an Eighth, Get a Preroll for a $1.
To purchase the cozy woven High 90's blanket in the Tropical Punch blue shade, High Nineties-High There socks, and High-deas Notebook can all be purchased on our website.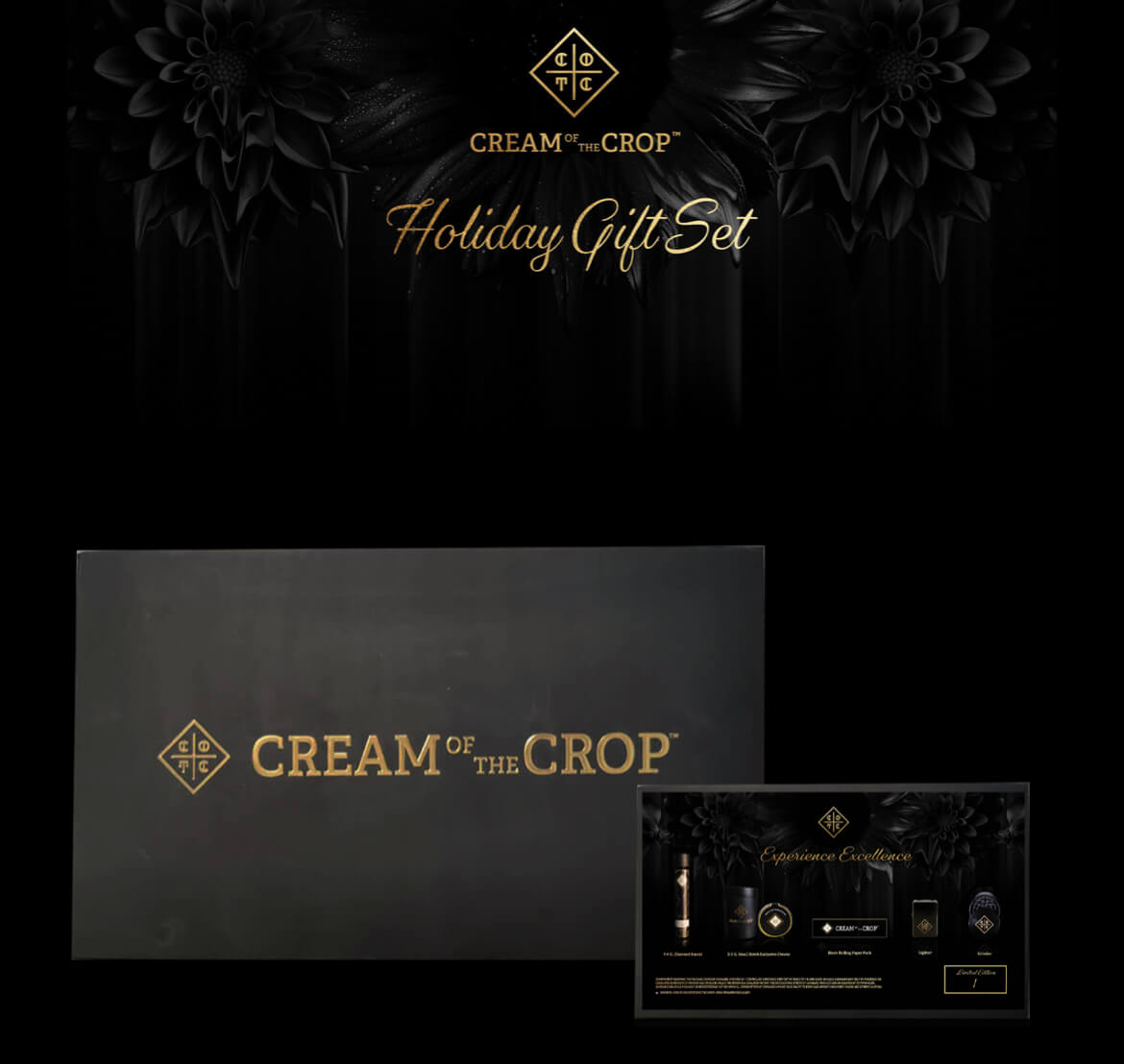 Cream of the Crop
THE WHY:
Cream of the Crop is a friends and family team that takes small-batch exclusives to the next level. Seeing their growth and progress this past year is incredible. Their packaging and strains were already some of the best available in California, but trust me, you're gonna want to try these new strains in their new black jars.
About the Brand, From the Brand:
Cream of the Crop is a collection of California's most exotic, exclusive, highest quality, connoisseur flowers, and smokables. Cultivated by passionate people who care deeply about the essence of exceptional cannabis, with a shared mission of producing the best expression of each cultivar – fragrant terpenes, unmatched flavor, and always a clean, smooth finish.
Holiday Gift Box
For a limited holiday release, Cream of the Crop's gift box features an eighth of ultra-premium, small-batch flower, a limited release Diamond Barrel, gold Zippo lighter, black rolling papers, and a COTC grinder. Each box is individually numbered to create the ultimate limited edition gift for your favorite cannabis consumer.
The Diamond Barrel
Cream of the Crop seeks to push the boundaries of quality in every product and the Diamond Barrel is no exception. Cream of the Crop's ultra-premium flowers are hand-rolled and infused with 1.2 grams of flower and 0.2g of strain-specific THC-A diamonds, combined to create exceptional flavor profiles with an experience unlike any other, and finished with a black obsidian stone tip that stays cool so you can smoke every last bit of your Diamond Barrel.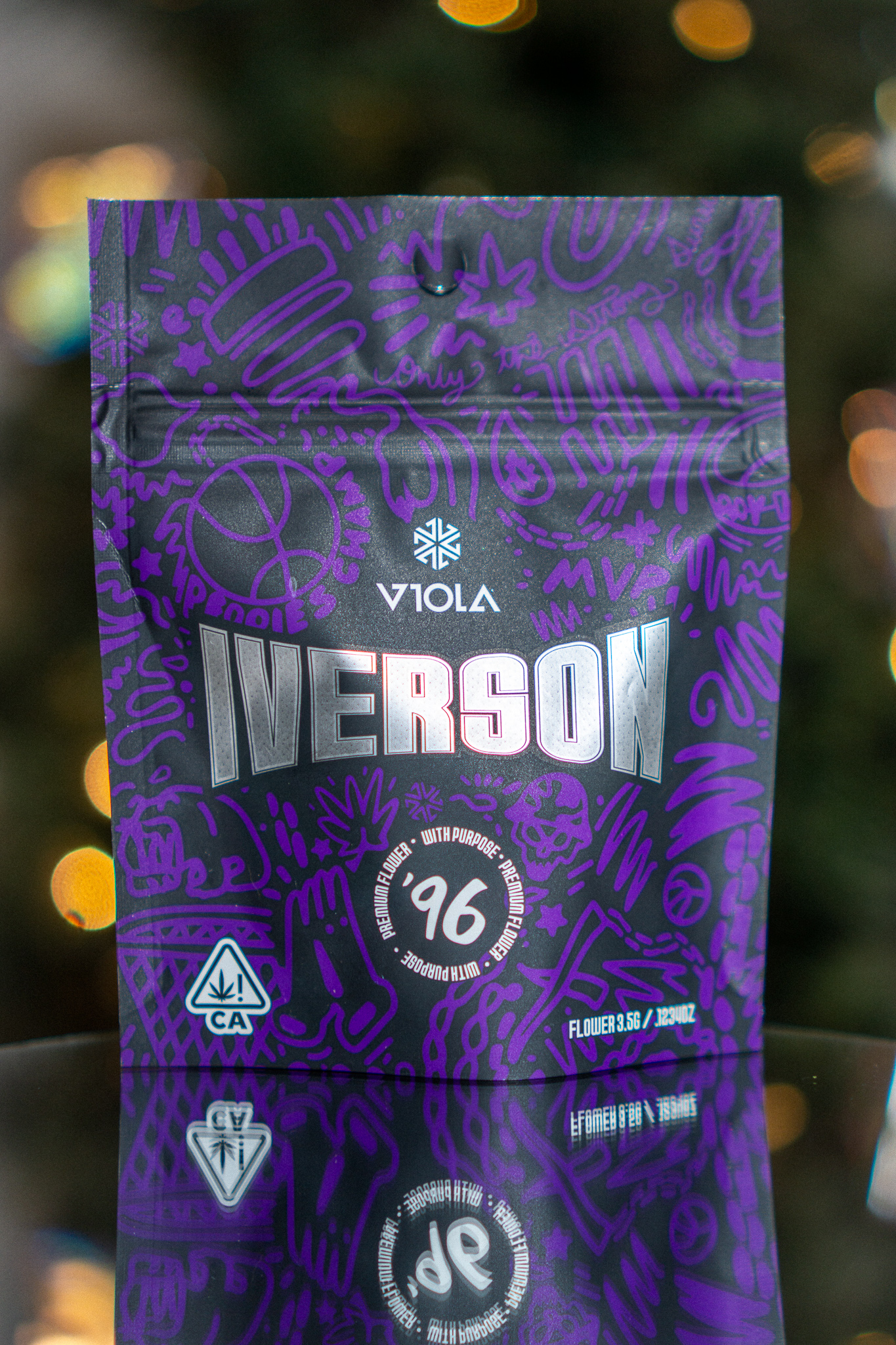 Viola x Iverson: '96
THE WHY:
Allen Iverson teams up with Al Harrington's Viola for what has to be the cannabis collab of the year! The first strain from a beautiful partnership, '96 was built & cultivated to taste like a glass of Don P. It's hints of grape pull this off beautifully and it's something you have to try to believe. Read more about it below.
About the Brand, From the Brand:
"(Allen Iverson) gave everybody the courage to be who they are. And when I think about what we're doing in cannabis, it's the same thing. We're stepping out there for the people that are a little afraid, and giving them a glimpse of what it would look like if they did it, too." -Al Harrington
The Iverson 96 strain is a cross between Secret Kush Mints and Grape Stomper. Iverson 96 is an indica dominant hybrid. Iverson 96 name came from NBA Hall of Fame player Allen Iverson who was drafted in 1996.
Iverson 96 cannabis strain was first bred by legacy growers, Green Dragon, and brought to the world by Viola Brands. The Iverson 96 cannabis strain has a complex flavor profile combining a robust grape candy-like aroma, coupled with notes of pine and mint. Like its namesake, the Iverson 96 effects are audacious, leaving you speechless with its euphoric, mood-elevating, and sedative effects. It is coated with multiple hues of vivid & forest greens, interlaced with specs of light and dark purple, encrusted crystal trichomes. Iverson '96 has a smooth cool mint flavor profile with subtle notes of grape.

Pine Park
THE WHY:
From the jump, Pine Park has dropped some amazing flowers of the year, and if you or your loved ones haven't tried it yet, what are you waiting for!? Founded by the multi-industry legend H3CZ, Pine Park shows us the potential and the start of what can happen when you break ground in multiple industries. Pine Park is bringing back the OG strains and it's like the Cannabis God's have heard our prayers!
About the Brand, From the Brand:
A lot of people know me as a digital content pioneer, an entrepreneur, or as the founder and CEO of one of the most successful esports franchises in history, OpTic Gaming. Cannabis has been a central part of my life, and throughout my endeavors, I've built an incredible community that I'm excited to bring along for this next journey.
Pine Park refers to the place in Chicago I used to sneak out to when I was a teenager and smoke weed. Now that cannabis legalizing nationally and consumption is becoming normalized, I'm thrilled to be pursuing a lifelong dream of working with cannabis and to have the opportunity to educate myself and my community on how to responsibly be a part of and grow this industry.
Strains: Chem Reserve, Chem Driver
Chem Reserve: This OG strain is a Sativa hybrid cross of Chemdawg and Stardawg. A smooth smoke that takes me back to the flower I love most. A classic.
Chem Driver: Perfect for your favorite gamer! This is an Indica strain cross of Chemdawg and Sundae Driver. It's my go-to when I'm ready to lock in some W's on Fortnite.

Glass House Farms
THE WHY:
Last year, I was able to visit Glass House Farm's 500,000 sq. ft. HQ in Santa Barbra, and since then I've fallen in love with their flowers, their team, and their passion for innovation. GHF is one of the most affordable premium cannabis brands around. Do not be fooled by the size of their farm! GHF won the 2021 sustainable Leadership award for their Glass House, which is designed to remove pollutants from the soil, and after harvest be used for food, fuel, or fiber. Their strains do not disappoint, and they truly have a product for everyone.
Strains: Sugar Tarts, Hellfire
Sugar Tarts: "Happy Heaviness for the mind and body." An Indica dominant strain that'll help you relax and clear your mind during the holidays.
HellFire: This lemony, earthy flower is the perfect hitter before you pull up to your holiday family parties. Trust me, your tía won't seem as annoying this year!
About the Brand, From the Brand:
We believe the future of cannabis grows in a greenhouse, where high-quality plants can be grown sustainably and sold at an accessible price. We also believe cannabis should be a force for good – improving the lives of our consumers, our employees, our communities, and our planet.

Union Electric
THE WHY: 
Union Electric has been a go-to brand this year, not only for their prices, but also for their quality. UE goes beyond just the flower, and one of the best things about the brand is that they are advocating for fair regulation and leading the conversation around Legal Cannabis. Earlier this year, their Crowd Funding Campaign raised over 1,100% of their goal! If you're balling on a tight budget this year, UE's OZ bags are one of the best values in the game.
About the Brand, From the Brand:
At Union Electric, it's straightforward: premium flower, fairly priced. From California's top cultivators straight to the dispensary door, we're committed to bringing you the freshest flower at great prices every single day. We give 2% of our profits back to the local communities that have embraced the legal cannabis industry. We support the hardworking people that have entrusted us to steward the social, economic, and medical opportunities created by cannabis.
Strains: Papaya Punch, Mother's Milk
Papaya Punch: This Indica-dominant strain is a cross between Papaya and Purple Punch with a tropical berry flavor and scent The perfect strain to make you feel like you're on holiday at home.
Mother's Milk: Don't let the name scare you! This cross between Nepali OG and Appalachia is the perfect pairing to a backwood & hot chocolate this holiday season. This is one of my favorite Sativa's, and that says a lot because I typically prefer Indicas. But that alone is why it leaves you feeling relaxed, yet focused.

Say Treees
THE WHY:
There just aren't enough good things to say about Say Treees. The team is incredible and they are truly building something special. The people behind the brand put care and love into what they grow. Say Treees is a brand to watch this holiday season, and in 2022.
Strain: Vanilla Runtz #1
Vanilla Runtz #1: An extremely potent strain with hints of sweet that will mellow you out, so you can sleep like a baby on Christmas Eve.
About the Brand, From the Brand:
Say Treees is a black-owned brand founded by Jahni Denver a lifelong cannabis lover and ten-year vet in the industry. "We went to Mendocino and learned from the Ogs and built 14 greenhouses this year and through their guidance and our dedication we grew some fire testing at 29% THC our debut Strain is called Vanilla Runtz #1 and we will debut it at both Greenwolf locations in Los Angeles and Bellflower just before Christmas."
–@jahnidenver

Ted's Budz
THE WHY:
Ted's Budz have lived up to the dope designs on their packaging, and these strains are definitely for seasoned smokers, or those looking for high potency from their flower.
From the brand, by the brand:
"Based in Los Angeles, Ted's Budz is the leading distributor of the finest exotic cannabis flower statewide. Ted's Budz has collaborated with some of the finest growers in the state, such as Wizard Trees, Dubz Garden, Hi Tech, and many others."
Strains: Big Squid, Uni
Big Squid: Teds Budz and Hi Tech combine for this flavorful exotic. It has a creamy inhale with sweet cherry notes on the exhale. This Indica dominant hybrid brings a cerebral high and is the perfect party strain.
Uni: by Teds Buds and Hi Tech is a cross between Zkittlez x White Runtz x Gelato 41. This strain stood out as far as the nose (smell), the bud structure, and the taste. I rolled Uni up in a backwood before bed and I was out like a light. This is truly a sedative strain so hold off on mixing this one with the holiday punch.
Availability: Cookies, Backpack Boyz, Calma, and more.
Stocking Stuffers
Does anyone use stockings anymore? Probably not, but here's a collection of stocking stuffers that will bring the holiday vibes to you and yours.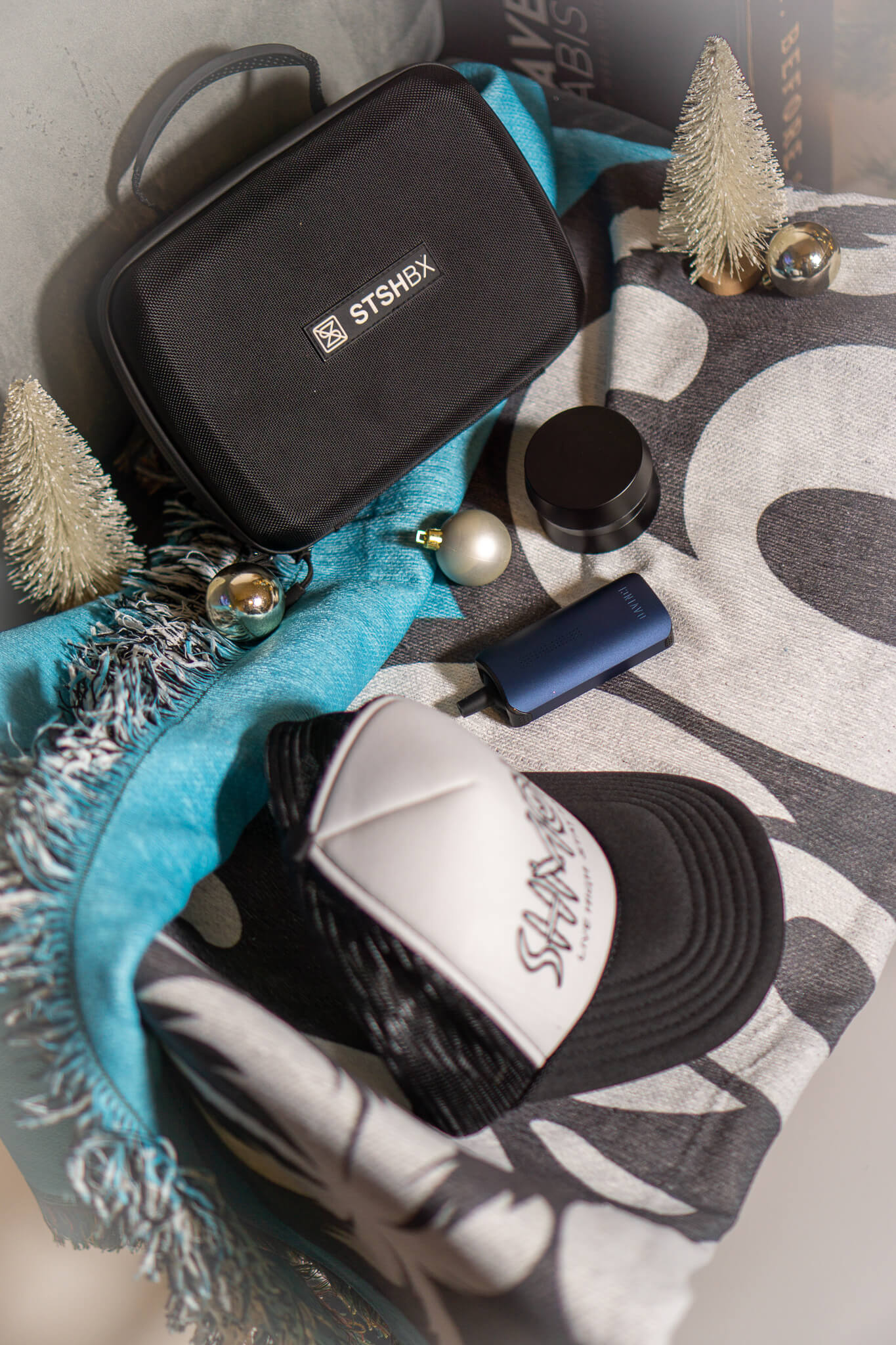 Shmoke Apparel
Shmoke has dope pieces and smoking accessories, but their trucker hat has to be my all-time favorite! Don't I look handsome!?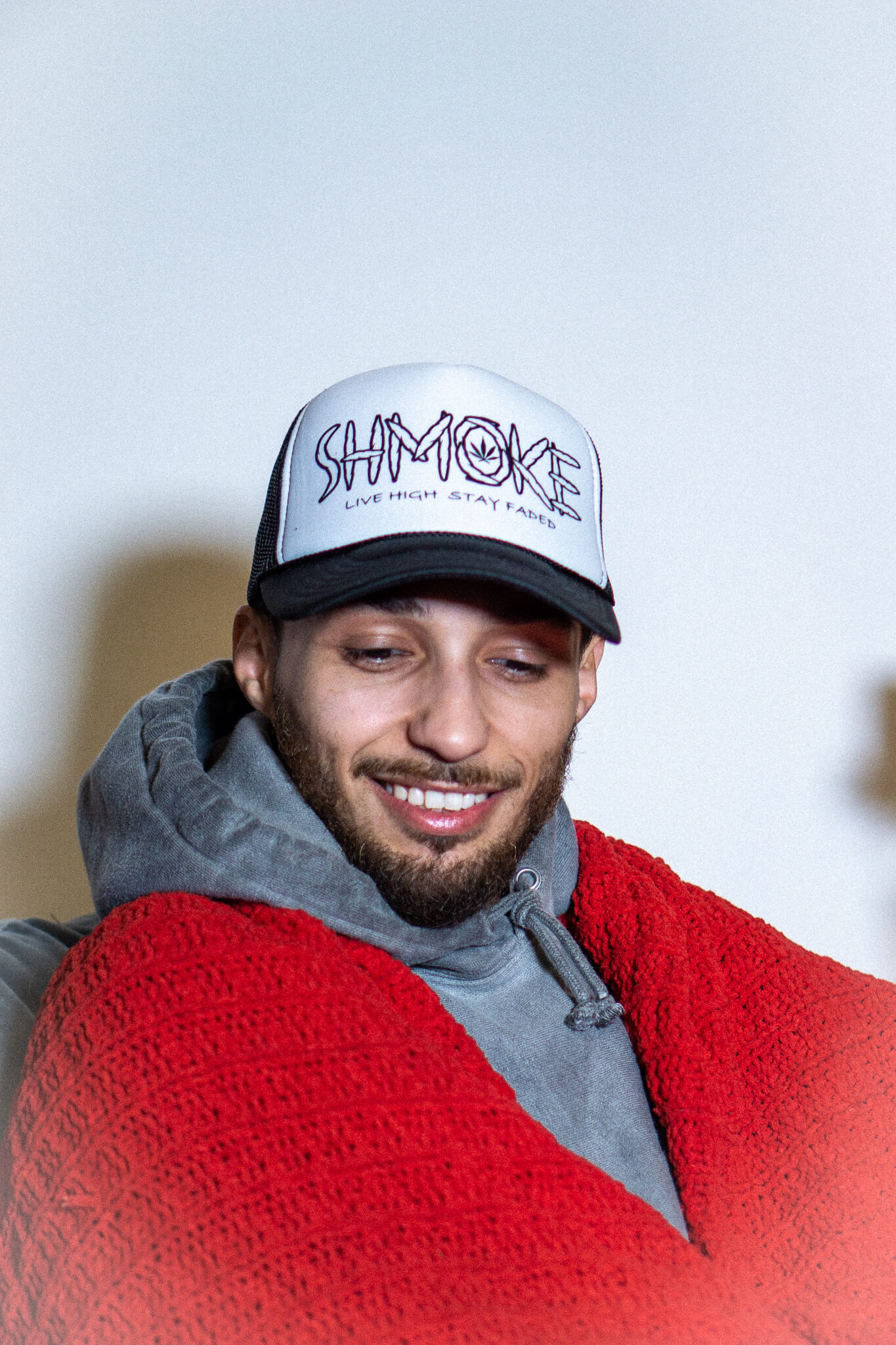 STSHBX
I take this thing everywhere with me. I feel official when I carry around my STSHBX — and if you see me with it in public, just know that I'm ready to roll at any moment — so, we rolling or what? This is a must have kit for that person in your life that is ready to take their cannabis organization to the next level.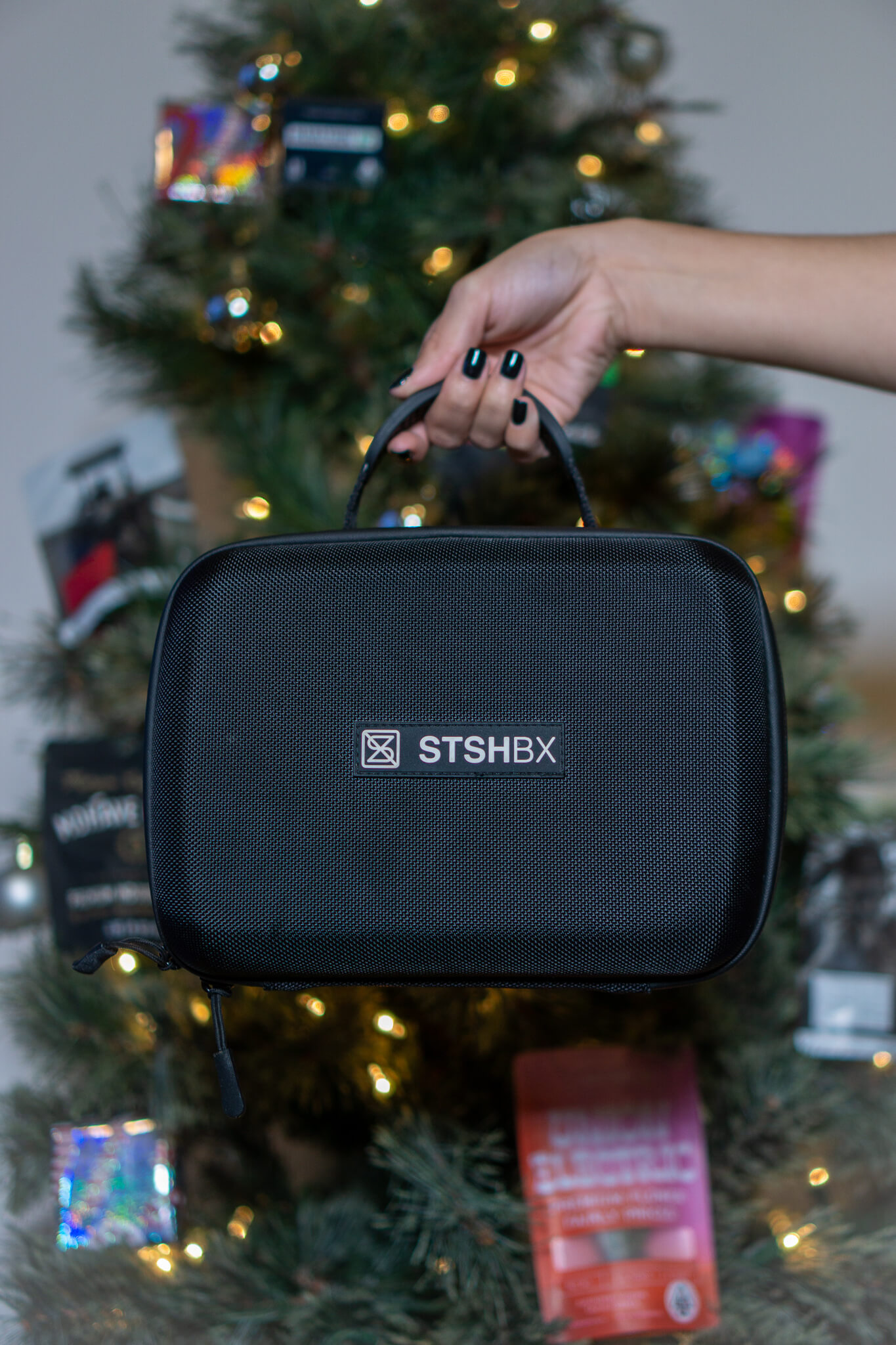 About the Brand, From the Brand:
"We want the brand to break the stereotype of the "lazy, couch-locked stoner" and instead represent the young professionals, hustlers, and creatives that enjoy cannabis socially. It's a box intentionally designed for portability and discrete sessions (that happens to look good too). Smell-proof, water-resistant, with enough room for half a zip we want to build a community around smoking socially.
Availability: Available to ship nationwide now. Based in LA, we offer free shipping so you can start enjoying your box within 5 business days.
Holiday promo: Promo code: Holidaze for $60 and will include a STSHBX case (retail $80) and a free included ashtray (retail $15). Available until the end of the year.
High90s WOVEN BLANKET
It doesn't matter if you're hitting the beach or you're outside smoking on a chilly night. Either way, the High90s blanket has you covered.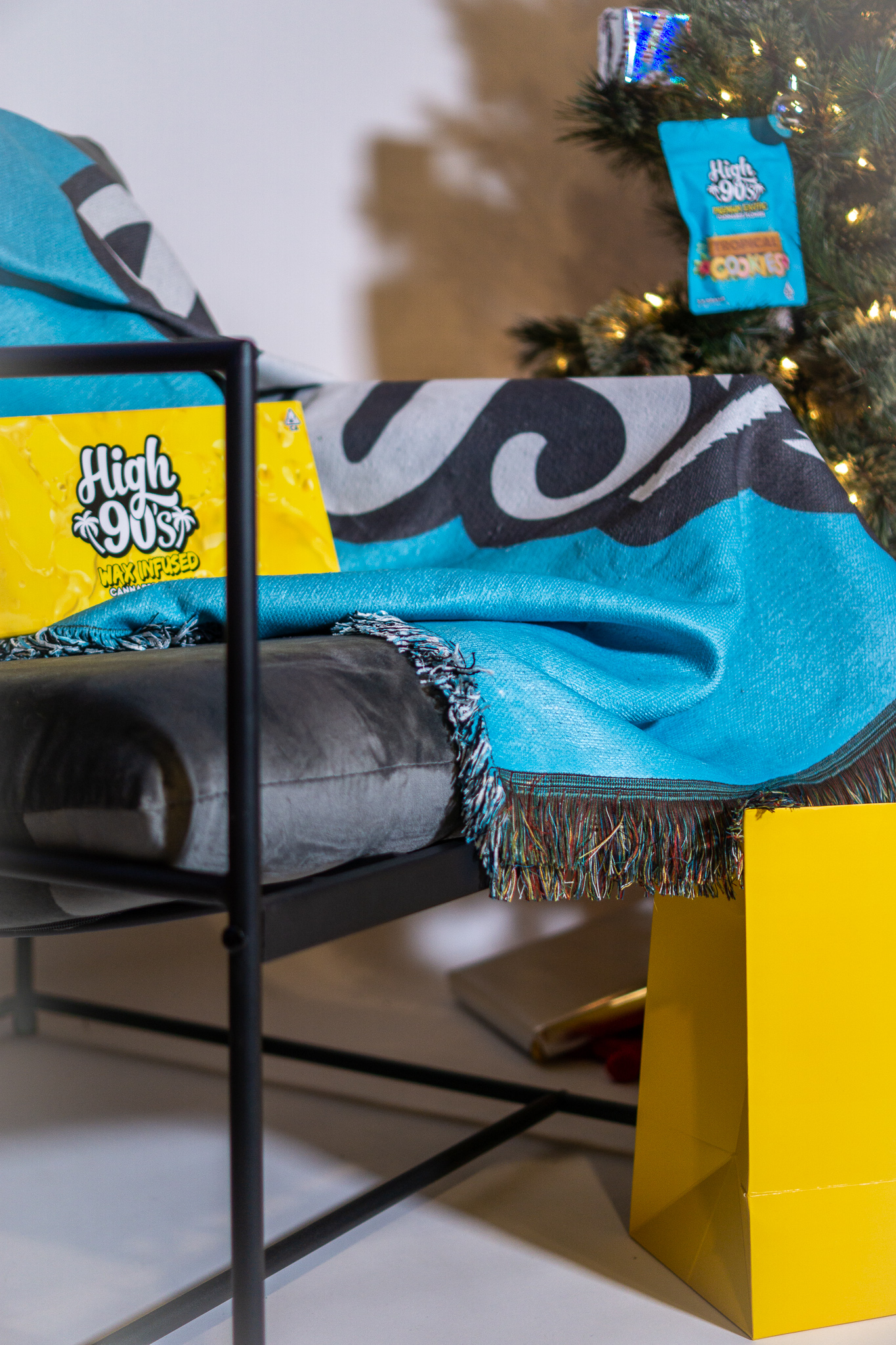 "It's cozy season, cuddle up and have a sesh with our machine washable soft woven blanket."
HOj Klip
My favorite grinder of all time. Design-wise they are unbeatable, the sleek matte black brushed metal finish not only looks good, but it feels good in hand.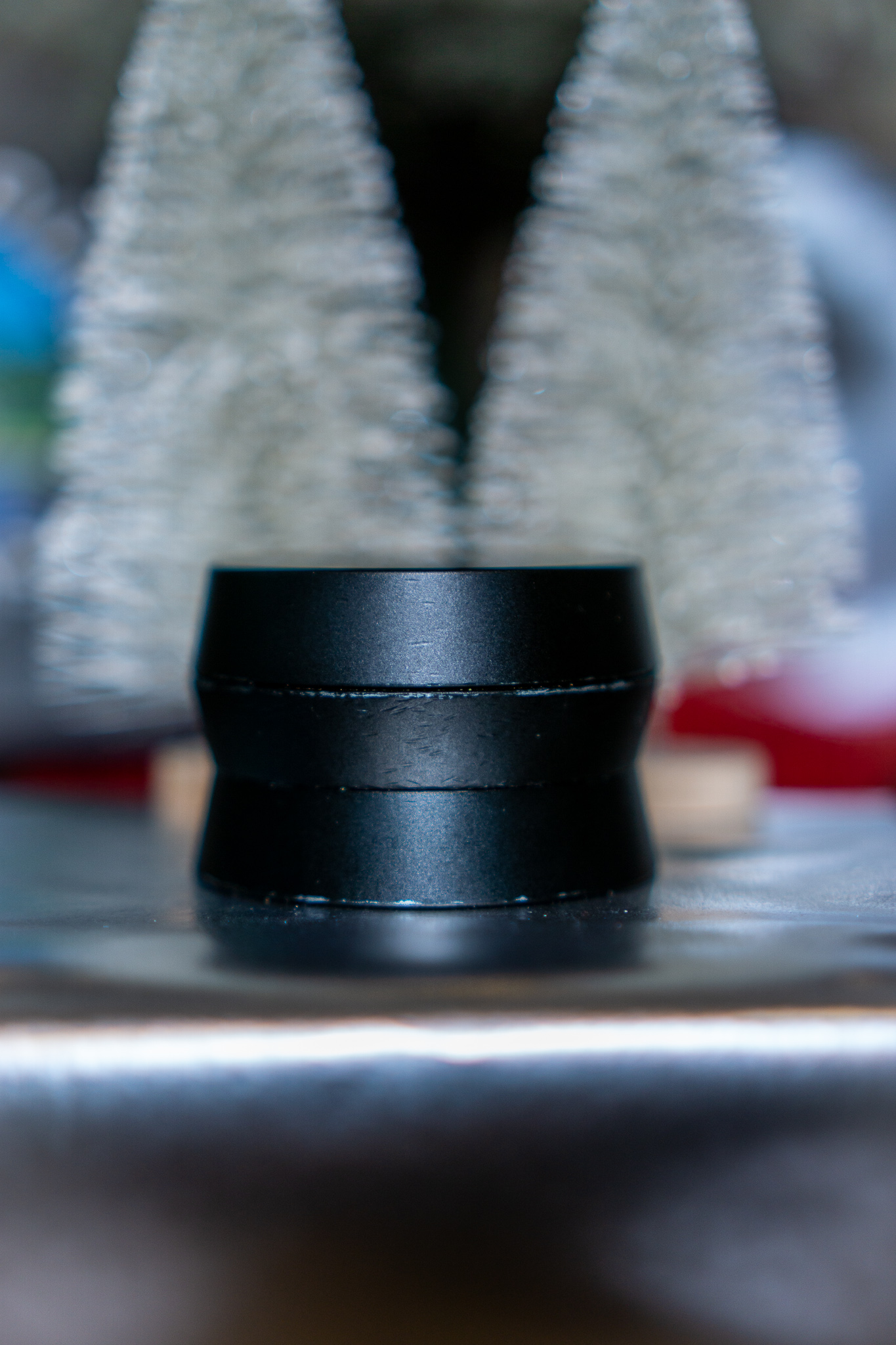 DaVinci Vaporizer
On the days when I don't feel like rolling up woods, I find myself loving the DaVinci Vaporizer. Perfect for the light smoker in your life.
"DaVinci promises to build with only the cleanest componentry. Our Clean First™ ethos means that no metals or plastics are used in our sealed zirconia/glass airpath, providing purity to the connoisseur. Terpenes never tasted so good."