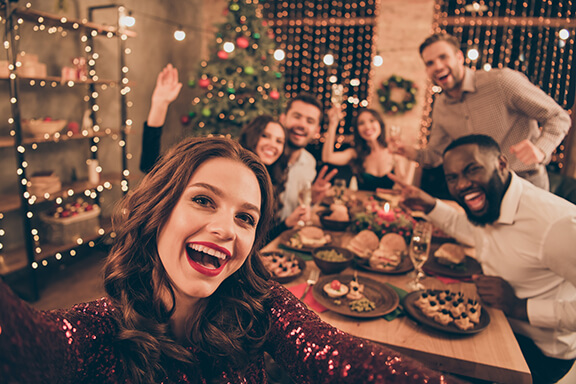 There's nothing quite like the rush of hosting a successful dinner party. Creating an environment for conversations and laughter is an art form with practicing. If you want to invite your loved ones over for a meal but don't know where to start, read about these simple ways to throw a killer dinner party. Hosting will come naturally to you after using this guide to plan a fantastic event.
1. Give Yourself Time
It isn't wise to announce a dinner party just a few days before it occurs. People need time to work the event into their schedules and you'll need to plan every detail. Give yourself at least two weeks to prepare everything you'll need to transform a meal into a party.
2. Pick a Theme
Seasonal holidays are a classic reason to invite people over, but you don't have to wait for them to find a reason to celebrate. Think about popular themes for people of all ages, like DIY pizza night or a sushi extravaganza. Themes dictate everything from ingredients to decorations, so find one that excites you and start planning.
3. Pair Drinks With Food
Dinner parties always have fun drinks for guests. Create a menu with beverages that go well with your main meal. If you want to host a charcuterie board party, you could serve sake in small glasses. The traditional Japanese drink pairs well with most cheeses and has many different types. Don't forget to offer alcohol-free beverage alternatives if you want to invite guests who prefer a non-alcoholic drink.
4. Plan for Allergies
Your dinner party will come to an unfortunate end if one of your guests can't eat with everyone. Request allergen information when you decide to invite people so you can get food that's safe for the entire group to eat. Eliminate allergens from appetizers, entrees and desserts and label everything for clarity during the party.
5. Think About Decor
Decorations turn a meal into an event. Consider where you'll host your party to determine which decorations will work in the space. You could hang fairy lights around your kitchen if you live in an apartment and create floral arrangements for centerpieces if you have a long dining room table. Decorations will also complement your party around the outside of your house or down the driveway.
6. Announce a Dress Code
Do you want people showing up to your party in fancy clothes or sweatpants? What they wear will set the tone for the evening, so announce your dress code once you find one that fits with your theme. You could ask everyone to dress up in black-tie clothes or arrive in their funkiest costumes. Having fun with a dress code is one of the easiest ways to throw a killer dinner party.
7. Include the Kids
Remember that some of your guests may bring their kids. Children don't care for fancy adult food and typically want to sit away from boring grown-up conversations. Set up a kids' table at your party and fill it with hassle-free foods that will please the pickiest eaters. Mac and cheese, chicken nuggets and cubed fruits are just a few ideas to start your menu started.
8. Save the Perfect Playlist
Background music sets the tone for your party as your guests walk in. If only two or three guests arrive and they don't already know each other, the resulting awkward silence can start a party off on the wrong note. Find a playlist with music that fits your party's theme. It can start playing softly in the background before your guests arrive so no one feels pressured to fill any silence.
9. Send Desserts Home With Guests
Most dinner parties end with leftovers. If your friends work nearby, you can always send them home with the remaining desserts and other foods in small bags or cardboard boxes. They could even match your party's theme or have a message painted across the top. People will love taking a snack home, especially if your food was a big hit.
10. Get Extra Household Supplies
Your guests won't only need something to eat and drink. They'll also need napkins during the meal and a bathroom stocked with toilet paper throughout the night. Get extra household supplies and set everything up before people arrive. Add helpful items to your next grocery list, like:
Toilet paper
Paper towels
Handsoap
If everything's in place before your party starts, you won't need to step away from your guests to get what they need while you're in mid-conversation or sitting down to eat.
Throw a Killer Dinner Party
You're about to become the best host in your friend group now that you've read a few ways to throw a killer dinner party. No matter where you live or what you want to serve, your guests will have a great time because you planned every detail.