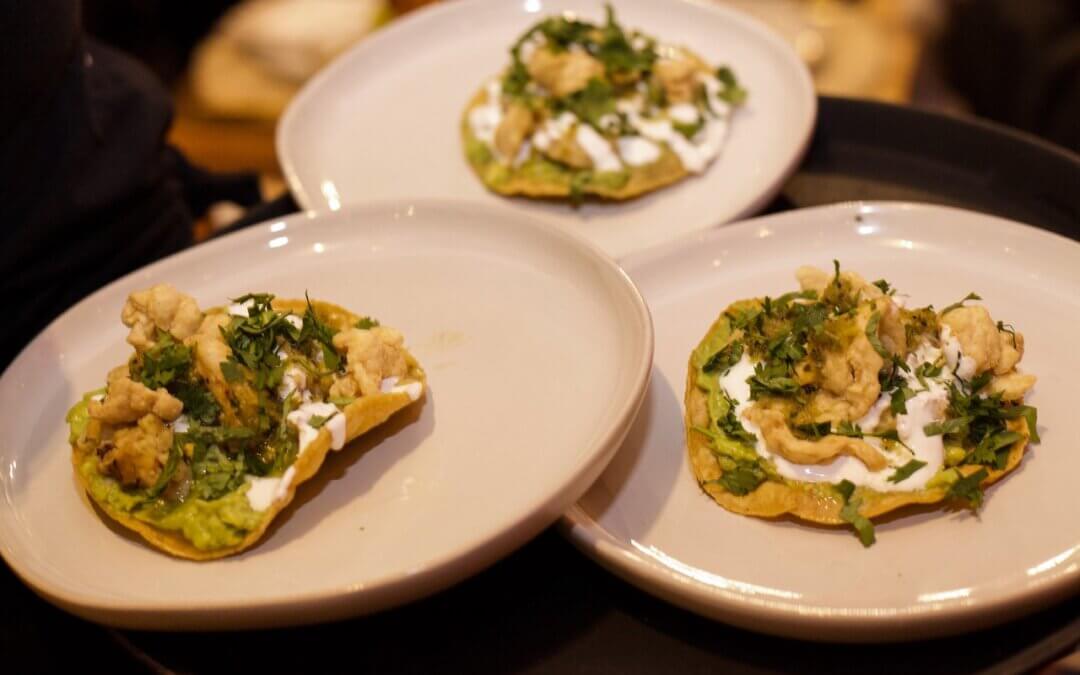 Updated: 12/16/2021 – We had the opportunity to visit the Sherman Oaks location and try out The Outstanding Tostada, along with additional menu items. We have provided insight into our experience at the restaurant, along with the other menu items.
[Contributing Writer: Anthony C. Stafford]
Holiday food bogging you down? Why not treat yourself to something a little less…festive?
The options are limitless, but the perfect opportunity exists, and it's meat-free! Plant-based food company, Outstanding Foods, has teamed up with Los Angeles-based vegan Mexican restaurant, Sugar Taco, to create a limited-edition menu item! Feast your eyes on this: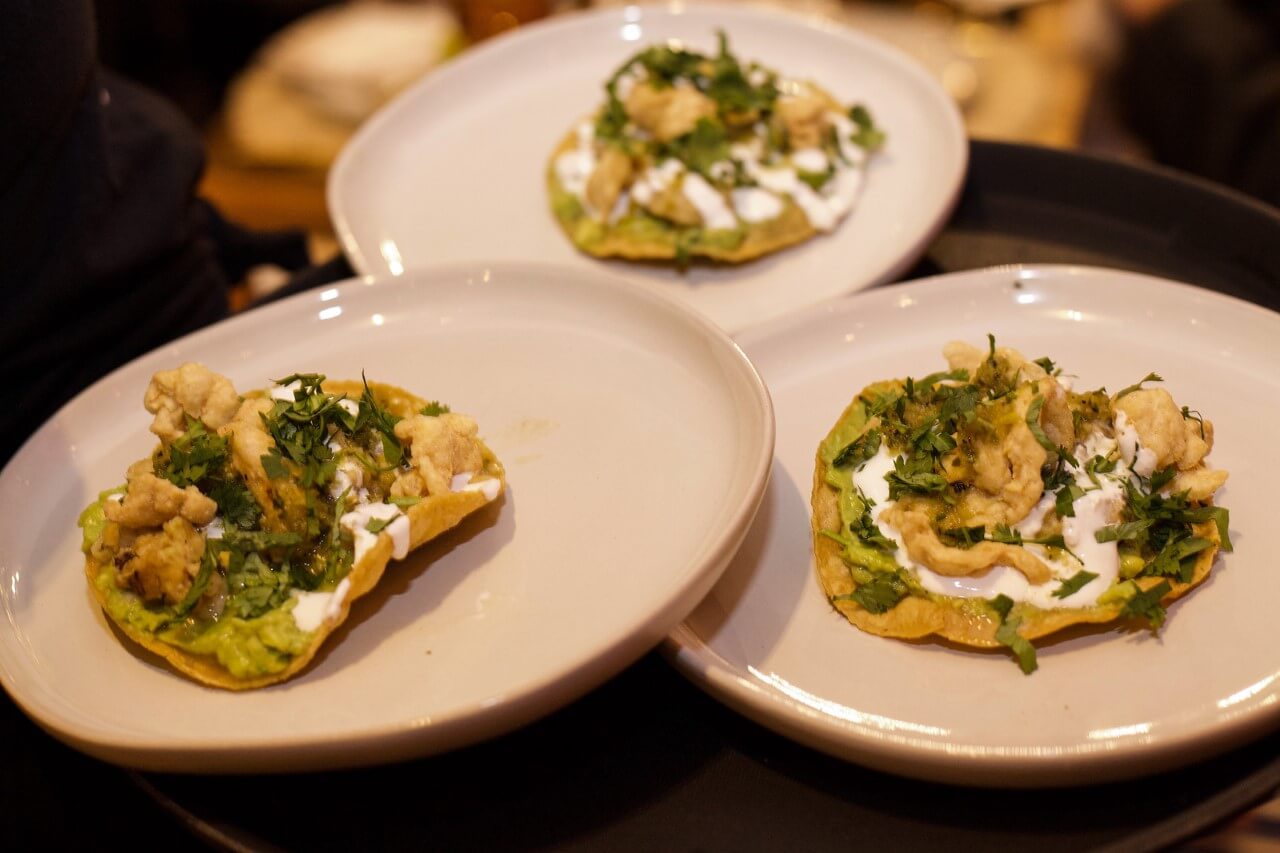 Throughout the month of December, Sugar Taco's menu will have a new plant-based dish highlighting Outstanding Foods' versatility and flavor profile: 
The Outstanding Tostada: a crisp corn tortilla topped with guacamole, chicharrones in salsa verde made with Outstanding Foods PigOut Pigless Pork Rinds & plant-based crema. 
Co-founded and created by Dave Anderson (the genius behind Beyond Burger) and Bill Glaser, Outstanding Foods is revolutionizing the plant-based food space and innovating familiar classics. Their products are flavorful, high in protein and nutrients, sustainable, cruelty-free, and always plant-based!
Better for you, animals, and the world! Name a better combo. In fact, there are some combos completely on par with The Outstanding Tostada, and they're offered by none other than Sugar Taco!
A Sugar Taco Feast
We had the opportunity to stop by Sugar Taco's Sherman Oaks location where we were greeted and treated with warm and festive hospitality and cheer from not just the restaurant staff, but also other patrons who stopped by to give the small restaurant a try. This vegan Mexican hot spot features bright, vibrant and alluring colors with a classic street feel. Chalkboard menus pop off the walls and grab the attention of visitors with their hand-drawn art and ordering options.
With its warm feel, we were seemingly transported to a street scene as we took our seats and noticed a string of lights zig-zagging across the ceiling — accompanied by hanging potted plants, wall planter boxes, and painted cans of colorful flowers beautifying the dining area. The vibrant pops of color continue as a theme throughout the restaurant, and there is even a play area for kids in a corner. The kind owner and chef, Alan, got busy almost immediately after our arrival, creating masterful meals that we were soon to enjoy.
No more than 5 to 10 minutes after taking a seat, we were surprised with the most deceiving quesadilla in existence — tortillas glued together by an ooey, gooey, flavorful cheese made from what's possibly the least expected food out there: chickpeas. Better than a dairy-based quesadilla, this fan favorite comes with house-made creamy (and smoky) chipotle sauce, a peppery red salsa, and a soothing guacamole. What quickly followed this introduction was a plate covered in ten tacos – two of every type – a heaping pile of nachos, and the star of this story, a couple of Outstanding Tostadas!
What do you get when you combine a mountain of chips, meat-less meat, vegan nacho cheese, crema, black beans, and salsa? A full stomach that still has to try out other dishes. All of the dishes following the quesadillas differed in intricate ways, but those were only ways that made each dish shine in its own light. Sure a lot of Mexican cuisine may share the same ingredients, making it incredibly versatile (and similar), but Sugar Taco goes the extra mile so that their tacos and nachos have completely separate flavor profiles and textures.
Each taco allowed its meat-less meat to be the star, whether it was the barbecue-esque pulled pork flavor and texture of the jackfruit taco, or the crispy fried fish appeal of the fried tofu taco. All the while, each star was backed by its toppings, varying from lettuce and tomato to cilantro and house-made sauces. Each offering felt so oddly familiar, yet so different — and in a good way! Finally, the Outstanding Tostada set a stage for both Outstanding Foods and Sugar Taco to put on an incredible tastebud show. Pops of flavor from pig-less chicharrones provided a dynamism that we never thought a tostada needed, and it was a perfect pairing with not just a tortilla delivering the role of crunch and structure.
Smoky, chewy, spicy, or crunchy, Sugar Taco has achieved what some popular high-end vegan restaurants around LA are known for, but at a fraction of the cost for the diner. The best part being that the meals are all vegan, nut-free, and bringing a wide variety of gluten-free options. Stop in while you can, as the collaborative beauty that is the Outstanding Tostada will only be available through the month of December, and we're already halfway done!
About Sugar Taco
At Sugar Taco, we believe great food and great ethics go hand in hand. Our menu stays true to authentic Mexican flavours without any of the icky stuff that comes from animal products (like the deforestation, the heart disease, the killing animals, you know). We are proud tree huggers and we source our produce from local organic farmers.
Sherman Oaks Location:
15025 Ventura Blvd.
Sherman Oaks, CA 91403
West Hollywood Location:
7257 Melrose Ave.
Los Angeles, CA 90046
About Outstanding Foods
People want to eat mindfully but without sacrificing taste or texture. That's why Chef Dave carefully crafts our foods to give you the flavor and crunch you crave, but with tons of nutrition and no animal ingredients! We believe in creating food that is just plain delicious — whether you love "traditional" pork rinds or have never tried them, we know you'll find our PigOut Pigless Pork Rinds to be tasty as hell!