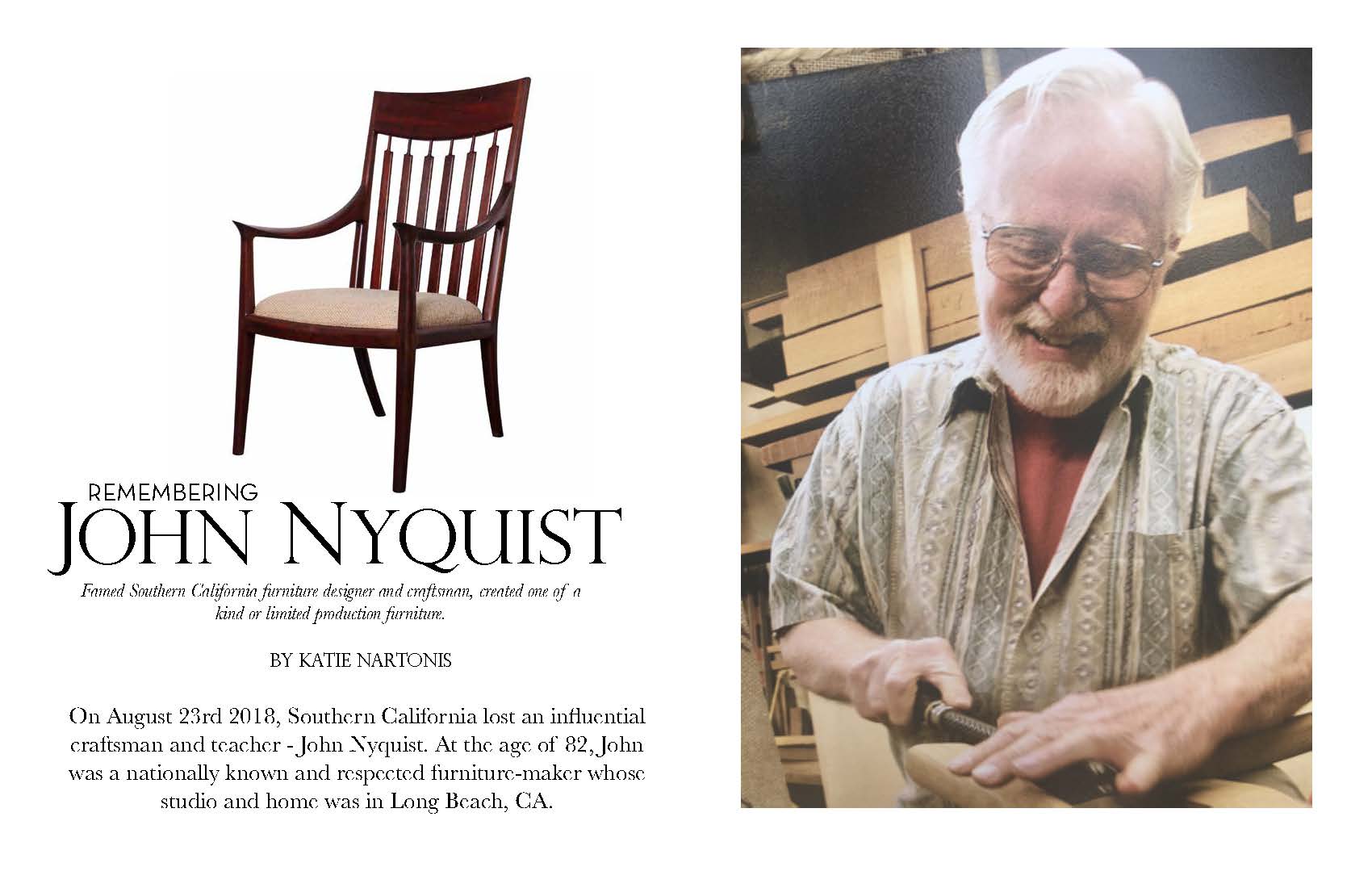 Known for his high level of craftsmanship, John Nyquist worked in exotic woods and created pieces that were impeccably made. He created spindle-back rockers, upholstered lounge chairs, credenza, music stands, free-edge coffee tables, jewelry boxes and dining tables among many other forms. His careful design choices, and his religious attention to the finishing (the polishing, sanding and fine upholstery and leathers) created lusciously tactile pieces that yearned to be touched, and used.
John Nyquist influenced generations with his teaching and his life-long studio practice. He taught at CSLULB and Cerritos College as well as at the Anderson Ranch in Colorado during the Summer. Gerard O'Brien of Los Angeles' Reform Gallery/The Landing handles Nyquists work. O'Brien notes:
"Like many of the makers in the post WW2 era, John will be remembered for mentoring many a woodworker as an educator, and inspiration for making ones way as a craftsman. He was also an incredible draftsman, his line drawings were a work of art in and of themselves."
John Nyquist was born in 1936 in South Dakota and raised in the Black Hills. His father was a physician in the C.C.C. (Civilian Construction Corps). The artist remembered his very cold early years living under the shadow of Mt. Rushmore:
"..we lived in a one room log cabin during that time. No running water and no electricity. The cabin was only a short distance from Mt. Rushmore, which was being constructed while we lived there. As a young child I remember the actual carving of the monument. After WWII, my father returned from the war and we moved to California."
Nyquist met his lovely wife Shirley in Long Beach, when they were both in High School. They were married in 1957 and together they raised 6 beautiful children.
Over the last decade, Nyquist enjoyed a resurgence of interest in the hand-made studio movement of the 20th Century, and John's work has been included nationally for sale in both fine 20th Century Design auctions and high-end design galleries on both coasts. In 2009, Nyquist was honored at Bonhams + Butterfields Auction Company as part of their ongoing Bonhams' Design Lecture Series. Gerard O'Brien of Reform Gallery notes:
'I had the good fortune to handle a number of John's finest commissioned pieces over the years, a true highlight was having his arm chair from CA Design, inspired by Mexican furniture he had seen. John's form and line were his own.'
John Nyquist represents a generation of artists and craftsmen who rejected a 9-5 desk job in order to live a more self-directed and fulfilling life in the arts. In 1976' publication "Craftsman Lifestyle: A Gentle Revolution", Nyquist noted:
"I take sincere pride in my work and confine it to one geographical area. I want to work directly with my clients, and stand behind my work, even after it has left the shop. I think if the individual takes personal responsibility for the attitudes and actions that represent him, he has a more meaningful life."
John simply loved to work and he would get lost in his studio, working for hours and hours in his creative "groove." In 1976 John described his studio time:
"One of the satisfactions of being a craftsman is the sensory pleasure you get from your materials and tools. I guess, when you get down to it, we craftsmen get to a point where there's nothing we want to do as much as our work and then we find it hard to explain."
His family notes that he had no clock or wristwatch in his studio.
"When it's dark, I go home" – John Nyquist
John was laid to rest on Saturday, September 8th at a packed service at St. Bartholomew's Catholic Church in Long Beach. The Nyquist family and close friends gathered at the family home after the funeral for a lively and celebratory reception. There, John's widow Shirley was surrounded by her children and grandchildren. Stories told by his students, children and colleagues remembered him as a dedicated, thoughtful, generous man and a skilled artisan and teacher.
John Nyquist will be missed.
Acknowledged influences on his own work are Shaker furniture, Scandinavian Design of the 1950's and the organic shapes of nature.
A selection of John Nyquist's work offered at Bonhams Auction Co. (Photo: Shirley Nyquist)
Nyquist's work was shown consistently during his lifetime in major exhibitions and shows including the seminal "California Design" exhibitions (1964-1976) at the Pasadena Museum of Art. John maintained a studio practice, and a bevy of faithful private clients who commissioned his work for their homes and offices for over 60 years. In the last decades of his life, he enjoyed a national reputation as part of a small number of noted makers who led the West Coast studio-craft movement.
Katie Nartonis is an Art + Design writer, curator and auction specialist based out of Los Angeles, California and Taos, New Mexico. She is currently co-authoring a book on the seminal San Diego designer/maker, "Jack Rogers Hopkins: California Maverick"(with Co-Writer/Editor Jeffrey Head). She is the founder of The Nartonis Project and is Art + Design Editor of SoCal Magazine. www.thenartonisproject.com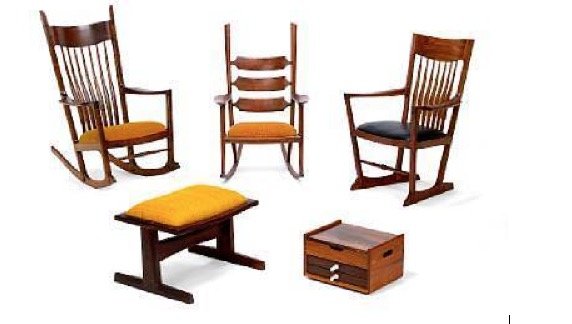 A selection of John Nyquist's work offered at Bonhams Auction Co. (Photo: Shirley Nyquist)