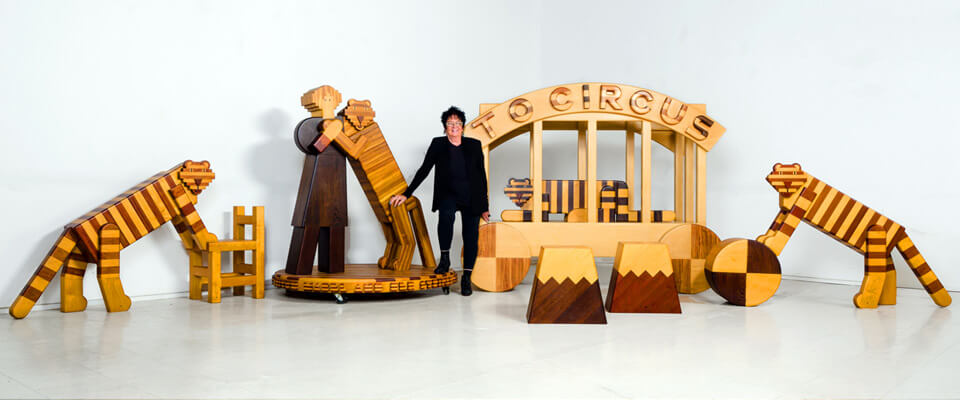 PamelaWeir-Quiton is an influential Los Angeles based woodworker who has been making finely crafted sculptural works since 1965.
Her work has appeared in multiple publications over the years, including the cover of LA Home Magazine, and has been exhibited and collected nationally since the 1960s. She is considered an important part of the West Coast studio movement, and she is one of only a few veteran female artists working with wood. A lover of fashion,she originally planned to be a fashion designer. She has become a 'bandsawfashionista."
Known for her stylized functional doll forms and life-sized 'rocking animals,' Weir-Quiton is currently celebrating her 50th studio year. Championed by thelegendary LA curator, Eudorah Moore, her work was included in the seminal"California Design" exhibits (1964-1976) at the Pasadena Museum which definedthe look of West Coast design for generations.
Weir-Quiton's work is a part of the fabric and history of the LA Design scene. Earlier this fall, a retrospective of her work was held to much acclaim at the Craft in America Center in Hollywood. A recent visit to her West Adams studio revealed how the artist is currently thinking about her work and her legacy.
KN: Your work has largely focused on animal and human figures made of wood. How has your observations of the interaction between man and critter effected your work?
PWQ: You know being in a military family, I would talk to my cats. And later, to my dogs. Being here, working alone in the studio and basically being an outsider, my dogs are more than muses. They are almost human to me.
When I was very young, my father was in the Air Force. My mother and I moved to Indiana to be closer to family. There is a place there, a nature preserve, where we would go for walks. That's where my"nature walk " necklaces come from. (photo)
I have always believed in fairy tales. So my fairy tale is like a kind of Hansel and Gretel, only with a good witch. So in my version of the story, we would gather nuts and things and we would go back to the good witch's cottage where she just happens to have a wood shop, and a drill press. And you drill holes in everything you have found and you string it together!
KN: Is that a view of the creative process as a kind of magic, as alchemy?
PWQ: It is that, I'm not doing it. And, that anyone can tap into this channel!
All that I can say, is that it is intuitive. And now, more so than ever for me. It's really has become crystal clear by thinking about the law of attraction. By asking, how does this make me feel? I've always been able to capture the frame, and hold it, and sketch it. In the new studio (West Adams), I feel even more connections. I'm seeing piles of sacred scrap from older projects, and I'masking "what can I do with this?"
The materials and the tools, nothing else matters. That's who I am. We don't travel. There is nothing else that I want to do. Once I discovered woodworking at the wood shop at Cal State Northridge, there was no turning back, it was100% commitment. It's like an obsession that grabs you by the throat. It's like Colin Kaepernick, the "take a knee guy" – find something you love and if you have to – risk everything. That'show that am.
KN: If you were to go back and tell your 23-year old self something, what would it be?
PWQ: (Laughs) I guess I would tell myself that it always worked out!
You can only have one thought at a time, and the trick is to be able to shift it and focus. That's what coming in, and turning on the lights in the woodshop, does for me. It's vibration, it's frequency, it's energy. The woodshop is my yoga,my meditation – it's everything good.
 I know who I am. It's not an ego thing. I'm not afraid to put myself out there, because I don't feel like I'm pushing myself. It's "come and play with me inthe Universe!"
Katie Nartonis is an Art + Design writer, curator and auction specialist based out of Los Angeles, California and sometimes Taos, New Mexico. Earlier this year she curated "Nature: Human Nature" an art +design show at Loft at Liz's gallery in Los Angeles. She is currently finishing co-writing and publishing a book on the late San Diego designer/maker, "JackRogers Hopkins: California Maverick"(with Co -Writer/Editor Jeffrey Head). Sheis the founder of The Nartonis Project and is Art + Design Editor of SoCalMagazine. www.thenartonisproject.com