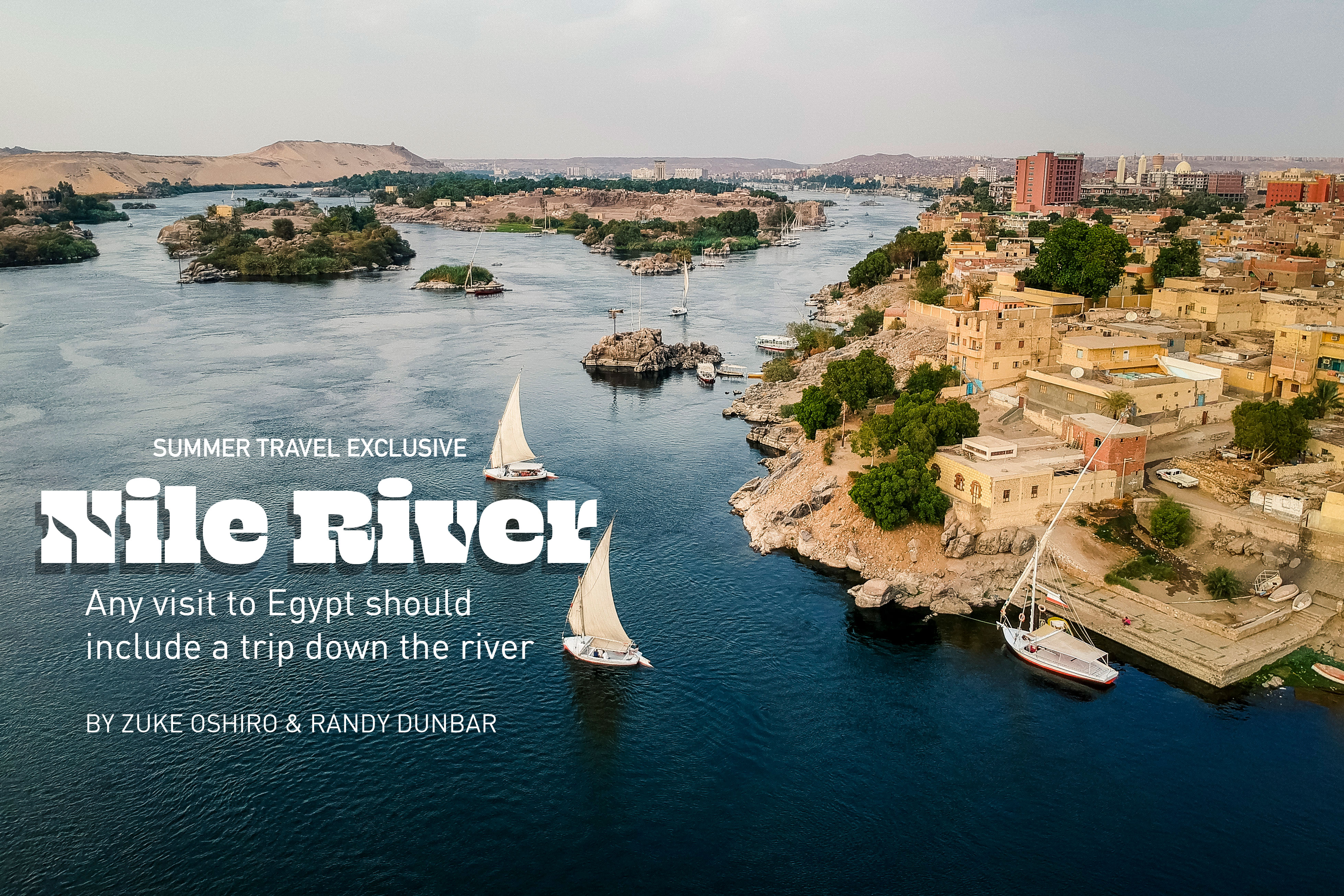 There are many kinds of vacations—the relaxing, island vacation, the adventuruous trip up the mountains of Peru, the majestic splendor of old churches throughout Europe, and then there is the Middle East. A term coined in 1850s by a British India official, it is composed of 18 countries, 60+ languages and nearly four million people. It is the birthplace of most of the world's religions and "has been a major center of world affairs; a strategically, economically, politically, culturally, and religiously sensitive area."
So, let's just say, it's not Hawaii.
There are over 200 Nile cruise ships. Many originate in the small town of Aswan, which is down the Nile. This is where our journey begins—after we leave the hustle of Cairo. To get to Aswan you travel by plane or train—driving is not recommended.
An overnight trip to Aswan by an overnight train is a unique experience. The train station in Cairo grows smaller in the distance as we head south on a 549 mile journey. Waking early morning, a rattling train is now alongside the Nile River; a country with a long history that hasn't seen, in these parts, enormous change: Men still pull carts with cattle, horses carry cane sugar. In one brief moment a dead cow carcass can be seen in a small pond by the side of the road. Time has stood still in these parts.
Aswan is a smaller version of Cairo. To be sure, there is a McDonalds, a Kentucky Fried Chicken, and likely anyday, a Starbucks, but for now, it is a popular city that sits on the Nile, with a substantial amount of river boats.
Aswan is the "Jewel of the Nile". Pink and grey granite thrusts upward through the Nubian sandstone, forming mountains, cliffs and jagged outcrops. While there countless mosques, there is also Archangel Michael's Coptic Orthodox Cathedral—a towering catherdral  in the Coptic architecture — the architecture of the Copts, who form the majority of Christians in Egypt.
Security is a way of life in Egypt. In Cairo and in places like the Coptic Church, security runs high. Armed guards and blockades can be found at many hotels and indeed at this Coptic Church. But retail and restaurants flourish in the city of Aswan—it is only until late one after noon on a Friday that the azan, the call to prayer can be heard by countless speakers throughout the city—these callers, called muezzinine, are a cacophony of  sounds—it becomes a surreal moment in a backstreet hotel as the soundtrack shifts, the sun sets, we are surely not in the West anymore.
"What you can expect from a Nile River cruise is the adventure of a lifetime."
DAY ONE
we board the Santuary IV. The Sanctuary Sun Boat IV is a contemporary chic, sleek boat with heavy art deco influences. There are 36 standard cabins, two presidential suites and two royal suites. We are greeted as enter the plank by the entire staff offering refreshments and introductions. We are divided  into groups and assigned an English-speaking tour guide, who will accompany us to the various temples along the way. Afternoon tea will be served. Everynight an activity is planned—tonight, after a gourmet dinner is served, we watch as traditional fokloric music and a "whirling dervish" perform.
As one look about it becomes clear that this journey invites all kinds of people—local Egytians, A London-based Sufi businessman with his family, and elderly couple from Scotland, a couple from Cape Cod, a Brazilan opera singer and her daughter, and Egyptian family with their California-based son-in-law. The staff is attentive, ocassionaly too attentive, but the dinner, which is buffet-style, is a nice start to the this ride up the Nile.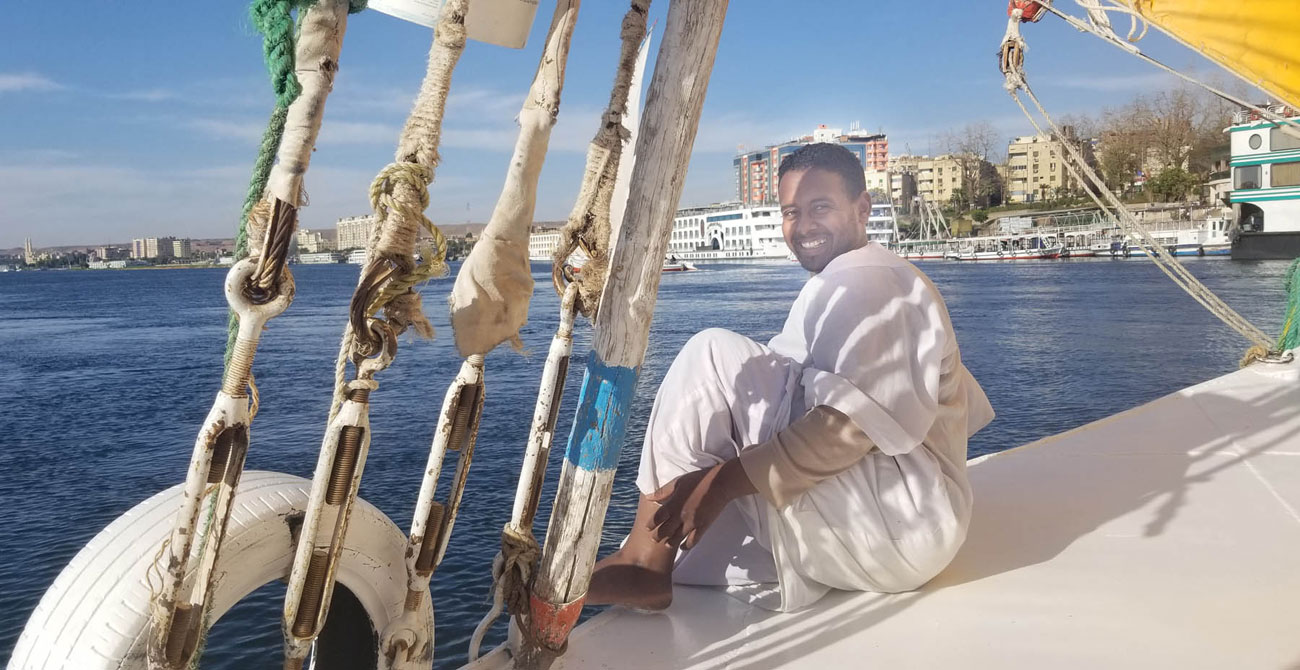 A felucca is a traditional wooden sailing boat used in protected waters of Egypt. Its rig consists of one or two lateen sails.
Photographed by Zuke Oshiro

DAY TWO a large buffet breakfast is served each morning. Groups gather on the first deck and we head out for adventure.  We journey to the majestic Philae Temple on the Island of Agilika. We begin to make friends with some Egytian locals and their California-based relatives. The temples are surreal. Over three thousand years old, the preservation is impressive. We are to dress like and Egyptians for a post-dinner party. We bargain with the locals to buy a "galabeyya", the traditional Egyptian outfit. Each night, at dinner you are seated in the same place. We are seated next to a Brazilian opera singer and her daughter. The after-dinner party is a chance for everyone to mingle and dance into the wee Egyptian hours. This is the requisite fun of travelling by boat—it's a small party, you get to know everyone, and their stories.
DAY THREE
we set off the visit the Temple of Horus. We begin to understand some aspects of the Egyptian pharoah culture. The mythology is deeply complex. For example Horus, is the sky god and there are two, Horus the Younger and Horus Elder. There is a surprising lack of sexuality in these temples, and everyone is quite fit. The drawings are impeccable and rarely vary in form.
We head to The Temple of Esna. The Temple of Esna, which was buried beneath its own debris for many centuries, is located in the center of the town, close to the River Nile and only a short walk from your boat through the local market. We are given passage by way of carriage. The remains of the Temple contain a hall of columns with 24 pillars beautifully decorated with lotus and palm capitals. Also notable is that while looking up, astrological symbols can be seen, 12 of them.
To suggest that it is overwhelming is an understatement. One has to pinch themselves to remind themselves of the reality—you are in Egypt, in the MIddle East and these are the temples that Hollywood has been in love with for so long.
So that evening, as entertainment, they have set up a projector to show the 1978 film, "Death on the Nile". This version features Peter Ustinov as Hercule Poirot, the famous Belgian sleuth. Actually filmed along the same route we are on, this two hour and twenty minute film runs late into the Egyptian night—we all retire early for our last day.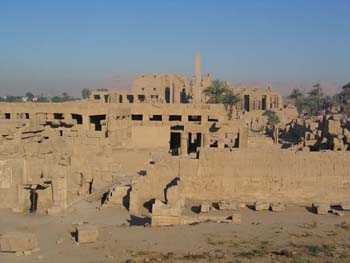 DAY FOUR
The east and west banks of Luxor. This is the big one, the grandaddy of temples. We're suddenly seeing more people at these temples.  First stop, Temple of Luxor, dedicated to the god Amun. We have had a change in our tour guide! The people in our group requested a new guide. Welcome Medhat, looking like something out of a central casting for Indiana Jones, he is informative and affable. We move onto the Temple of Karnak.
After lunch, visit the Valley of the Kings or
The Great and Majestic Necropolis of the Millions of Years of the Pharaoh, Life, Strength, Health in The West of Thebes, as it was once known.
We will have the chance to visit at least one tomb in the Valley of the Queens, and visit the Temple of Queen Hatshepsut. On the way back to the river Nile, you will pass by the famed Colossi of Memnon, known in Ancient Greek times for their haunting voices at dawn.
It's over.
We arrive at our final moments on board the Santuary IV — saying goodby the ship is abuzz with activity. Rooms are quickly seen to. We head to the Luxor airport to head back to Cairo. We have made friends. We travel over vast stretches of desert, broken by the sudden appearance of a great lake, which seems to run for miles. We are back in Cairo for 12 hours.
There was something about this trip, that for the well-worn traveler speaks to that ocassional need for danger—not physical danger, but to be somewhere where your native language is foreign, the landscape, the people, the culture is vastly different than anything previously experienced. Bali was one of those places, The Maldives certainly. Cairo, Aswan, Luxor, all spoke to a distance of things known, flavors never tasted, history seen in terms of thousands instead of hundreds. Dangerous? Sure—you're in the Middle East—you cannot get to Israel easily from Egypt though it is under 500 miles away. But it's Egypt, it's Cairo. It's the Pyramids! It's everything you ever imagined and more. To be sure, there was a moment, leaving the hustle of Cairo in a taxi and the Pyramids suddenlhy appear in the distance—it's a moment. Crusing up the Nile via a five star luxury boat, that too, was many moments.