Updated 12/13/2019: This list has been updated to include more options for adults.
Adults
FOOD & BEVERAGE
PRODUCT: Custom Furniture Line by Klein Agency 
ABOUT: Design mavens who've coveted the furniture at auburn since the LA restaurant opened doors in March can now recreate the look in their own homes, making them the perfect high-end gift for the holiday season. The bespoke items, made special for Chef Eric Bost by Masa and Jon Kleinhample of Klein Agency, are now available for sale as part of the latest collection of Klein Home. The recently launched line (which also features a custom piece made for another LA restaurant newcomer Bon Temps) includes such eye-catching high design elements as the white oak dining room tables and chairs, to the raw leather lounge chairs and stools that fill auburn's well-appointed bar area. Each piece of the new collection is hand-fabricated by Klein's team of craftsmen within 15 miles of their downtown LA studio. 
PRICE: Varies
PURCHASING DETAILS: http://www.klein.agency/shop
FOOD & BEVERAGE
PRODUCT: Coffee Club Subscription
ABOUT: As part of their new coffee club subscription service, LA's own coffee brand Go Get Em Tiger is offering up the option to gift a subscription of bags of their house roasted beans in either single origin, Minor Monuments espresso, or dark filter options. The bags are shipped every two weeks on a rotating basis and can be gifted anywhere from two to twenty-six deliveries.
PRICE: 
Single origin (rotating): $38 – $432

Minor Monuments (espresso): $35 – $402

Dark filter (rotating): $38 – $432
PURCHASING DETAILS: https://gget.com/gifts
CLOTHING
PRODUCT: In-house designed merchandise 
ABOUT: Go Get Em Tiger's in-house design team creates limited edition merch that is released on a quarterly basis for purchase online and in the shops. Get their signature "Roasted in LA" tee or one of their many artist collab products like the playful GGET x Clay Hickson mug as the perfect holiday gift for friends and family.
PRICE: Varies
PURCHASING DETAILS: https://gget.com/things
FOOD & BEVERAGE
PRODUCT: Ludlow Red expertly blends blackberry, violet, black pepper, dandelion, and fig vinegar for a dark and silky sip with your evening meal. 
ABOUT: Proteau is a new non-alcoholic botanical aperitif created by John deBary, the former Bar Director for the Momofuku restaurant group, and former bartender for the celebrated neo-speakeasy PDT (Please Don't Tell). After years of working in some of the world's most renowned bars and restaurants, John challenged himself to create a non-alcoholic drink that had the same level of culinary intrigue as those with alcohol. Based on his years of research into spirits, amaros, and fortified wines, John scoured NYC's markets and spent months developing recipes. From this comes Proteau, a harmonic convergence of terrestrial botanicals from all over the globe that present a balanced arrangement of bitter, floral, and fruit notes with every sip. 
PRICE: $70 for limited edition 2-pack (includes tax & shipping)
PURCHASING DETAILS: Available online
ENTERTAINMENT
PRODUCT: The Spare Room Mad Libs
ABOUT:  Iconic LA bar and game parlor The Spare Room at the Hollywood Roosevelt Hotel teamed up with Mad Libs to create their own funny and entertaining game book, available for purchase at the bar and online. This collaboration, which features a sleek leather-bound design and an undeniable bout of childhood nostalgia, is sure to be the highlight of holiday gatherings this year.
PRICE: $10
PURCHASING DETAILS: Available for purchase at the bar and online at spareroomhollywood.com
RECREATION
CANNABIS
PRODUCT: Effect Pens (Rest, Delight, Spark, Soothe)
ABOUT: In April, Sunday Goods introduced its oblong disposable effect pens boasting a refined metal finish that were custom-designed by Pattern (formerly Gin Lane) and are available in four different effects: Rest, Delight, Spark, or Soothe. Each has been expertly formulated with the right balance of THC, CBD, CBN, natural terpenes, flavors and aromatherapy to create the desired effect and curated cannabis experience. 
PRICE: $60
PURCHASING DETAILS: Available in select dispensaries in Northern and Southern California; find a store here
Kids
The holiday season is officially upon us, and understandably, many of us need help determining the right gifts for our loved ones. Luckily, there are a variety of offerings from MGA, the makers of the hottest holiday toys;  including L.O.L. Surprise, Poopsie Slime Surprise, Rainbow Surprise, Little Tikes and more. L.O.L. Surprise and Poopsie have already been named as the hottest toys of the season by Target, Kmart, Amazon, and Walmart. Your toy guide for the 2019 Holiday Season is below.
L.O.L. SURPRISE
(

NEW) L.O.L. Surprise 2-in-1 Glamper Fashion Camper
Ages: 6+
Price: $99.99
Description: The 2-in-1 Glamper includes 55+ surprises to unbox, 10+ hangout areas and an exclusive doll. The front detaches to become a separate car with D.J. booth, working headlights, and horn. The back opens up to 2 feet tall by 3 feet wide for the full glam life experience. Dolls can get the L.O.L. Surprise! party going by sliding down the 2-story slide, swimming in the light-up pool, then getting ready for their star moment at the vanity before strutting their stuff on the fashion runway. The 2-in-1 Glamper fits L.O.L. Surprise! dolls of all sizes and includes lights and sounds that really work!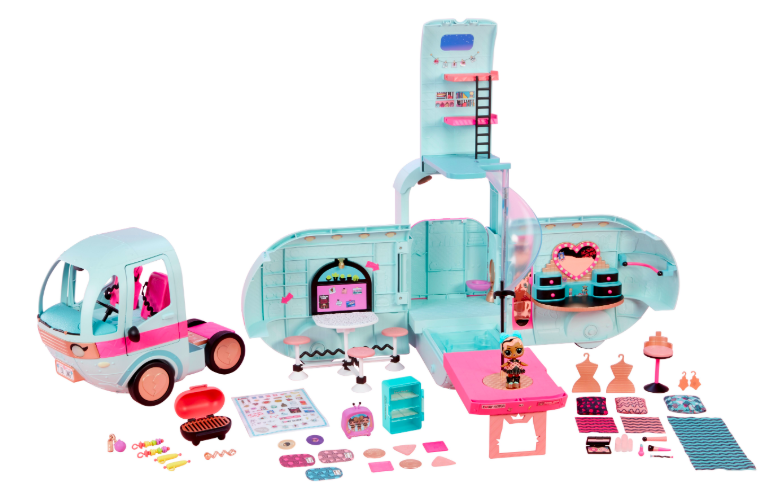 (NEW) L.O.L. Surprise Winter Disco Chalet
Ages: 6+
Price: $249.99
Description: The L.O.L. Surprise! Chalet has 3 stories and 6 rooms, and includes a light-up ice skating rink, working ski lift, a chimney that really snows, and it fits both L.O.L. Surprise! and O.M.G. dolls! Use the included 15 ft. of lights to decorate the Chalet and make it glow. Freeze water on the real ice-skating rink, slide down the slide into the hot tub or take a ride on the real working ski lift!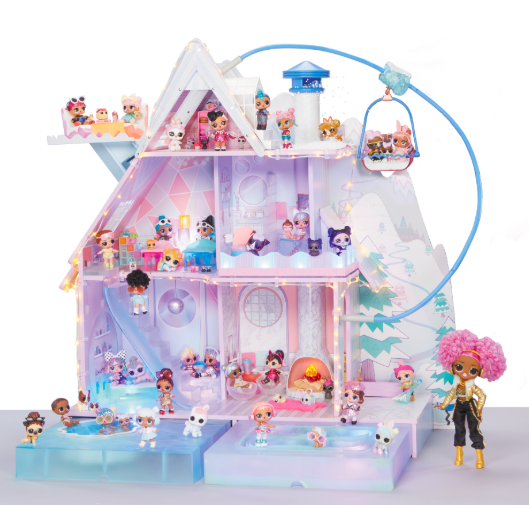 POOPSIE SLIME SURPRISE
(NEW) Poopsie Claw Machine
Ages: 6+
Price: $49.99
Description: The Poopsie Claw Machine really works! Three directional joysticks can be used to move the claw to collect surprises. Unbox six included surprises–2 Cutie Tooties characters and 4 D.I.Y. slime packets. The Poopsie Claw Machine also includes lights, music andother arcade sounds. Refill the Poopsie Claw Machine with your own surprises to play again and again.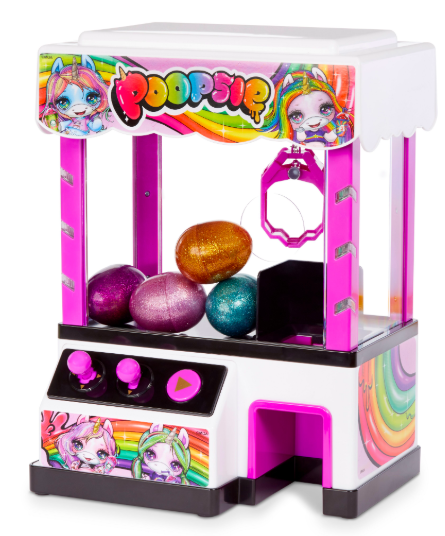 (NEW) Poopsie Slime Surprise
Ages: 6+
Price: $9.99
Description: Make your own magical unicorn slime with Poopsie Slime Surprise! Each magical package includes 10 magical surprises, including the ingredients for surprise unicorn slime! With water, a little unicorn magic and some sparkle, you can customize unicorn slime and transform it multiple times! And now, each package includes gold foil, so you can make slime sparkle and shine! Add surprise scent to make slime smell fabulous.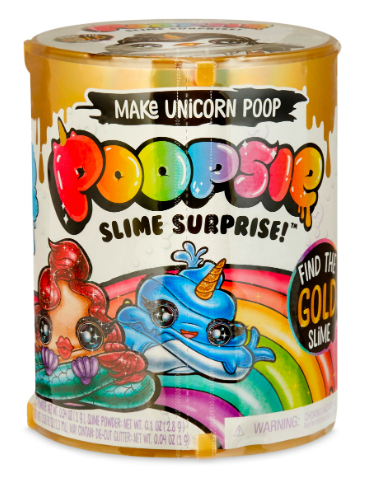 RAINBOW SURPRISE
(NEW) Rainbow Surprise Girls
Ages: 6+
Price: $54.99
Description: Make D.I.Y. slime fashions with Rainbow Surprise by Poopsie! Unbox 20+ surprises including a gorgeous 14″ doll with stunning features and beautiful, brush-able hair. Will you get Rainbow Dream, AmethystRae, Blue Skye or Pixie Rose? Unroll the package for the longest unboxing experience ever. Inside, find D.I.Y. slime powders and fabulous fashions with clear details, ready for a rainbow slime surprise!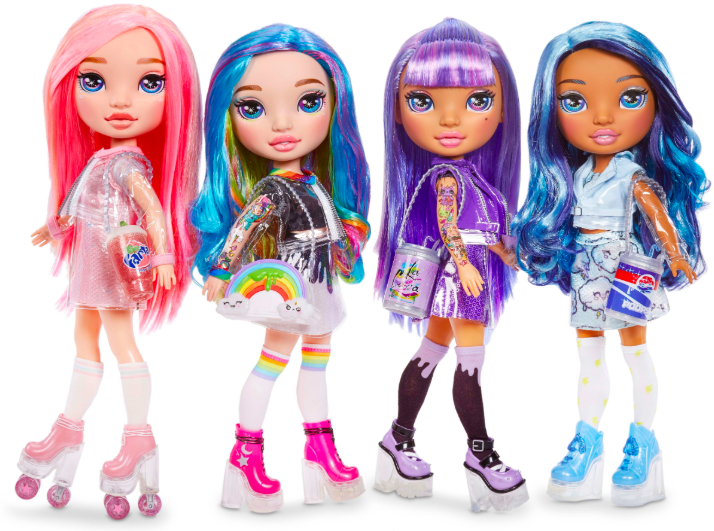 LITTLE TIKES
(NEW) Little Baby Bum Sing-Along Piano
Ages: 2+
Price: $49.99
Description: Kids can sing, dance, and rock out with the Little Baby Bum Sing-Along Piano. The Sing-Along Piano plays all of kids favorite Little Baby Bum nursery rhymes, and they can play along with the interactive piano and real working microphone! There are four unique play modes for kids to choose from! Kids can even speed up, slow down, or add to the music by bouncing on the interactive seat.
(NEW) Tasty Jr. Bake 'n Share Kitchen
Ages: 2+
Price: $99.99
Description: Bring home all the amazing fun of Tasty recipe videos with the Little Tikes Tasty Jr. Bake 'n Share Kitchen. The play-set has 2 grow-with-me modes: starts wide for younger kids and adjusts to a higher countertop for preschoolers. Features a built-in smart phone holder so kids can snap & share their creations. There are 40+ pieces of play food and accessories included, and three exclusive pretend play recipes based on your favorite Tasty videos!