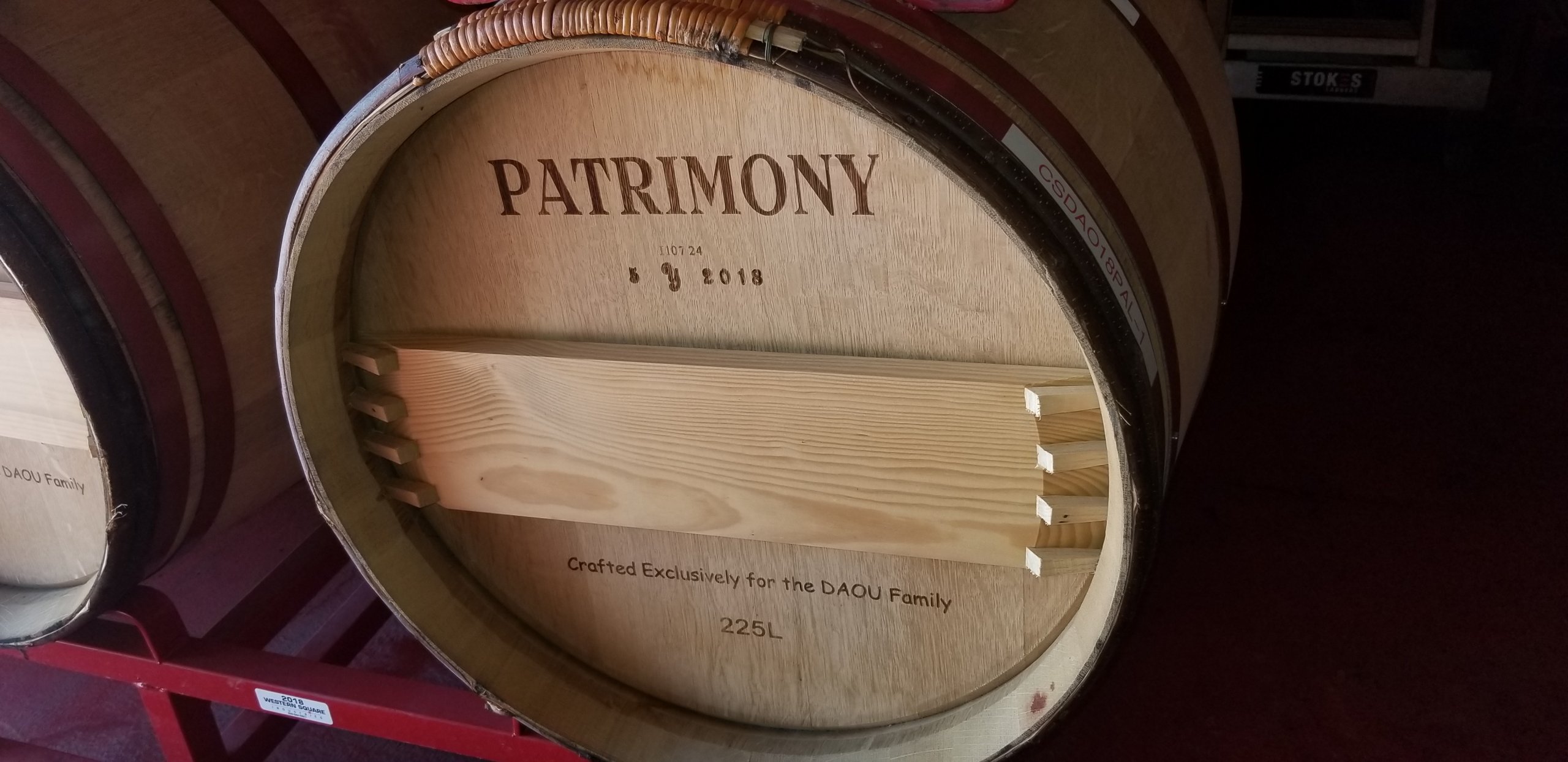 The road to SoCal's local wine country is the El Camino Real, or Highway 101. Located 219 miles from Los Angeles,  Paso Robles is precisely the halfway point between Los Angeles and San Francisco. Paso Robles used to be a dusty pioneer town famous for its almonds, but that has all changed. A burgeoning wine country, it is home to over 200 wineries, 40,000 vineyard acres and many winegrape varieties, but primarily Cabernet Sauvignon, Merlot, Zinfandel, Syrah, and Chardonnay. It is that rare combination of warm days and cool evenings that helps produce these wines. It should also be noted that the town El Paso de Robles (which means Pass of the oak trees) was co-founded by Kentucky outlaws Frank and Jesse James' uncle Drury around 1869.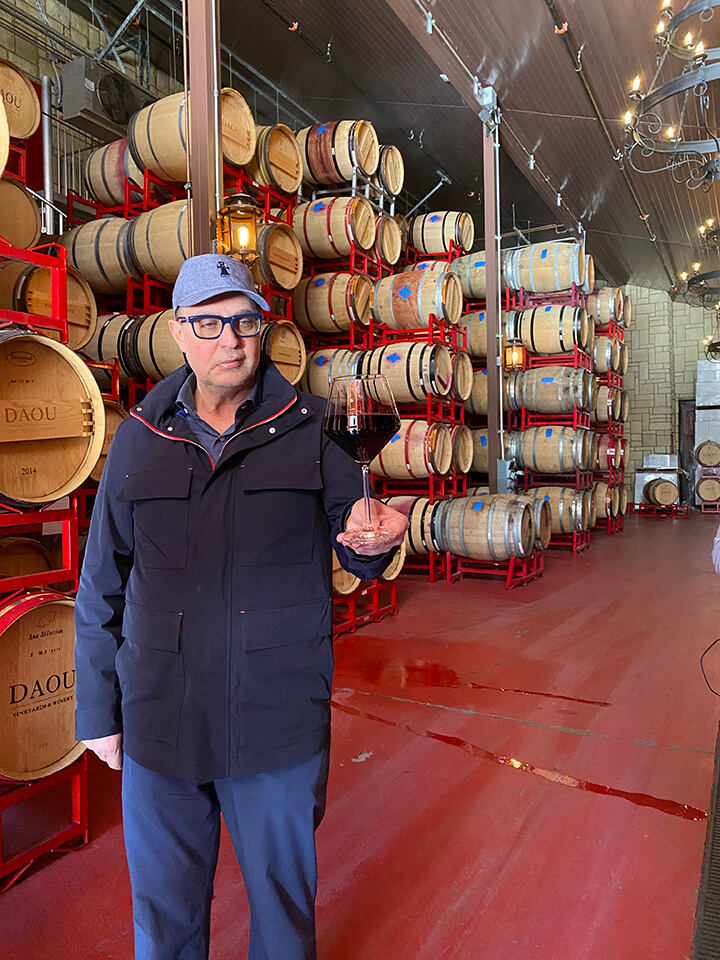 One of the finest among them is the family owned Daou Winery in the Adelaida District. The Daou brothers, Georges and Daniel started the winery in 2007, moving their life and fortune from San Diego to Paso Robles. The Daou Winery is beautifully set in the mountains at an altitude of 2,200 feet; rich with rolling hills, a faint hint of the Pacific 14 miles away, the winery enjoys some of the best climate and soil (calcareous clay) to produce a great Cabernet Sauvignon.
We meet Daniel Daou, a man passionate about his winery and wine. In fact, there are moments where is he so engaged in the science of winemaking you too want to live this life of juice, soil, rain, air, wood and glass. It becomes clear that winemaking is indeed a science as well as passion—so many elements must come together perfectly to produce a good harvest, a good year, a good wine.
Georges and Daniel Daou hail from Lebanon, by way of France. Their father, Joseph Daou, grew up in Beirut, in a modest, urban family. Joseph was 10 years old before his father, who grew up an orphan, was able to buy the family's first bed. The prevailing culture of Joseph's youth was one of genteel French colonialism—Lebanon having only gained its independence from France in 1943. In time, Joseph became a successful businessman, and Beirut would become known as "the Paris of the Middle East."
Remarkably, the greatness of DAOU Mountain was foretold 40 years earlier when the property, then known as Hoffman Mountain Ranch, was hailed by California winemaking legend André Tchelistcheff as "a jewel of ecological elements."
The mountain was first planted to grapes in the early 1960s by Dr. Stanley Hoffman and his wife Terry. To test his faith in the Adelaida District, Dr. Hoffman enlisted the input of Tchelistcheff, who was California's foremost winemaking authority at the time.
Tchelistcheff was impressed with what he saw, and his seal of approval gave Dr. Hoffman further confidence to go forward. Hoffman Mountain Ranch released its first wine—a Cabernet Sauvignon—in 1972.
Dr. Hoffman was nothing if not ahead of his time, and that was ultimately the winery's undoing. The market for his Paso Robles wines was outpaced by costs of running the winery, and he was forced to sell the winery in 1981. The land's potential would remain untapped for more than two decades to follow.
As Dr. Hoffman once recalled about his first years in Paso Robles, "There were some Zinfandel growers in Paso, but nobody that I know of who wanted to grow French varietals like I did. We were the first. People were not encouraging. They said we were crazy."
Fatefully, Georges and Daniel were met with similar skepticism when they arrived here with their stated intent to produce wines rivaling the world's greatest.
Five years after acquiring the mountain and planting their vineyard, the Daou brothers were presented with an opportunity to purchase the adjacent property that included the old Hoffman Mountain Ranch winery facility. Their architect recommended that they raze the building and start over, but their respect for Dr. Hoffman's legacy was too great. They decided to restore the building instead.
A year later, they held a ribbon cutting with two very special guests of honor: Stanley and Terry Hoffman. As one observer of that day wrote, "It's not always easy to go home, especially if there are some broken dreams involved. But dreams delayed are not always dreams denied and sometimes you just have to wait awhile to see the work you started come to fruition."
These and other stories are related with a quiet satisfaction that they did indeed take these mountains and produce some of the finest wines in the region.
WE'RE GOING TO A PARTY
After the winery tour we were invited to lunch at the winery restaurant. Cody Thomasson, Estate Chef, DAOU Family Estates serves a table of distinctly Lebanese fare—kabobs, mezze (Hummus, Muhammara, Bali Butternut, Castelvetrano Olive Tapenade, Spicy Whipped Feta, Tzatziki, Garlic Toum, Lime Zested Medjool Dates, Almonds & Pita Bread), an offering of cheese and charcuterie, lamb chops and of course the perfect sampling of wine, direct from the barrels. If you have never had wine from a barrel, it is a tasteful experience to be enjoyed in the cooler room temperatures—even the Cabernet is cool, and Daniel admits to liking his wine slightly on the cooler side. Indeed.
Later that night, a party, a soiree has been organized at the winery— This will be the 8th iteration of DAOU'S flagship Cabernet Sauvignon, Soul of a Lion. A wine that represents the family patriarch, Joseph Daou and the lessons of persistence, passion and courage he instilled in his sons during their childhood. Food, wine, friends and music, this is a night of celebration for the 8th reiteration of the wine. The music is Lebanese, the food is a mix of Middle eastern fruits, vegetables and lamb chops. The wine is DAOU, both  Soul of the Lion and other varieties—all incredible! We are atop a hill in the middle of Pasa Robles, so when we spot Twilight actor Taylor Lautner, it is a surprise. This of course, leads to a mental discussion about the nature of celebrity: you cannot go anywhere without people talking about you, circling about to attempt a hello, you are judged. As the night progresses, everyone gets to meet Taylor and he turns about to be exceptionally sweet about it. He ultimately joins his friends and everyone on the dance floor for the last dance song of the night (see video below).
Random Thoughts: winemaking is a business and a science—at times Daniel delved so deeply into soil texture, climate and the conditions needed to produce a great varietal. There is a quiet competition between Napa and Pasa Robles although the current notion is to keep PR as rural as it can remain despite the blossoming wine trade taking place. Asked where the next wine making region might be, all answered, Livermore, CA. People who work in the wine industry seem to genuinely enjoy it. Maeve Pesquera, Senior Vice President, DAOU Family Estates has likely told her story countless times, but it is clearly evident that she enjoys her job—and why not? Daniel Daou sports the best Prada shoes we have ever seen.
DAOU VINEYARDS + WINERY | PASO ROBLES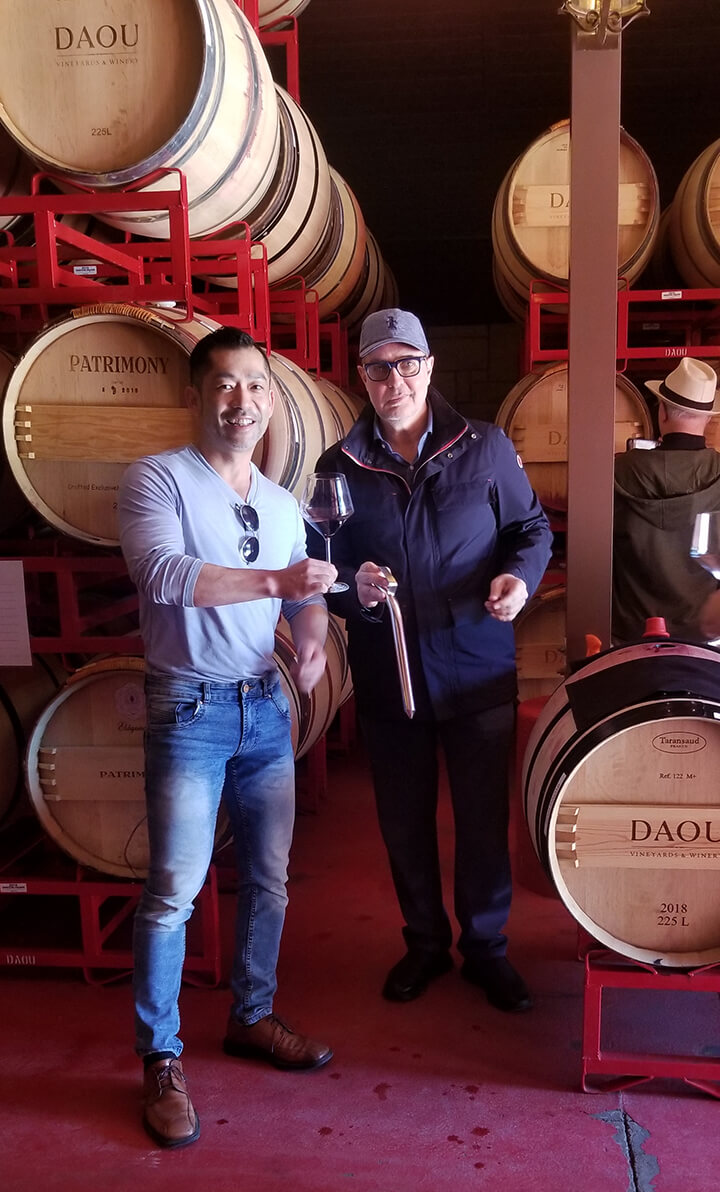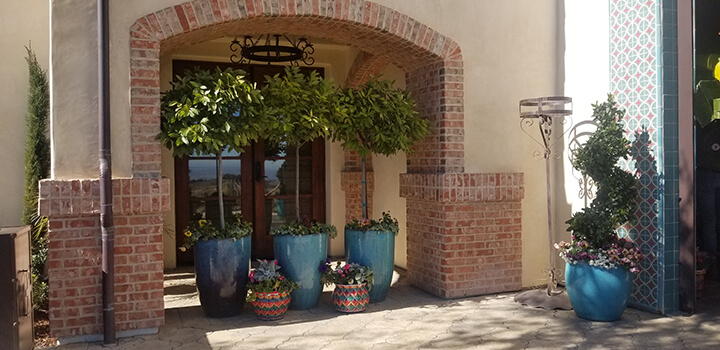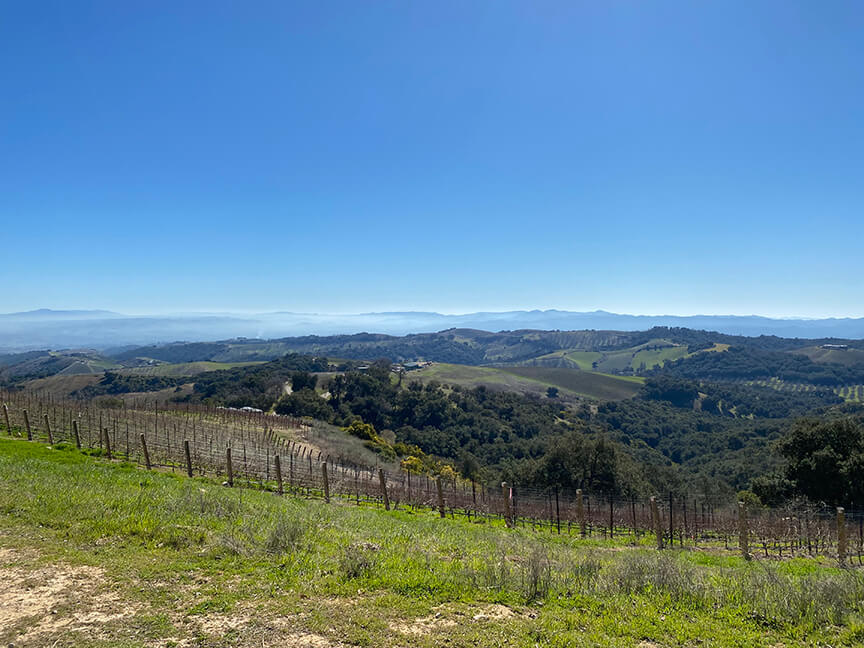 Left to right: Daniel offers Zuke Oshiro some wine from the barrel; entrance to the winery restaurant; the spectacular view looking west from the winery; the kabobs have been served.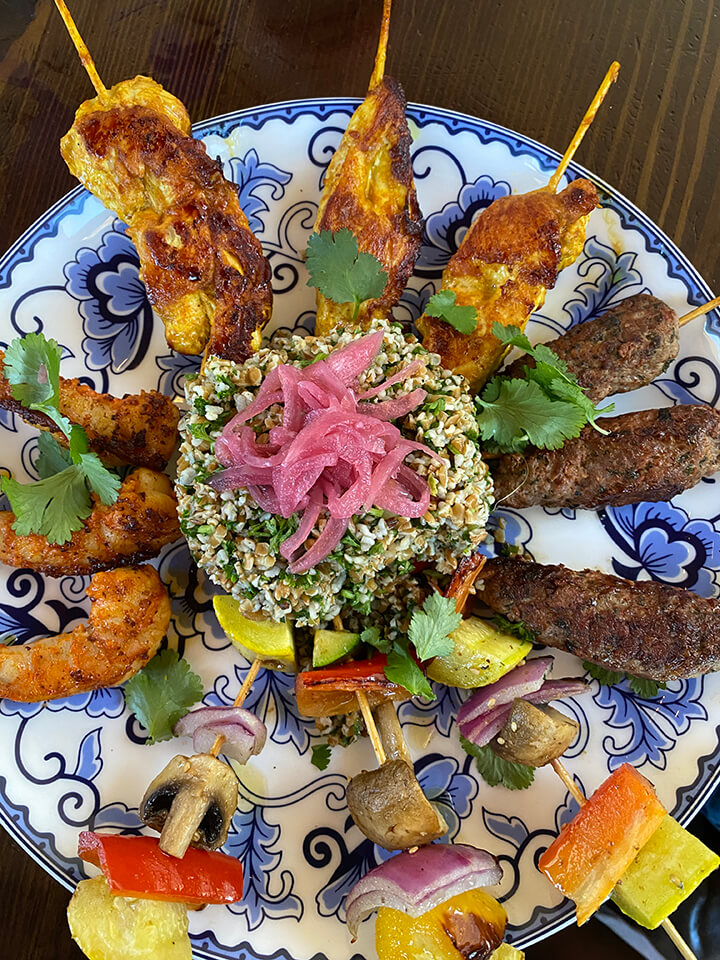 THE SOUL OF A LION
THE WINE | Soul of a Lion is DAOU's crown jewel, named after the father of Georges and Daniel Daou. The 2017 vintage displays richness, elegance and balance—the hallmarks of a superb growing season that allowed for extended ripening. A deep, complex bouquet reveals notes of cassis, black currant, licorice, incense, ripe plum and vanilla. The palate is full-bodied, layered and complex, while smooth, silky tannins lead to a persistent finish. It is impossible to drink this wine without respecting the great structure that will allow it to evolve nicely for years to come. In short, this is a blockbuster vintage that showcases the innate power of DAOU Mountain.
THE VINTAGE | The 2017 growing season was preceded by one of the wettest winters in recent memory, with nearly 35 inches of rain recorded on DAOU Mountain. The vines were energized by the much-needed moisture, setting one of our best crops yet. The weather remained steady from spring through mid-summer. However, a heat wave descended upon California during the third week of August. Many vintners chose to harvest immediately, but we made the brave decision to allow the fruit to hang. As we suspected, a cooling trend snapped the heat wave ensuring that the fruit achieved optimal ripeness. The result was our latest harvest ever on the mountain, reaching all the way into the third week of October. The long hang time yielded the deepest color and concentration we have seen from our estate. The tannins are silky and beautifully integrated. We feel that the 2017 wines will rival the best ever from DAOU Mountain.
DAOU VINEYARDS & WINERY | Family owned and operated, DAOU Vineyards & Winery is committed to producing collectible, world-class wines to rival the most respected appellations in the world. DAOU Mountain's combination of remarkable geology, microclimate, a 2,200-foot elevation, and steep slopes gives it a terroir described as "a jewel of ecological elements." As stewards of this beautiful terroir, our goal is to make fine wines that honestly and accurately reflect the potential of the estate.
VARIETALS | 79 % Cabernet Sauvignon, 14% Cabernet Franc, 9% Petit Verdot BARREL AGING | 22 months in 100% new French oak ALCOHOL | 14.7%
Wine Education
There's more to wine than just drinking it—here are some interesting facts:
A single bottle contains:
750 ml of wine which is 25.6 ounces made from 2.4 pounds of grapes (39.0 oz) and is enough for four to five glasses.
A case of wine is a dozen 750 ml bottles or 307.2 ounces total, which comes from 30 pounds of grapes.
One standard oak barrel of wine holds 295 bottles of wine (or 59 glasses) made from 740 pounds of grapes which works out to approximately to 24 cases wine.
An acre of vineyard land can give the grower five tons of grapes (greatly depending on variety, farming practices and location) which will give you 797 gallons of juice or thirteen and half barrels, which is close to four thousand bottles of wine.