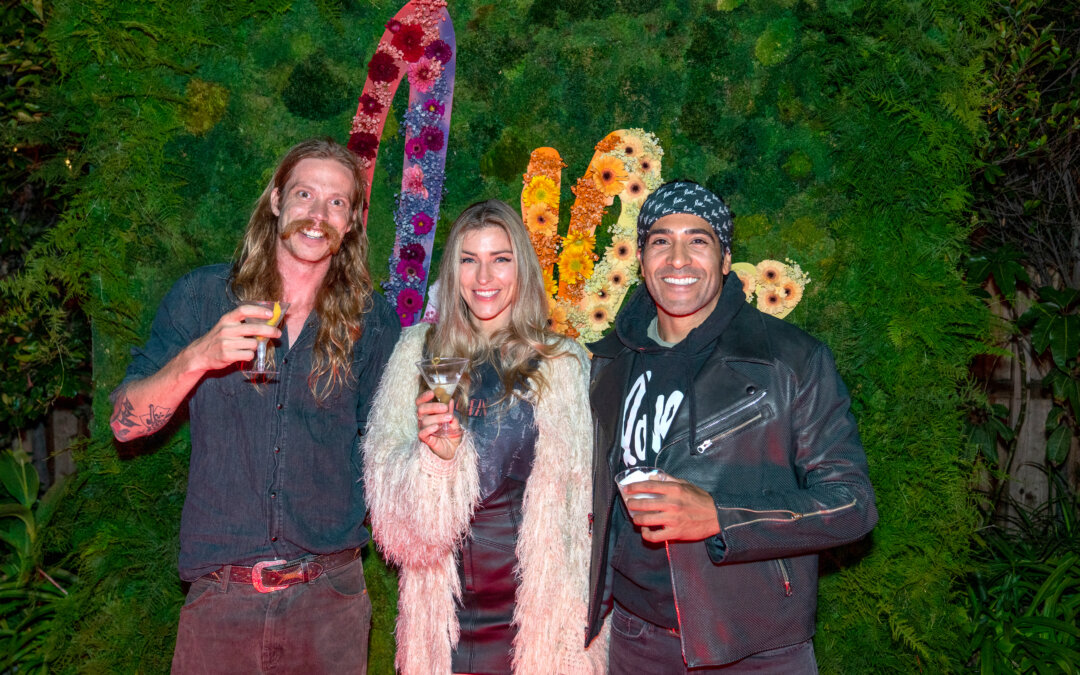 All You Need Is Los Angeles! Celebrate Local Brands and Show Love for Our City Post-Pandemic.
Presented by the newly renovated & reopened iconic Venice Beach House
On October 14th, the iconic Venice Beach House celebrated it's post-pandemic reopening and renovation by hosting "All You Need is Los Angeles" an event created by Press Pass LA's PR division to celebrate local brands and founders who are bringing back business and culture to our great city!
Guests had the chance to meet the tastemakers behind the revitalization of Los Angeles and mingle with industry professionals including executives in attendance from Netflix, Tik Tok, Capital Records, Interscope Records, Forever 21, AEG and more.
The VIP opening night of the newly renovated Venice Beach House featured brands including Kurvana, luxury cannabis products;  Naked Species, clothing brand by model Joy Corrigan supporting Wild Life Tomorrow Fund to help end animal extinction; Our/Los Angeles vodka, distilled in the arts district of downtown Los Angeles; Smile Natural Products, personalized oral care and vegan lifestyle products; Art Botanica, moss art by local artist Kelley Anderson; and Ruben, iconic art and streetwear brand by artist Ruben Rojas.
Billed as a night of "Food, Weed, Vodka, and Art" the more than 300 guests enjoyed delicious plates from Green Olive Food Truck known for their local Mediterranean cuisine with a menu that featured hummus and pita, greek salad, greek potatoes, chicken skewers, gyro, falafel and more.
Kurvana
 features samples of their cannabis products including vape pens and tinctures, as well as offered custom engraving on their hardware. 
Naked Species
 gifted guests with T-shirts, bathing suits, bracelets and more from their new Funghi line.
The sponsored bar featured a martini tasting cart from 
Our/Los Angeles
plus curated cocktails, as well as highlighted their recent collaboration with local artist Ruben Rojas on a custom bottle. In addition, 
Better Booch
 kombucha was on hand to satisfy your tastebuds providing non-alcoholic beverages to attendees.
Ruben Rojas
 also showcased his signature art and sculptures on the property and his fashion line Ruben featuring his "love" hoodies.  
Kelley Anderson
of Art Botanica, known for moss art, created a custom step & repeat for guests to capture their most Instagrammable moments!
Smile Natural Products
was on hand sharing their oral care and vegan products with guests for a picture perfect smile, and is co-owned by the event's entertainer,
 DJ Shai,
 who kept the party vibing throughout the evening. E! Host, 
Scott Tweedie
, served as the night's host and created some amazing pre and post event content to entertain those on site or streaming at home on Instagram!
History of Venice Beach House
Venice Beach House was created by newspaperman Warren Wilson in 1911. Wilson was friends with Abbot Kinney, known for creating the Venice of America with its own canals, and Venice Beach House quickly became one of the area's most iconic buildings. Perched on white sand dunes overlooking the Pacific, this Craftsman landmark was listed by the U.S. Park Service in the National Register of Historic Places. It has always been filled with families like the Kinney family, who shared the grounds as Kinney's sons married Wilson's daughters.
A hub of social life, the Venice Beach House has always welcomed the biggest celebrities of the time, from Charlie Chaplin on "retreat," to the very end of the run from Athens to LA of the Olympic Torch Relay. Through all the years, the Beach House has remained a quiet constant in a Venice that attracted beatniks, then hippies, and then tourists from all over the world. A hidden oasis, faithfully restored by the Boesch family and maintained as a bed and breakfast for travelers and, for all of Venice, the Venice Beach House remains a throwback to an era gone by, a mysterious gem in a city where discovery and tranquility are hard to come by.