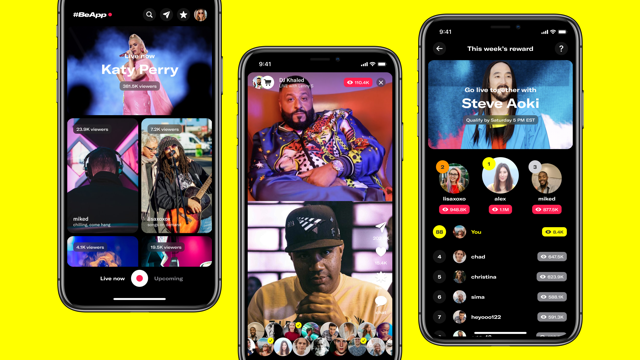 Los Angeles, CA (September 1, 2020) – BeApp's latest launch, 30 days of 30 prizes is currently underway and available to any musician or artist looking to get discovered. The best part about it: you don't even have to have 1 million followers to be seen by 1 million people.
BeApp, the free app that brings your favorite artists, concerts and festivals to the palm of your hand via livestream, recently debuted 30 days of 30 awesome prizes. Anyone has the chance to win from the comfort of their own homes! Prizes include $1k a day in cash, opportunities to open for the next big artist, and the chance to perform LIVE with your favorite artist! A top 10 app in the Apple App store with over 1 million downloads to date and 100M viewers, #BeApp has featured performances from the likes of Katy Perry, Miguel, Kaskade, DJ Khaled, Gryffin, and more. There's a week and a half  left to continue winning prizes, too!
BeApp is looking to discover the next big star and those who rise to the top will be welcomed into the BeApp family. No other app is offering this incredible opportunity to get discovered by major artists and teams. The best part is that anyone can join BeApp and begin performing for a worldwide audience. Limiting algorithms from other social media platforms won't be stifling exposure on BeApp! 
BeApp can be found on the App Store, and is free to download + sign up!