Black Elephant Coffee – The latest coffee shop in Atwater Village.
"Support the community. Respect Nature. Drink good coffee. Join the tribe."
This is the motto painted on the wall of the newly opened Black Elephant Coffee in Atwater Village.
Black Elephant Coffee owners are married couple Heidy Fu and Gonzalo
Otarola. They are also the proprietors of Simply Coffee in Burbank. The
partners are both from Chile, where the coffee culture pervades every area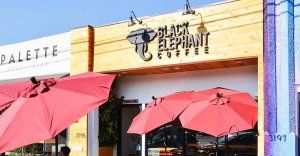 of life. According to Heidy, in South America family and friends get together
and spend time talking and sharing over coffee. Being thousands of
miles from their family, Heidy says that their SoCal friends have become
extended kin. Their coffee shops have become a meeting place for many
people who are searching for a spot to drink coffee—or tea—with their tribe
in a neighborhood spot.
Why Black Elephant Coffee?
"Elephants are community-driven animals who are always looking out for the herd,"

Heidy says. "And this is what we want to create at the shop:
moments you share with family and friends."
Elephants are also part of the natural ecosystem that includes coffee. In
order to further their personal connection, Black Elephant Coffee has
symbolically adopted an elephant through the World Wildlife Fund (WWF). A
portion of the shop's proceeds will support WWF.
In addition to serving locally roasted Stumptown Coffee, Black Elephant
Coffee in Atwater Village also serves a wide selection of loose-leaf organic
teas. The all-organic food and snacks section features grab-and- go items
including vegan and gluten-free options that include pastries, sandwiches
and wraps. Visit the website for free monthly community workshops. Some
upcoming topics include nutrition, feng shui, painting, and more.
Where to Find Black Elephant Coffee Atwater Village
Black Elephant Coffee
3195 Glendale Blvd, Atwater Village
(323) 486 7848
blackelephantcoffee.com