BODIES 2.0: The Universe Within Exhibition Opens on the Third Street Promenade
Exhibit features the first ever virtual reality experience that takes you INSIDE the body in full 360! On view through October 15, 2022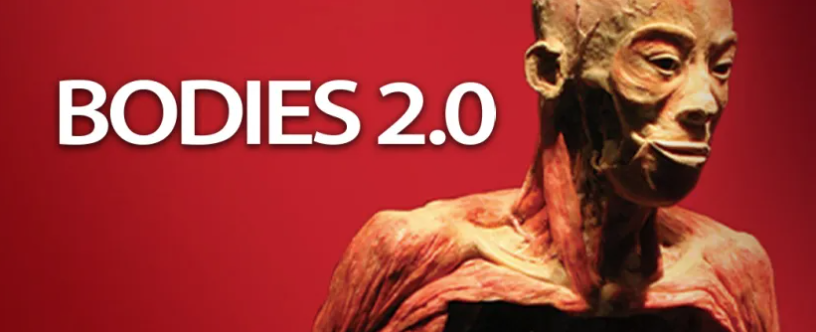 Image provided courtesy of EMS Entertainment.
WHAT: The renowned traveling science exhibition returns to Southern California with BODIES 2.0: The Universe Within, now open on the Third Street Promenade in Santa Monica. Presented by EMS Entertainment, BODIES 2.0 offers an unprecedented and entirely unique view into the amazing human body, showcasing over 200 actual human specimens, whole bodies and organs respectfully displayed.
Did you ever wonder how the human body is composed and put together? Have you ever wanted to understand how the conservation process of specimens works? BODIES 2.0 will get you the answers to both of these questions in a surprising, jaw-dropping and spectacular way. As an entirely new specialty, BODIES 2.0 makes the human body explorable through a virtual reality ride that takes visitors into the inside of a human body for a closer look at the inner self. This seven minute immersive experience uses VR headsets and is offered at a small extra charge. Come explore, experience and celebrate the wonder of the human form at BODIES 2.0., on display through October 15, 2022.
WHEN: The exhibition is on view through October 15, 2022; open daily from 10 a.m. to 10 p.m.
WHERE: Santa Monica Art Museum, 1219 Third Street Promenade, Santa Monica, CA 90401
TICKETS: Advance tickets are encouraged. Book online through BodiesSantaMonica.com.
All tickets include a free Audio and Video Guide to download.
TICKET RATES:  General Admission
 Adults (18+): $29.90

 Teens (Ages 13-17): $15.90

 Kids: (Under 12): $12.90

 Families (2 Adults, 2 Kids/Teens): $79.90
** VR upgrade: $8.00
VIP Admission
VIP Adults (18+): $49.90

VIP Teens (Ages 13-17): $29.90

VIP Kids: (Under 12): $24.90
** All VIP Tickets include the exhibition catalog
CONTENT ADVISORY: Please be advised, the content of this exhibition can be of strong emotional impact to visitors.