FIGFest 2017
At the intersection of South Figueroa and 7th Street, is Downtown LA's leading
shopping and dining destination – FIGAT7TH – a major player in the resurgence of Downtown Los Angeles.
Reigniting the city this summer with eclectic sounds and tunes, for the fifth consecutive year is Brookfield's FIGat7th Downtown Festival. The event's
highly anticipated return is presented by Arts Brookfield, the cultural arm of Brookfield Property Partners. The festival opens on Friday, August 4th and will run weekly at downtown L.A.'s
premiere shopping destination, FIGat7th. The center's outdoor plaza will be reimagined as an intimate concert venue for four Friday nights in August with performances by leading pop, rock,
soul, funk, folk and alternative artists.
The FIGat7th Downtown Festival is free and open to the public as part of Arts Brookfield's continued effort to bring Brookfield's public spaces to life through visual and performing arts.
Kicking off the festival is Los Angeles' hit funk-dance duo, Tuxedo, comprised of singer Mayer Hawthorne and producer Jake One. Hot on the heels of Tuxedo is the raunch 'n' roll
singer-songwriter Hanni El Khatib on August 11. The New York-based band Sinkane follows on August 18, introducing a cocktail of progressive funk rock and Sudanese pop. The festival closes
out with another L.A. music staple, Quetzal, who peppers their fiery mix of Mexican musica ranchera and salsa with socially conscious Chicano rock and R&B.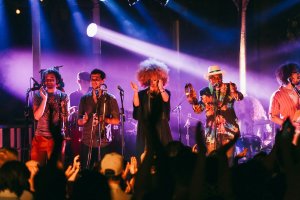 Attendees are encouraged to arrive at 4:00 p.m. for a DJ Happy Hour with NONA
ENTERTAINMENT in the TASTE Food Hall Courtyard where a variety of excellent eateries
and chef-driven concepts are offered. The festivities will move upstairs at 7:00 p.m. for more fun
beats as local DJs warm up the crowd before the talented, internationally recognized headliners
take the stage.
FIGat7th Downtown Festival's unique lineup reflects the vibrancy and diversity of the city and
the cultural and creative center that downtown L.A. has become!
For more information http://www.artsbrookfield.com/event/figfest-2017/