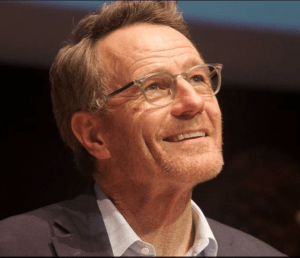 Interviewed by Jay Roach about his recently released memoir, A Life in Parts, (for Live Talks LA), Bryan Cranston was hilarious and incredibly likable. I mean, incredibly likable. Everybody loves this man. He received a standing ovation coming onto the stage and immediately quipped "well, I'll just go home now then." When asked which famous people, dead or alive, he'd like to meet, Cranston answered "John Lennon, Marlon Brando, Jesus and Kim Jong-il" – adding "come on, aren't you curious?" Regaling the audience with stories from his memoir, Cranston's self deprecating humor and infectious energy had the delighted audience eating out of the palm of his very "lively" hand.
Cranston's memoir, A Life in Parts, is aptly named since it delves into all the roles that Cranston has played in real life…and on film. The memoir offers a window into Cranston's life, showing us how he crafts his performances from these various roles – ranging from farmhand to hypnotist; from stalked lover, to murder suspect, to abandoned son. We travel with Cranston as he experiences epiphanies, moments of realization and visits dark places within himself. Told with plenty humor, Cranston's memoir is a surprising read. Then again, how could we expect anything less from the man that breathed live into the complex and multifaceted Walter White.
And a special shout out to Live Talks LA for another stimulating and enjoyable show.
All photos courtesy of Live Talks LA