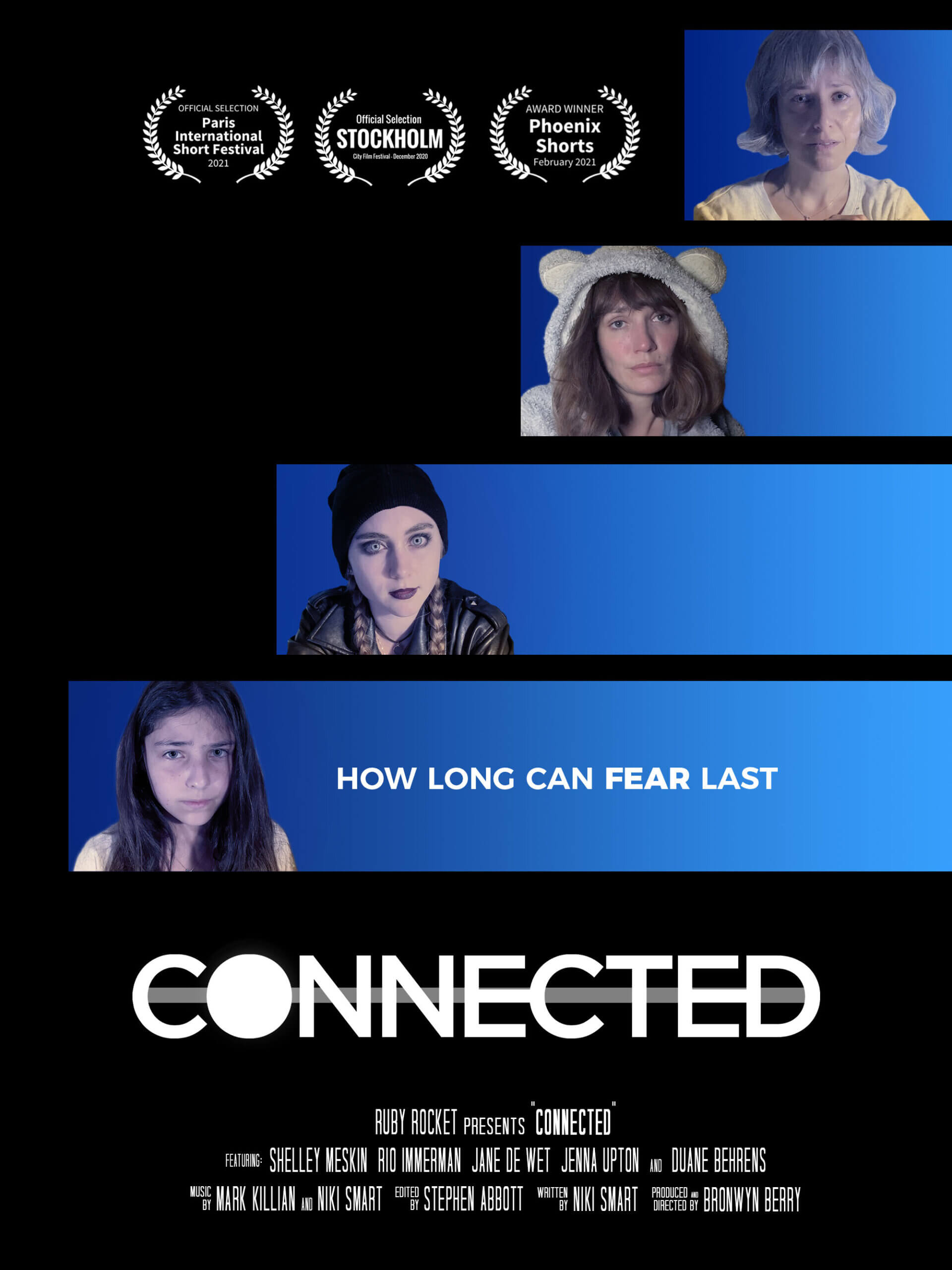 Creative Filmmaking During a Pandemic Lockdown.
Connected is a short dramatic film​ with a few surprises. ​It tells the story of a woman who, while overwhelmed with anxiety during the pandemic, brings the past to light in an attempt to resolve her deeply buried trauma and set herself free. The writer, Niki Smart (Hell Camp, Helter Shelter), said she wanted to pen something that resonated with what people are experiencing during the pandemic, but she also took into consideration the limited scope of production during lockdown.
"Firstly, the idea for Connected came about because for me this pandemic triggered huge fear" Smart said. "Then I realized that this fear had been in me for a long time. Being completely alone without the usual distractions made me have to face my fear, and thank goodness, once I faced it, the fear dissipated. Secondly, since all our conversations were taking place in the world of zoom, it made sense to use the video chat platform for the setting."
Smart​, a South African who has lived in Los Angeles for 25 years​, reached out to ​fellow South African filmmaker, ​Tim Greene (Skeem, Boy Called Twist) who directed and produced the short "Cabin Fever" during lockdown. Greene put a call out to actors on his private FB group page and the response was overwhelming. "It made perfect sense to cast South African actors as that is where I grew up—and that is where my fear started." said Smart.
Smart was thrilled to cast Shelley Meskin (Frank and Fearless), and her 10-year-old daughter, Rio, plus Jenna Upton (Raised by Wolves), Jane DeWet (Trackers, The Girl from St Agnes), and Duane Behrens (Samson). "They seriously all blew me away. I felt honored to work with such talent."
Smart's long-standing ​collaborator, Bronwyn Berry (Love Gilda, Durban Beach Rescue)​, a South African who lives in New York​, climbed onboard to produce​ and direct, and things quickly started to happen. "The limitations of a virtual set and self-shooting provided creative constraints to work within and actually gave us the freedom to think about production in a completely different way." Berry said.
The nine-hour time difference between LA and South Africa was just one of the production challenges. Scheduling rehearsals was tricky, especially as they wanted to accommodate Rio who had to be up early for virtual school.
​The​ actor​s​ did everything for themselves: make-up, wardrobe, set dressing, camera operating, lighting and sound. Not an easy task, especially for little Rio, who had complicated camera setups.  "We couldn't have made this film without Zoom." says Berry. "Not only was it the device used to tell the story, but it was our only point of contact with the cast. We had several performance rehearsals, and a technical rehearsal to direct lighting, camera angles and set design."
Armed with a rented iPhone 11, Boya clip-on mic, flexi tripod, practical household lights, and a can-do-attitude, the actors self-taped their scenes. "We wanted to ensure that the characters were not just reciting lines into an iPhone but delivering an emotionally rich performance with synergy, despite not being in the same space. We recorded a full rehearsal on Zoom and then separated out the audio tracks so that during self-taping, the actors had a guide track."
Award-winning composer (and another transplanted South African), Mark Kilian (Official Secrets, Eye in the Sky, Pitch Perfect) stepped in to compose the music and insisted that Smart, who is also an acclaimed musician, should be involved. This was the only time during production that two crew members were physically in the same space. Smart describes this as: "The best day of 2020. Not only did Mark compose, play piano, record and be incredibly patient with me while I struggled to play guitar to a click track, but he also served "Train Wreck" (a traditional South African meal) with a "Benoni Special" (Mark's version of a Negroni)."
The film addresses important issues of childhood trauma and healing, themes which have become particularly relevant during the inward gaze of the pandemic. "We hope that women and girls who have experienced abuse will realize the transformative power of healing. In line with this, we are thrilled to have won the Women Empowerment Award at the Paris International Film Festival "
Connected not only won the Women Empowerment Award but also Best Script at the Phoenix Film Festival. Connected was a Semi-Finalist in the Stockholm City Film Festival. and is currently selected for the Dubai Film Festival. For virtual screenings and more information, please visit: Connected: