Costero is a California bistro and bar that provides a wide range of delectable small plates, comforting soups and flavorful main courses that will have guests coming back for more. The man to credit the delicious dishes and wine pairings is Executive Chef Collin Smelser, an East Coast native who has embraces all good things that come from California farms and vineyards.
A true hidden gem so close to LAX, Costero is perfect for locals, groups of all sizes and solo travelers alike. Speaking of those large groups, the restaurant offers two fantastic options: one semi-private room that seats up to 10, and one private room complete with AV equipment and collapsible wall for up to 25 guests (pictured below). Both spaces are complimentary to use when reserved and the menu can be pre-selected.
Photo Credit: Sheraton Gateway Los Angeles
Our resident Food + Lifestyle Editor, Ely recently had the honor of experiencing a private media dinner which showcased Chef Collin's tack for transforming casual ingredients into gorgeously and meticulously plated must try dishes.
First Course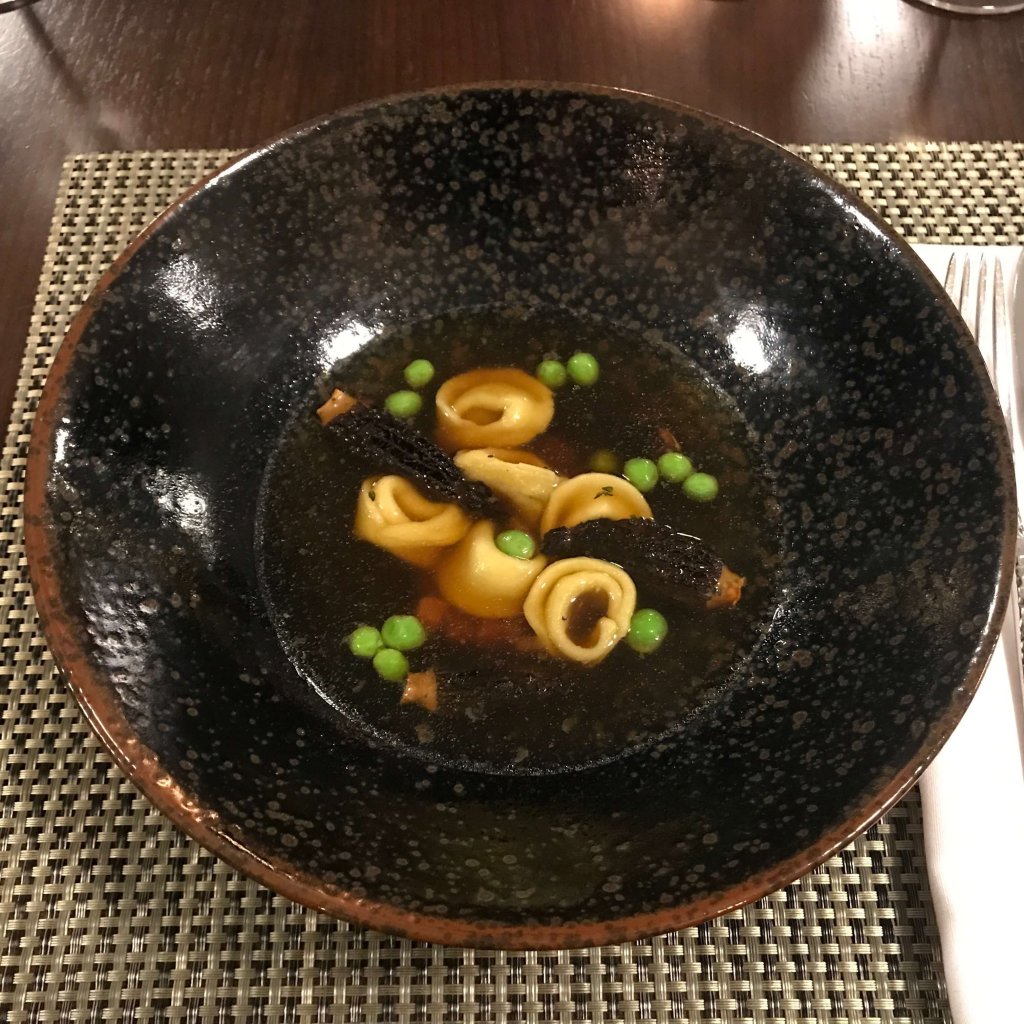 Bellwether Farms Ricotta & County Line Harvest Bloomsdale Spinach Tortellini
Paired with: Joel Gott Sauvignon Blanc
Second Course

Smoked Brandt Beef Short RIb
Paired with: Daou Cabernet Sauvignon From Paso Robles
Surprise Course! 

Olive Cake With Vanilla Bean & Candied Blood Oranges
Paired with: a Hefeweizen with an orange slice
Third Course

California Cheese Plate
Paired with: Justin Obtuse Port-Style Wine
More About Chef Smelser
Three years prior to joining Sheraton Gateway Los Angeles Hotel, Chef Smelser was executive sous and executive chef at the luxurious Chase Park Plaza, a luxury high-rise hotel in Downtown St. Louis, Mo. Highly accomplished, Chef Smelser's wide repertoire of cooking includes infusing casual fare with deluxe flair and designing thrilling haute cuisine masterpieces, all with a definite Southern California focus on fresh, local ingredients with bold, inviting flavors. Every day he's is in the kitchen, a new, stunning dish is created.
"We are trying to transform people's perception of hotel restaurants," says Chef Smelser. "When people come to dine at Costero or to grab a bite at the bar, we want them to have an elevated experience with gourmet dishes that they wouldn't expect at a hotel. Instead of overwhelming diners with a huge menu selection, we have taken a different approach by carefully curating an exclusive menu with options that will entice one's taste buds." (Originally quoted from Food Newsfeed)
Photo Credit: Sheraton Gateway Los Angeles
The Sheraton Gateway Los Angeles has recently completed a multi-million dollar renovation which included plush updates to their 802 guest rooms and suites, heated outdoor pool, 24/7 fitness center and the Sheraton Club. SPG members enjoy 24/7 access to the Sheraton Club Lounge which includes complimentary continental breakfasts, even hors d'oeuvres and panoramic views of LAX. Guests can also take advantage of the hotel's complimentary shuttle service to and from the Los Angeles International Airport.
So be sure to recommend at the Sheraton Gateway the next time clients want to stay close to the airport and/or you're in the mood of a delicious dinner after landing.
Costero California Bar & Bistro located at Sheraton Gateway Los Angeles Hotel
6101 West Century Blvd., Los Angeles, CA 90045
www.sheratonlax.com
For reservations, contact: (310) 642-4820 or reserve online at www.sheratonlax.com/costero.
Ely Anne Vedar
Food & Lifestyle Editor
While California feels like it's always been her home, Hawaii, San Francisco, Las Vegas and the Philippines are just a few places Ely Anne has lived thus cultivating her lifelong appetite for finding, trying and sharing new adventures, especially through food and wellness activities. She loves how food can always bring people together – anywhere, any time – and that's what fuels her passion for public relations and marketing. Ely finds it invigorating to have a hand in seeing brands thrive in their community by using her PR, marketing and event production skills. She is also a regular Editor for SoCal Magazine and other digital publications.