dineL.A. TAKES A BITE OUT OF NATIONAL TACO DAY AND LAUNCHES dineL.A. TACO TREK ON OCTOBER 4, 2018
Foodies Are Invited to a dineL.A. Taco Party at Guisados Burbank and to Join in the dineL.A. Taco Trek Challenge for a Chance to Win Prizes from American Airlines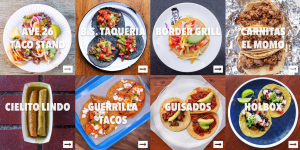 LOS ANGELES, Calif. –– dineL.A., a Discover Los Angeles program that exists to discover, support, and promote L.A.'s culinary scene, launches dineL.A. Taco Trek on National Taco Day (October 4) with a taco party at Guisados Burbank. Throughout the day, beginning at 8:30 a.m., diners who go to Guisados Burbank and say, "dineL.A. Taco Trek" at the counter, will receive one free Bistek an Salsa Roja taco each, courtesy of dineL.A. while supplies last.
The dineL.A. Taco Trek features a guide to the 25 best taco spots and must-order items at each location across the city from The Valley to San Pedro and LAX to Downtown L.A.
"In Los Angeles, the taco is king," said Stacey Sun, dineL.A. Director. "What better way to honor one of our favorite food items than launching the dineL.A. Taco Trek during Latino Heritage Month to shine a spotlight on 25 locations – including taco stands, trucks and shops – that do them best. Through the dineL.A. Taco Trek, we look forward to inspiring excitement about L.A.'s dining scene year-round, while encouraging locals and visitors to explore L.A.'s diverse neighborhoods."
To encourage foodies to participate in the dineL.A. Taco Trek, dineL.A. and American Airlines are hosting a Taco Trek Challenge from October 4 to October 31, 2018, exclusively on the webby-honoree DiscoverLA app from Discover Los Angeles and the Los Angeles County Arts Commission. Participants simply download the app for free on Android or iPhone and click on the scavenger hunt icon to check in to as many taco spots during the Taco Trek Challenge. Participants can check in to each location once. Each check-in will serve as one entry for a chance to win 25,000 American Airlines AAdvantage® Miles. Two winners will be selected after October 31, 2018. The Taco Trek Challenge is open to U.S. residents only
dineL.A. enlisted L.A. artist Luke Pelletier to illustrate the dineL.A. Taco Trek map and L.A. Taco to select the must-order menu item at each location.
For more information on the dineL.A. Taco Trek, please visit www.dineLATacoTrek.com.
About dineL.A.
dineL.A. exists to discover, support and promote Los Angeles's dynamic culinary scene. As part of Discover Los Angeles, dineL.A. produces its eponymous dining event that takes place twice a year and showcases the city as a premier dining destination. dineL.A.'s programs are designed to stimulate business and introduce new customers to restaurants located in the many neighborhoods throughout L.A. County. For more information, news, and updates, visit dineLA.com and follow dineL.A. on Instagram, Facebook, and Twitter.