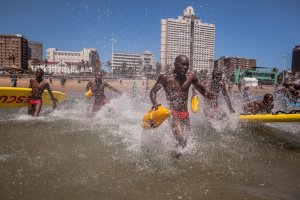 Durban Beach Rescue is a South African produced TV show that follows the day-to-day harsh realities of being a pro-lifeguard on Durban's main beach during the frenetic holiday seasons. The fearless lifeguards face unpredictable conditions, extremely crowded beaches, the ever-present threat of sharks and soaring temperatures. In a style unique to South Africa, this is lifeguarding, as you've never witnessed. If you've never been to Durban beach, this docu-series will give you a glimpse of the craziness that the lifeguards have to deal with – millions of beach goers, many of whom can't actually swim, and such pandemonium on the beach that during New Year's day, 75 children are separated from their families and it's up to the lifeguards to reunite them with their families. And on Dec 26, a flash riptide sweeps 150 bathers off a sand bank into deep treacherous water. The Lifeguards work relentlessly to rescue the drowning bathers.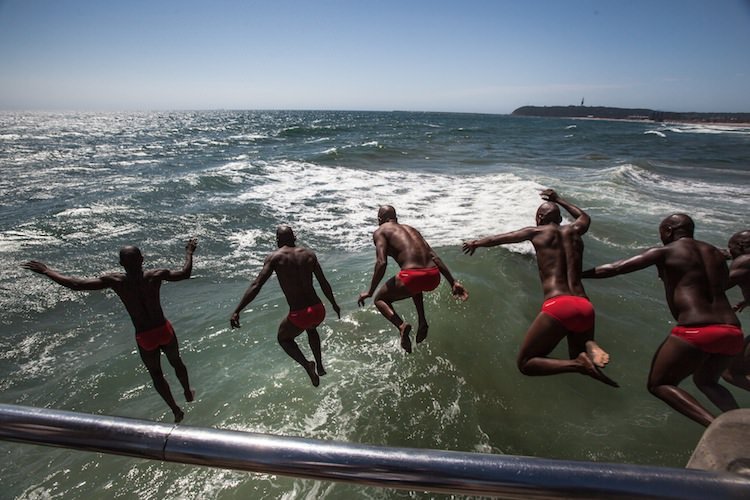 Watching the series, you can't help but admire and enjoy the lifeguards as they perform their job with passion, commitment and camaraderie. Senior lifeguard, Sihle Xaba, said fans of the show are now flocking to the beach hoping to spot their favorite TV characters.
Durban Beach Rescue premiered on The Africa Channel in the USA and the Caribbean in April, following its success on Travel Channel where it aired in Africa, UK, Europe and the Middle East. The show further garnered impressive ratings on South African broadcaster SABC 3, where it was the channel's third most popular show over the December period.

The original docu-series won the prestigious Maritime Award for Excellence in Media. Of course, directors of the series, Eddie Edwards and Bronwyn Berry, are thrilled with audience response to the series and have announced that a second season will be on TV screens next year.
Durban Beach Rescue is on The Africa Channel in the USA and the Caribbean on Tuesdays at 9pm EST. (New York & California on Times Warner).
For more information: The Africa Channel
Like on Facebook
To watch the trailer click here