Thumbtack Private Chef, Graham Gathright, Elevates Your Party Food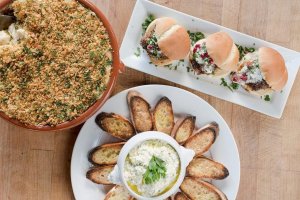 If you're hosting your own Super Bowl watch parties this year, try upgrading your menu to these excellent game day dishes that will leave your guests wanting more, even after the game is over.  Thumbtack Private Chef, Graham Gathright, has created three exquisite recipes that would go perfect with any gathering, whether large or small.  Graham's curated menu consists of a Citrus-Garlic Ricotta Cheese Dip; Chocolate-Red Wine Braised Short Rib "Sliders"; and an "Adult" Mac-n-Cheese that will make your mouth water.
Citrus-Garlic Ricotta Cheese Dip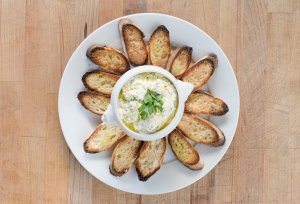 Ingredients
4 garlic cloves, finely minced
Healthy pour olive oil(1 tbl. spoon) + 1/4 cup
15 oz. Ricotta Cheese(Preferably Fresh)
Zest of 1 Tangerine( or small orange)
Bunch of Cilantro, rinsed and spun dried, leaves roughly chopped.
1 small fresh Calabrian chili(or 2 pinch dried chili flakes), minced
Kosher Salt
Directions
Place oil in pan on medium heat, add garlic. Cook for 4-5 mins. Remove from heat, let cool completely.
Combine all ingredients in medium sized bowl, folding in gently with spatula. Taste, adjust oil and seasonings.
Transfer to serving bowl, surround with crostini, crackers or shaved veg(GF) like golden beets, Tokyo turnips or watermelon radish.
With thumb or back of spoon, make a well in center of mixture, fill with olive oil. Serve.
---
Chocolate-Red Wine Braised Short Rib "Sliders"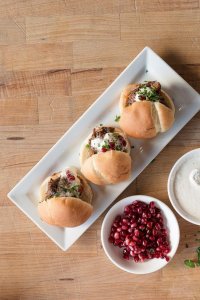 Ingredients
Ribs
3 tbsp. olive oil
3 lb. boneless short ribs, cut thickly(1 1/2"-2")
Kosher salt and freshly ground black pepper, to taste
1⁄4 cup unsweetened cocoa powder
5 cloves garlic, smashed
2 stalks celery, chopped
1 large yellow onion, chopped
1 medium carrot, chopped
1⁄4 cup tomato paste
3 cups full-bodied red wine, such as nero d'avola
2 cups beef stock
3 sticks cinnamon
2 bay leaves
2 sprigs sage
2 whole cloves
1 bunch thyme
Pastis
2 tbsp. unsalted butter
Garnish
1 cup Crème Fraîche | 1/2 cup horseradish | Kosher salt | 1/2 cup pomegranate seeds | 2 tbls chopped flat leaf parsley | 2 dozen slider rolls
INSTRUCTIONS
Heat oven to 325°.
Heat oil in large heavy bottomed pan(or Dutch oven).
Season ribs with salt, pepper and chocolate, gently rub ingredients into meat with fingers or back of a spoon.
Working in batches, sear each side of ribs until browned, 5-6 mins. Remove ribs to plate, pouring off all but a bit(1 tbls.) of oil.
Add garlic, celery, onion, and carrot to pan; cook until soft, 5-6 mins.
Add tomato paste, cook 3 minutes. A
Add wine, reduce by half, 4–6 minutes.
Add stock, cinnamon, bay leaves, sage, cloves, thyme, a drizzle of pastis, bring to simmer. Add short ribs to pan.
Cover tightly with foil, bake until beef is tender to a fork, 3½ hours. Transfer ribs to a plate.
Add vegetable liquid to a food processor, carefully pulse, adding butter, until smooth. Return to pan, add short ribs.
In small bowl add crème fraîche, horseradish and pinch of salt. Taste, adjust to preference.
Slice sliders like clams shells, 3/4 through. Using 2 forks, tear 1/2 inch chunk of rib, place on roll. Spoon on horseradish sauce, sprinkle with pomegranate and parsley. Attack!
---
"Adult" Mac-n-Cheese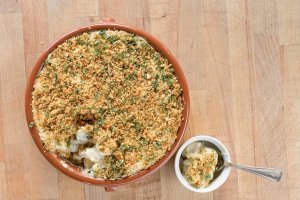 Ingredients
1 pound uncooked orecchiette pasta
6 tablespoons unsalted butter
6 tablespoons all-purpose flour
5 cups whole milk, warm
1 pound (about 6 cups) grated Gruyere cheese
1/2 cup crumbled goat cheese
1 teaspoon Dijon
1 -2 teaspoons minced fresh thyme
1/4 teaspoon cayenne
Topping
4 tablespoons melted butter, salted or unsalted | 1 tsp. finely minced garlic | 1 1/2 cups breadcrumbs | 2 tablespoons finely chopped parsley
Directions
Butter a wide 2 1/2 to 3-quart (3l) baking dish.
Cook the pasta in a large pot of lightly salted water until tender, and drain well. When cool, spread the pasta in the baking dish.
Preheat the oven to 350ºF (180ºC.)
Wipe the pasta pot dry and melt the 5 tablespoons (70g) butter in it over medium heat. Whisk in the flour and cook for about 2 minutes, stirring constantly. Dribble in some of the
    warm milk, stirring continuously to break up lumps.
Continue to add the milk, a small amount at a time while stirring, until all the milk is added. Cook the milk until it comes to a low boil, stirring constantly, then cook the mixture for 3
    minutes, until it thickens.
Remove from heat and stir the grated cheese, mustard, thyme, and cayenne. Pour the mixture over the pasta in the baking dish, gently fold to combine. Using back of spatula,
    level mixture. Stud top evenly with goat cheese.
Melt butter in medium pan, add garlic, cook until translucent, about 3-5 mins. Turn off heat, add breadcrumbs and parsley, combing all using a spatula. Spread mixture evenly
    over the top using spatula.(Full disclosure: I just use my fingers!)
Bake the macaroni and cheese for 25 minutes, or until the topping is nicely browned.
   *Adapted from David Leibovitz.
---
Chef Graham Gathright